Lake View: Scholars' pub of choice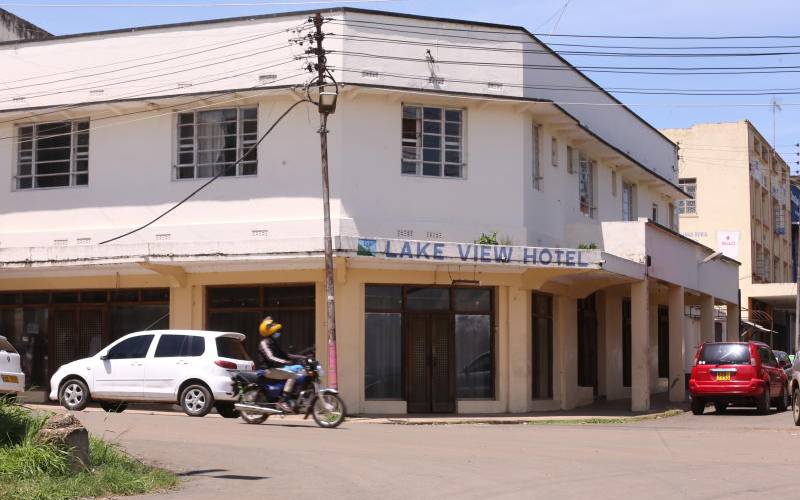 Each evening, scholars converge here to share their diverse skills and experiences. Welcome to the 'home of intellectuals', a hotel where lecturers meet outside the university for a hearty talk fuelled by drink.
The hotel's name - Lake View - has nothing to do with its proximity to Lake Victoria. The owner, Paul Onyango, says the beer parlour was meant for the middle class, but lecturers turned it into an intellectual hub.
"Lake View became appealing to professionals and politicians who would come and enjoy their drink each evening," he says.
Some of them would invite their colleagues who would often drink until late in the night. Interestingly, if they got too drunk to walk or drive they would be allowed to spend the night at the pub.
The number of academicians visiting the place increased over time and soon Lake View became an elite pub, a professional centre that serves alcoholic and non-alcoholic drinks. The hotel also serves fresh fish and traditional vegetables.
Dr Gerald Ochieng of the University of Nairobi says he was attracted to Lake View because of the intellectual discourse among its clientele.
"This is where we honed leadership skills and humility virtues, and the ability to read endlessly, even at old age," he says.
Great law scholars converge here to discuss tough legal matters as well as ride on their colleagues' solidarity.
Legal minds like the late Prof Maxwell Ombogo, S W Manases and wealthy businessman Obumbu Acholla, known in social circles as Owadgi gi Yesu, can be counted among the hotel's patrons.
The lecturers went ahead to decide that customers coming to the pub must have a degree to withstand the elite talk.
So bold are the dons in their resolve to lock out mediocre public from the pub to an extent that they declared it the "home of intellectuals".
Dr Sam Okuro, a lecturer at Jaramogi Oginga Odinga University of Science and Technology, says that Lake View is a club for the elite.
"People without degrees were excommunicated from the club of intellectuals. They would be silenced if they dared contribute in intellectual discourse," he says.
Lake View is where towering scholars in History, Linguistics, Statistics, Sociology, Anthropology, Education, Environment, Diplomacy and Political Science gather.
"It is an extraordinary place where brains fuse to discuss socio-economic and political discourses affecting Kenya," says Ochieng.
The scholars troop here in the evening after reading newspaper headlines and top stories, which inform their discussions.
"Some dismiss the headlines if they fall short of literary discourse, while at times they commend editors for a job well done," says Ochieng.
Okuro recalls that politicians like ODM leader Raila Odinga would go to the pub at night to listen to their 'wise counsel' and buy them drinks.
The last time he unexpectedly showed up at the club was after the 2005 referendum. He ordered that everybody be given a drink of their choice. Some of the patrons got the opportunity to tell Raila what they felt was not right in the country and with his political bids. Raila listened and took their advice.
In some instances though, the ODM leader would not accept the dons' rebuttal and would make his stand known. This made those challenging him to research widely before engaging him.
Big names
Lake View is an old establishment. Barack Hussein Obama Sr, the father of former US President Barack Obama, was a pioneer member of the club.
Ochieng says the senior Obama would visit the pub with a host of his 'boys' and that he was no intellectual dwarf.
Institutions in and around Kisumu town, where Lake View is located, include Maseno University, the University of Nairobi, Mt Kenya University and Jaramogi Oginga Odinga University.
Some of the patrons from the universities include Dr Abel Otieno, Dr Obote Magaga, Dr Paul Abuom, Prof Jared Ndeda, Prof Okuda Owuor, Prof Mathews Ridah, Prof Okello Charles, Engineer Tom Okoko and Prof Francis Owino Rew. They all describe Lake View as "home of great minds".
George Adoyo, the pub's supervisor, says that he has served many big names. "Sometimes they argue and I feel lost, but I have never been cowed," says the high school graduate.
To keep their treasury of knowledge sterling and archived for posterity, Kisumu Governor Anyang' Nyong'o wants the intellectuals to give a public lecture each month at the new Grace Onyango Social Hall.
Last week, Prof Humphrey Ojwang' inaugurated the launch of literary discourse with an erudite talk on the return of public intellectual discourse in the region.