30 years in the making, acting is no easy walk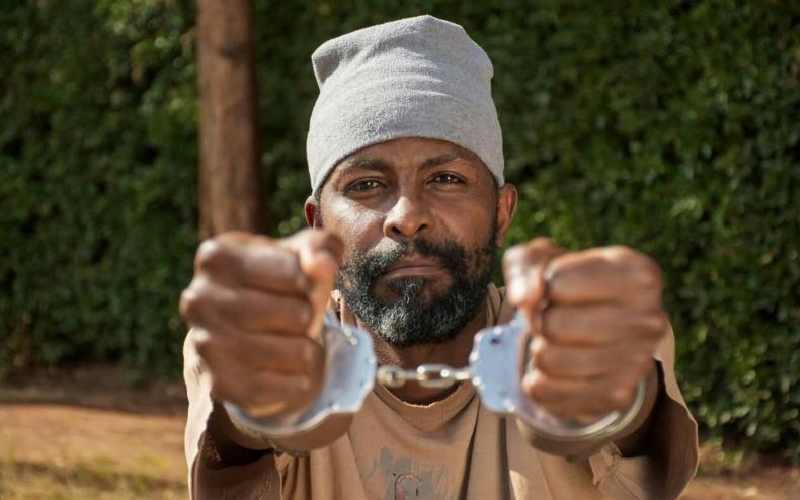 Being an actor is not a walk in the park. Just ask Gitura Kamau, or GK, as friends and colleagues call him.
"Imagine you have to be very sober to act in a scene depicting the worst drunkard. Get the irony?"
GK, 48, is talking of his role in the film, Family Meeting, where he is Jesse, the family's black sheep.
This role saw him bag the prize for Best Lead Actor during the Kalasha International Films and TV Awards last year.
It has been 30 years in the making for GK to become a reputable actor. From the days of acting at the Kenya National Theatre and Phoenix Players — days when actors would take home nothing "despite shouting our lungs out."
But persistence paid off, and GK is among the few Kenyans to share platforms with some of Hollywood's big names.
That was during the making of Tomb Raider: The Cradle of Life. Part of the movie was shot in Hell's Gate and Amboseli National Park.
During the shoot, GK rubbed shoulders with Angelina Jolie, Gerald Butler and Beninese-American Djimon Honsou. But he almost never got to sit at the big table.
One Friday afternoon in February 2003, GK was relaxing outside the Kenya National Theatre, a popular haunt for local actors.
Unknown to him though, auditions for some roles in the movie were being conducted at Phoenix, at the Professional Centre across town.
"So, I am sitting there, doing my White Cap and guys come and ask me, 'hey, are you not going for the auditions?' What auditions?
They told me there was an international movie that required some locals. "I had no idea there were any auditions," says GK.
He cannot remember if he finished his beer but recalls going down to Phoenix where he met Lenny Juma who was the casting agent. "Where were you?" Juma asked me. "I have been looking for you all over. Anyway, there is no role for you now. All are taken."
GK did not turn back. Instead, he knocked on the door to the auditorium "just to say hello" to the visiting agents. "I just waved at them, then told them that I was sorry for being late.
"They looked at me and said, 'we will call you if we need to. Then I went back to the National Theatre," says GK.
A few days later, a surprised Juma broke the news to GK that he (GK) had been selected for a role in the movie. His role? A body double for Djimon Honsou.
"The role came with a car and driver among other perks. But just hanging out with such big actors meant a lot to my career. I also got to see the humility and easygoing nature of people like Angelina. They are unlike some of our celebrities who get the fame and forget the craft," he says.
GK is one of the few local filmmakers listed in the International Movie Data Base (IMDB).
His career in the performing arts started with the famed Theatre Workshop Productions, an outfit that comprised university student actors who were keen on bringing social change through theatre.
During his formative years, he acted in numerous productions including Mnafiki, Government Inspector and Moon on a Rainbow Shawl.
He has worked with almost all production houses and with the most notable players in the television and film industry.
These include SinemaSisi Productions, later named Furet Films, under Betty Kathungu-Furet. It is with her that GK did the first film, Wangai's Cross, almost 20 years ago. He has also featured in popular productions like Mali, Makutano Junction, Siri and Kona.
In 2004, GK founded a production company, Fly on the Wall, in what he terms as a culmination of his experiences, lessons learned and desire to share the magic of filmmaking.
Why Fly on the Wall? Because, as he puts it, a good artiste observes life without intruding on the normal sequence or order so that he can translate the observations into usable knowledge to educate and entertain.
Despite the strides made in local TV and film production, GK says the industry still has a long way to go. In Kenya, he says, the industry is still nascent compared to Nigeria and South Africa.
To make the industry sustainable and generate income for local talent, he says it needs more support from the government and investment from the private sector.
Sadly, he says the government has hindered the full development of the industry.
"Kenya is a very expensive place to run a film. The government has refused to give us tax breaks. What annoys me so much is seeing films about Kenya being shot in South Africa where filmmakers get tax relief for bringing in equipment," he says.
"Imagine shooting the scene for the Treetops Lodge in the movie The Crown outside Kenya? Yet, that movie is about Queen Elizabeth ascending to the throne while she was on holiday here. Yet you hear people saying how they want to make Kenya a preferred filming destination."
GK is concerned that after Covid-19 hit, the first people to suffer were artists due to the cancellation of all public events, and that "explains the growing cases of suicide due to frustrations."
As an actor though, GK will not let the lack of support derail him from perfecting his craft.
"I want to be a leader that mentors and charts the way forward by providing clarity and direction for not just the upcoming actors but the industry as a whole.
"I want to be remembered as a selfless and thankful creative artiste," he says.
For GK, it all comes down to discipline, persistence and faith. "After all, the world is a global village."