Top of the world: I answered the call of mountains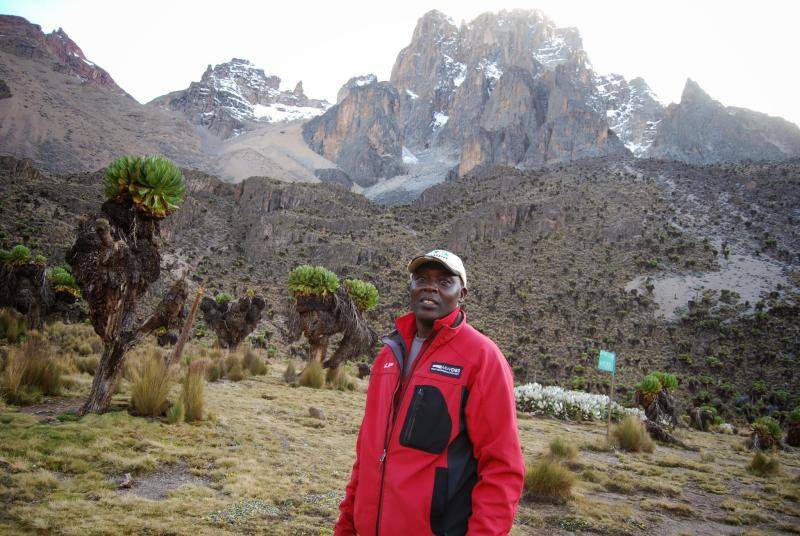 James Kariuki has a gentleman's mien — soft spoken, courteous and considerate. Nothing in his demeanor betrays his adventurous spirit, his dalliance with Africa's highest mountains, not to mention his time in the airforce.
For the last 25 years, Kariuki has hiked Mount Kenya more than 300 times, first as a construction worker, then a potter and currently, as a professional guide. And if all goes to plan, Kariuki will summit Mount Kilimanjaro — Africa's highest — for the 34th time in his 40th trip to the mountain.
"These mountains are my offices, where I report for work," Kariuki says with a chuckle that exposes a gap in his upper teeth. "I consider myself working when on top of these mountains, sometimes four or five times a month."
Our paths crossed a few weeks ago as he led a group of women on a hiking excursion on the southern end of the Aberdare forest.
The women were cancer survivors and Kariuki was there to ensure that despite their physical frailties, their spirits remained unbowed. Under Kariuki's guidance, every step they took was a step against the ravages of the killer disease.
Kariuki's love for the mountains began in December 6, 1964, the day he was born near Naromoru, on the slopes of Mount Kenya in a family of 16 siblings. His father had two wives; Kariuki is the second born child from his father's second wife.
Growing curiosity
From his home near Naromoru River Lodge, he would encounter tourists preparing for a hiking expedition to the mountain.
Take a quick survey and help us improve our website!
Take a survey
He admired their luggage bags which he thought were full of biscuits. Young Kariuki yearned to join them but lacked the means.
One fine morning in 1979, Kariuki and another young boy jumped into the back of a tourist truck that had stopped near his home.
He erroneously thought the truck was headed for a shopping errand in Naromoru town. But the driver, who had not noticed them in the back, was headed for the Met Station, the 10,000-foot-high basecamp and the fist pit stop for climbers using the Naromoru route.
"The driver was furious when he found out about our mischief. For me though, that was a small step to my dream of getting closer and closer to Mount Kenya. At Met Station, I even stepped on snow for the first time with my bare feet," says Kariuki.
A year later, a chance presented itself. Kariuki was part of a team hired to transport construction materials from the mountain base to the 14,000-feet Mackinder's Camp, then Teleki Lodge which was being upgraded.
"There was cement, timber and other materials to be carried on people's backs and heads up the mountain. I was young and so I was only given lighter materials to carry. The pay was Sh70 a day, good enough for a teenager," recalls Kariuki.
Still, it was an arduous undertaking. "I exhausted my food ration within an hour of climbing," he recalls.
"That was the closest I had ever come to the twin peaks of Mount Kenya. That image is still etched in my mind. I was falling in love with a mountain. A surreal moment," he says.
Life in the military
For the young lad though, there was the small matter of education to deal with before he could devote his energies to mountaineering.
After his primary school education, Kariuki was enrolled at Muhoho High School before joining the Kenya Air Force as a recruit in Lanet, Nakuru. In October 1984, he was posted to Moi Airbase as a trainee aircraft technician through the Kenya Armed Forces Technical College (Kaftec) as an engine technician.
He graduated in 1986 and was posted to Laikipia Airbase as an engine technician for F5 fighter jets. He also had a stint working with the de Havilland Canada Buffalo squadron in Embakasi.
Even in the armed forces, Kariuki had his adventurous moments. "I enjoyed every moment including flying in an F-5. I had the rare experience of getting a 'lift' from Michael Gichangi, the former intelligence chief who was then a fighter jet pilot and among the first Africans to fly these jets.
"I experienced the fast turns and flips that one observes from the ground. I had the chance of checking the engines on the ground but I was now experiencing their full power in the air," says Kariuki.
After a little over a decade with the military, it was time to move on. "I was trained to work on military aircraft and thus I was not able to get any work in civil aviation companies," he says.
Together with his father, Kariuki opened a butchery in Naromoru to provide for his young family.
Scratching the itch
He still had his eyes set on the mountain that towered over their home.
The American National Outdoor Leadership School was his next stop in 1997. Through their Naromoru campus, Kariuki learnt the ropes of professional mountaineering, graduating the same year with a certificate in mountaineering.
"The course taught me that there was so much to learn from mountaineering apart from the actual climb. What kind of a mountain are you climbing? How much gear do you take? What night navigation techniques do you need? How do you conduct first aid to a climber in terrain where there is no doctor? My basic military training on resilience came in hardy," recalls Kariuki.
For the last 25 years, he has been up and down Mount Kenya more than 300 times. His family —wife and two sons­ — has been to his "office" too, scaling the highest point in Kenya in support to their his occupation.
In his career, Kariuki has taken notable personalities, local and foreign, to the top.
In 2004, he started Arch Trek and Safaris, an outfit that he now uses to organise excursions, not only to Mount Kenya but other tourist hotspots in the region.
Still, the job has its challenges too, the biggest being issues to do with safety. Kariuki has been in a group where they lost one climber "despite doing all we could to save a life."
Then there are times when he has had to carry climbers down due to illness.
Last October, Kariuki had to carry his wife down after a fall up in the mountain resulted in a fracture. "This was particularly hard for me since I was the one who had put too much pressure for her to climb the mountain."
Challenges notwithstanding, Kariuki is not about to ditch his first love. He says that with its pristine wilderness lakes, tarns, and glaciers, Mount Kenya is more than a mountain but an ecosystem on its own that commands awe and respect.
Unique mountain
"While Kilimanjaro is the highest in Africa, Mount Kenya is unique in that it is the only such high mountain that has lakes near the highest peaks. Some, such as Lake Michaelson, located at an altitude of 14,200 feet and just below Point Lenana even have fish in them," he says.
Conquering the highest peaks in Africa has not only humbled him but also infused in him a resilient spirit.
Is it time to hang his hiking boots? Unlikely.
"I will climb the mountains as long as there is a drop of blood in my veins. I will climb as long as I can put one foot ahead of the other. No challenge is insurmountable because when you are on top of a mountain, you no longer see the mountain."