Harold's fury at mask maker becoming richest on earth
You should have seen Uncle Harold this past Sunday, a hefty mass draped in a flowing red cassock, fuming at a pensive congregation that stared back absentminded; several members somewhere between their third and fourth dreams of the afternoon.
"You abandoned an anointed man! 2020 was the year I should have started driving again!" he shouted at the faithful, most of who had carried nothing to throw into his bottomless offertory kiondo.
Unlucky Harold drove nothing last year alright, not even a sensible point home. Sue, with whom he had an on and off love affair, certainly drove him crazy for plenty of the year, and the church wine absolutely drove him nuts.
But what drove him into fury was his own nephew, yours truly, telling him on Saturday afternoon about a certain engineer whose wealth had increased by over 500 per cent in a year, making him the richest man in the world.
"Elon Musk," I told him. "He is the man behind SpaceX and The Boring Company."
The 'Musk' business
In a furious rant, Harold told me that he had always known that the mask business was going to produce the richest man in the world sooner rather than later.
"He does not make masks!" I protested.
"You called him Elon who?"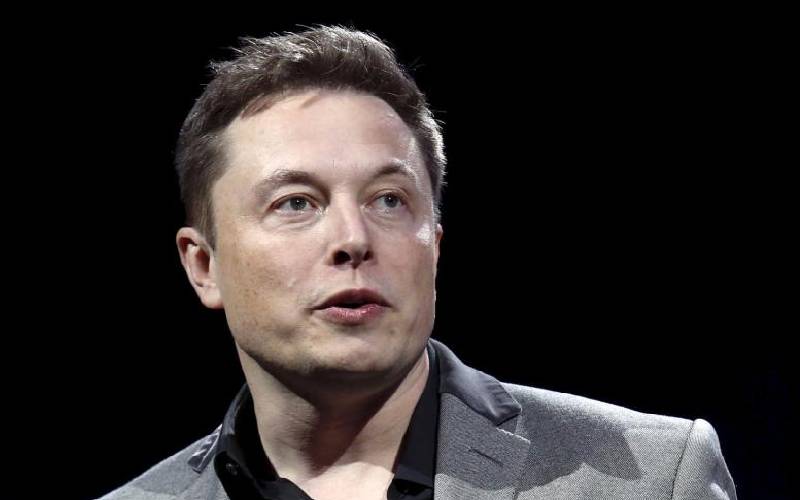 Musk, alright, but Uncle Harold has the body, the brain and the patience of a hippo.
So I changed the course of discussion to why the chicken crossed the road.
In his sermon the following day, he berated his congregation for not supporting "their beloved pastor through a year when less deserving people sold masks and topped rich-lists", calling them thankless and reminding them he had single-handedly prayed locusts away at the start of last year.
He reminded them that he had successfully prophesied that Christmas would come on a 25th, most probably of December, and it did!
"And now a man who leads a company, which he confesses is boring, is the richest on earth. Has my church ever been boring?"
At that statement, an old, bored man who sat at the back and was just drifting to sleep hit his head against the wall. The bang woke six others up.
"A man deals with your exes, taking your space in their lives. And we all make him the richest on earth." He was talking about SpaceX.
Harold does not deny that he is as dumb as a rock, but I have a feeling majority of his followers are not any wiser.
Everything he owns, it is courtesy of the generosity of his congregation. If one day everybody decided not to forego their mutura, Harold would starve. He nearly did last year.
If only they knew that their offertory for a year is enough to last Harold a lifetime were he not sharing spoils with Sue. The disconsolate on and off girlfriend blackmails Harold threatening to expose him if she does not take home a third of the loot.
Then there's the barman who gobbles up half of the money in the dead of the night when Harold marches out of the house only to stagger back in the wee hours of morning smelling like a brewery.
I boldly faced him one day and told him that he would be a richer man, and a better pastor, if he did not drink alcohol. Harold lambasted me, telling me that the best way to find a vice is being part of it to understand how it works.
"You cannot streamline a team unless you are part of it and are privy to its workings. Only by being part of the system are you able to understand why what works how and exactly how you can change it into what you desire," he hiccupped.
Sometimes in his drunken ramblings, he tells me how much he gave to the barmaid. He spends twice as much as he should, often. All while I, we, sleep hungry in the house.
The barmaid is a familiar woman as well, who carries a charm that always leads Harold into making all the wrong decisions.
By every account, Harold is the richest man in Gitegi. If I could calculate the monies he has conned desperate Christians who have come seeking prayers, the figure could easily cross the total amount that the 'tuma fare' brigade of men disbursed in all of 2020.
In the last few months of the year, he charged exorbitant fees to a battalion of battered young men that visited him hoping he would free them from worshipping Arsenal FC.
Arsenal and a curse
From one of the men, he received a cockerel, Tottenham Hotspur's crest logo. This was to stop the momentum of the London team that was challenging the historical supremacy of Chelsea and Arsenal in the city.
When I suggested that he was practicing witchcraft, he punished me by forcing me to eat an avocado, the forbidden fruit.
Harold has a lot of money at Gitegi bank. If you didn't know, Harold is Gitegi bank.
Banking on his faith and a misguided belief that he would not con them because he is a pastor, villagers entrust him with their money.
He invests it. Part of it in the expensive jewellery that Sue wears, a chunk in his own oversize suits, and the rest in the watering hole which he calls Cana of Galilee. Where wine overflows.
But most of it he invests in food: "Good health is the real wealth," he is fond of saying.
Whoever called Mount Everest a big anthill must have been the same person that told Uncle Harold that he is healthy. But with the eating he has embarked on in the new year, there is every chance that he, according to his own standards, will soon be the 'healthiest' man on earth, and as such the wealthiest man on the planet.