Driven to reach vulnerable groups amid Covid-19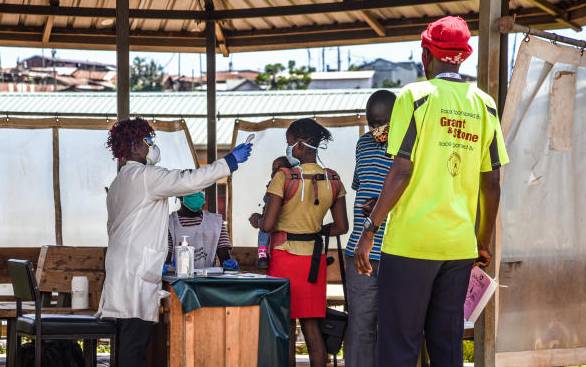 Dr Lil Wangari is passionate about reaching vulnerable groups amid the Covid-19 pandemic. Those with pre-existing conditions, especially, are faced with unique challenges in accessing healthcare during a time when they are the most at risk from coronavirus.
Kibera, especially, faces a difficult time. "Kibera is an overcrowded slum Access to water is limited, with only 200 water points for the approximately 200,000 people who live in the settlement, making regular hand washing almost impossible," she says.
"Even with the best health care, the elderly and those with chronic illness are the most affected by Covid-19. The approach used locally in Kenya has been to emphasise prevention for such folks. They have been advised to stay home, wash hands, social distancing and use masks as outcomes yet they are still the worst-hit group," says Dr Muthoni Ritho, a reproductive health specialist.
Dr Wangari leads a team of doctors at Medecins Sans Frontieres (MSF) assisting prevention control to triage and screen suspect cases of Covid-19 virus for patients and staff at the Kibera South Health Centre.
She is the Emergency Preparedness Coordinator for MSF Kenya and medical activity manager at the national emergency response committee in Kenya. She has been assisting in organising the response to the Covid-19 pandemic outbreak.
Kibera South Health Centre was built and managed by MSF up to mid-2017 when it was handed over to the Ministry of Health to continue managing it. Upon the outbreak of Covid-19, MSF reached out to the clinic to offer assistance in partnership with the Ministry of Health.
Mwangi Ndu'ng'u Kenneth, a clinical officer, says when they began working with the Kibera community, people were apprehensive especially because they had not seen the first case of Covid-19, but this changed over time.
He tells of an experience when one staff member tested positive for Covid-19. As a result, all staff were tested, this began a chain where 14 positive cases were confirmed, leading to the closure of the facility for a month, at a time when the community sorely needed medical services. All the cases were isolated and have recovered fully.
Dr Wangari says the response to the pandemic in Kibera was aided by previous good working relations with the community.
"The effect of Covid -19 pandemic is being felt more profoundly because it has upended all of our lives and touched largely on the social-economic aspect of people's lives," she says
At the beginning of the pandemic, both government facilities and private facilities had scaled-down in services but today, they are gradually going back to normal.
"There have been efforts to equip and prepare the health facilities in general and also to care for Covid patients. This training has been held by the government, teaching institutions and independent parties to prepare the health workers for the care of Covid patients," says Dr Ritho.
Dr Wangari feels that the Ministry of Health is doing what they can to shift things beat by beat to handle the pandemic.
The family dilemma
But how does being on the front line in this war affect her family?
"Communication is central in a family, I have explained to them that my work comes with risks & the precautions I take to ensure that I don't expose them, they are satisfied and supportive," says Dr Wangari.
A month ago she was a contact to staff within MSF who tested positive Covid-19 this qualified her for testing and self-quarantine. In both cases where she was tested it turned up negative.
She comes from a medical family. Her mother was a nurse and her late father a doctor.
She says working with MSF has influenced her and opened her eyes to the world of service and protection to some of the most vulnerable groups of people in society. "At MSF I met colleagues that are driven and passionate about their work, this fueled and continues to fuel who I am today."