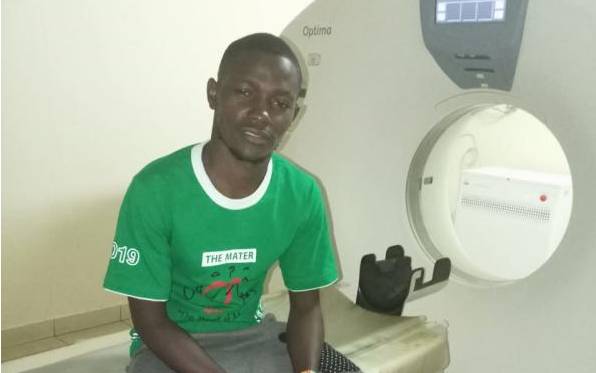 As he walks towards my table at Moody's restaurant in Nairobi, I notice a spring in his gait. You wouldn't tell from just looking at him that Dickson Njeru, 28, has been to hell and back. He shares his story.
"Third September 2019, a Tuesday, remains the worst day of my life," he says then pauses, hands cupped over his mouth.
He had left his house in Ruiru at 3 pm for his business, an M-Pesa and electronic shop, in South B, Nairobi. "You don't just sit there" when you have two houses to pay rent for.
"I closed the shop at 7 pm and went to see a friend before riding back to the shopping centre (South B) to eat at a fast-food joint. Some friends had requested me to give their friend a lift to City Stadium (he was headed that way after all)," he says.
Read More
Dickson had just purchased a new motorbike. He joined his friends after his supper. All was well until the passenger insisted on being dropped a little further in. By then, they were off the tarmac, along a railway line with Muthurwa a little way ahead.
He became wary and refused. He stopped and asked his passenger to alight and started removing his helmet. Suddenly, his passenger hit him on the head and he fell off. He remembers seeing three or four men, before hearing a gun being cocked, then passed out.
Dickson was rescued by Securex officers on patrol. He was rushed to the Kenyatta National Hospital, unconscious, and remained at the casualty section as no one knew him.
The following morning, a friend started looking for him after noticing that he had not opened his shop. He went to Industrial Area Police Station thinking his friend had been arrested at night. It is from there that he was directed to KNH.
Dickson says it's a mystery to date that his friend did not think of first calling him on phone but instead rushed to the police station.
Anyhow, he says it is this friend, who informed his sister, Sophie, of his whereabouts. His sister then called him (Dickson) to confirm. However, the call was picked by a police officer who directed her to the Industrial Area Police Station.
"I recall sobbing all the way to the hospital, asking time and again if my brother was alive, if he was alright, why the police officer had his phone... Upon seeing him, it's like we exchanged roles as he kept asking me if he would be okay, time after time. His distress distressed me even more. I was the first to note that he had gone blind," says Sophie.
The doctors handed her his file. She scanned through it and fell after reading a crushing line "a bullet lodged in the brain"!
As luck would have it, there were no available beds at KNH's Intensive Care Unit. They made calls around with no luck, private hospitals that could take him in were asking for a steep deposit.
A neurosurgeon professor at KNH had already approved Dickson for surgery. They had put him on a drip for a combination of drugs to calm the brain and prevent convulsions. A doctor offered a solution by suggesting that Dickson sleep in the theatre since he was the last to be operated on.
Long surgery
The operation took 14-16 hours; from Wednesday evening to Thursday. However, the three doctors realised the bullet was in a delicate place and they couldn't remove it.
The side effects were to be felt through headaches. Nevertheless, he was given 14 days to decide if the bullet would be removed or not.
On Thursday, around 2pm, a bed fell open in the ICU. From the ICU to the Neuro Ward, his vision started coming back gradually!
The hospital bill amounted to around Sh200,000. NHIF only paid for the Head CT Scan, but through the help of friends and family, they were able to raise the cash. He was discharged from hospital after 11 days.
He left the hospital with walking difficulties, blurred vision and stammering badly. He went to live with his sister. "I was torn between sending him home upcountry to stay with our parents and housing him. I had also contemplated employing a day house-help to take care of him," says Sophie, a newly-married medic.
Dickson's everyday constant question to her was, "Will I ever be okay?"
He admits that at some point, he started drowning in self-pity -- like when he couldn't spell his name. He also couldn't remember the spelling of simple words.
Sophie taught him the things he couldn't remember; like The Lord's Prayer, The Grace, counting 1-10, days of the week and other simple things.
He was taken to an eye clinic for check-up two weeks after getting discharged from KNH. The ophthalmologist found out that his eye nerves were swollen, hence the problems with sight. That gave him a glimpse of hope.
All this time, Dickson was oblivious as to what had happened to him; except for the head staples that he had touched while in hospital. Sophie says she wanted him to heal physically and mentally so as to be 'strong' enough to handle the hard facts.
His recovery can be described with one word -- miraculous -- as his senior doctor had said that he would never regain his eye-sight. His vision, mobility and memory came back a few weeks after. June this year was his last checkup and the doctor's report said he was very lucky. They still do not believe how he survived, and how his recovery process was that fast.
Some of the precautions he's supposed to take are to avoid too much sun, magnetic fields, over-thinking, stress and extreme emotions.
Dickson went back to his house after three months and the motorbike was recovered three weeks after the incident. He, however, had to close down his shop after the ordeal.
Today he is optimistic. "The bullet will remain lodged in my brain forever. Baby Satrin Osinya's bullet (Nairobi Governor Mike Sonko's adopted son) was successfully removed. Hon Fedrick Oprong (former Amagoro Member of Parliament) lived with a bullet lodged in his head for 26 years, and died last year at the age of 83. I am optimistic. I will live. And I will have a great story," Dickson says confidently.