I would tell my younger self to stop being an idiot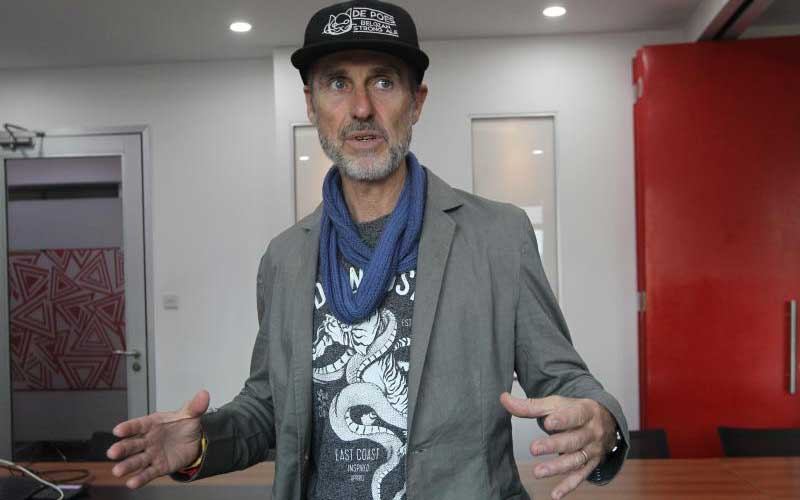 My job is exciting because we make stuff every day, and no day ever looks the same. It is a problem-solution industry and we always come up with new ways of solving clients' problems. My role entails helping with the expansion and direction of ideas. It is wonderful to be involved in the power of ideas, and it always excites me when the teams around me come up with great ones. It never gets boring.
In the morning, at 7am, I go to Java Coffee House, order a cup of coffee, go through my emails, start working on ideas, check what's happening in the Africa region and see how I can help on various projects. Then I head to the office by 9am. From then, it is meetings. I review work with creative directors and give direction, and we also go through client presentations and briefings. Work is always coming and going and I have to be in involved in both processes. I am most creative in the morning… certainly not in meetings.
The biggest challenge in an agency is making people care. It is an industry where if you don't care enough about it, it doesn't work. Second, making the word 'responsible' not feel like a threat, but an advantage. The word comes from being response-able. Meaning we are all able to respond and provide solutions. The way to tackle this is to be an example and to make sure everyone has a sense of ownership in the work we do. Then they may care.
I never aspired to be where I am today. I just loved what I was doing the whole way. Someone would say "You need to start doing this or you need to start doing that" and I would find myself in that position. But it was never a push. I just wanted to do good work and, most important, for others to do good work with me.
If I could tell my younger self one thing, I would say: "Stop being an idiot." When I look back at myself, I'm surprised as to how much I needed to grow as a person. When I was there at that age, I thought I was doing good. But doing good, or being successful, isn't about developing award-winning agencies and great work, it's about developing everything else about you other than your ego.
When I first started working in an agency, someone told me what turned out to be the best career advice I've ever received: "If we don't need you, we will get rid of you." It means making yourself important to the process. That doesn't mean getting in the way; it means being the one to come up with the solutions. I'd also add that you need to do what you love. We've had our parents and a whole bunch of other people when we were growing up telling us what we should be doing. We never really spend time to find out what makes us tick. If you do that, you can't lose. If you're stuck in a career rut, get out. We're not around forever. There is no afterlife – this is it. Get out and start living. You will be successful doing the thing you love. Find out what that is and go be brilliant at it.
My leadership style is not totally democratic. At the end of the day it is on one person to make sure the work works, so I think I'm too forceful with my opinion. I like to think, though, I spend a lot of my time inspiring people to rise up to their true talent. We have a great pool of talent in every department of this agency and it frustrates me when we are not reaching our full potential.
Being a better father to my 11-year-old son is my proudest accomplishment. That's an accomplishment any parent should be proudest of: if you can nurture kind, loving, understanding and non-misogynist boys then you win.
I am a reader. The most important book I've read is The Challenge for Africa by Wangari Maathai. This book should be studied in schools. It has such wonderful insights and offers answers on what Africans can and need to do for change and improvement. As for music, I'm currently listening to Sigrid, a Norwegian singer-songwriter; she's strange and marvellous. I'm also enjoying Billie Eilish, incredibly talented and off-beat for such a young artist.
In the evening, I practice Isha yoga, write a bit then go to bed. Outside work (there is life outside work?), I get out into the wonderful wilderness areas we have here. The natural beauty of this country is astonishing. I also enjoy paragliding.