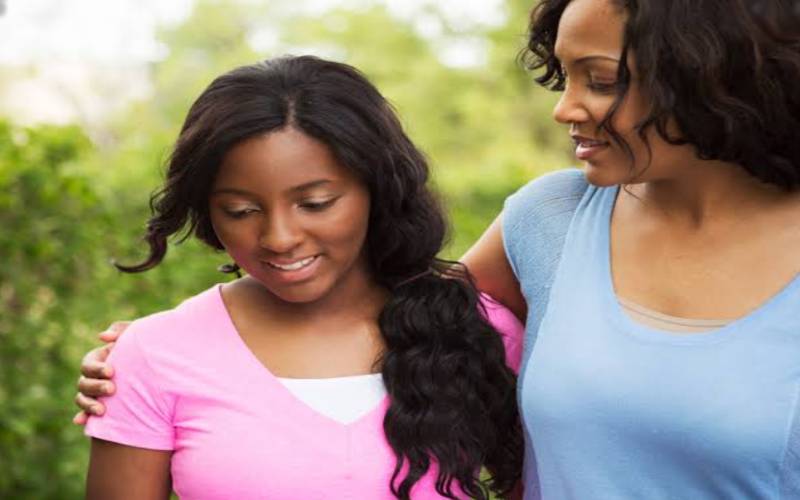 Last Friday, my wife and I sat Pudd'ng down and talked to her about boyfriend-girlfriend relationships and sex. Tenderoni has been consistently talking to our daughter about the same issue, while I have broached it a couple of times, but never quite got to hit the nail on the head.
Pudd'ng has been using a phone that used to belong to Tenderoni. It is a dumb phone. For WhatsApp and other "smarter" stuff, Pudd'ng has been borrowing my phone. I don't know why, but she rarely borrows Tenderoni's phone but instead prefers to use mine.
Tenderoni was going through the phone when she stumbled on an unsent lovey-dovey message in the mailbox.
"Who's this message from?" Tenderoni asked. And Pudd'ng, in either her naivety or trying to play innocent, brought me the phone and asked if I was the one who had drafted it. I mean, talk about trying to get me in hot soup.
"I'll get to the bottom of this," I said and typed the phone number in my Truecaller.
It belonged to a boy. Pudd'ng's classmate, to be precise. The same boy who has been sending her endless 'hi' messages, on WhatsApp, via my phone.
You can't beat raging hormones
Tenderoni was infuriated when she learnt that the message was from Pudd'ng to a boy. Tenderoni even knows this kid. She saw him with his mama when she recently went to pick our daughter's report book in school.
"I have spoken to you about these things time and again," Tenderoni raged, "I think speaking ain't helping at all."
I could see that my wife was visibly hurt. And she had every reason to be. She reached out for my belt in the wardrobe, but I stopped her.
"We will speak with our daughter," I said, "and we will keep speaking, because I know she gets it."
"These are just raging hormones. You can't beat raging hormones out of a child. What's worse, you can end up emboldening them to go in the opposite direction."
I know my daughter. And I know for a fact that speaking gets to her more than spanking. I have seen her break down when I give her the cold hard facts. Which is why I knew that, in matters of the heart, beating her would be going about it the wrong way.
Trying to make Pudd'ng see things my way
"I was also your age, and I know what you're going through," I told baby girl. "But I was also a boy ... and I've been a boy all my life. So I can tell you some things that this boy isn't telling you."
This term, Pudd'ng scored 425 marks in her end of term exams. She worked her tail off to hit this number, and I am proud of her. I always tell her that I'm proud of her, whether her grades plummet or shoot up.
"There's a time for everything," I told baby girl, as Tenderoni glared at her, holding herself back from pouncing on Pudd'ng.
"And in the not-too-distant future, you'll look at all the things that are happening and the boys who are making your head to spin, and you'll ask, 'What in the world was I thinking?'"
"Next year, you'll be doing your national exams. Don't let things to distract you and spoil the good work that you're doing."
It's hard to make a 12-year-old girl see things your way. But we must try. And then some. From Pudd'ng's look, I knew she could not get me. I knew she thought I was trying to pull her long legs. But I kept talking, and I have her cold harsh facts.
Talk ain't cheap
I knew that I had given my daughter something to think about when, three days later, she came to me and tried to make peace.
I have been giving Pudd'ng the job of transcribing my interviews. Which is a job that I am not especially fond of. She loves helping me out. But I also told her to send me a quote for the job, just to make her feel like
"Dah-dee?" she said. "I wanted to tell you about an investigative report that I saw on TV last night."
"Can you do a research on it, and I'll help you to transcribe?"
I got it. I know it. That's Pudd'ng's language of making peace.
And I know that this talk is to be continued.