10 minutes with T.D Jakes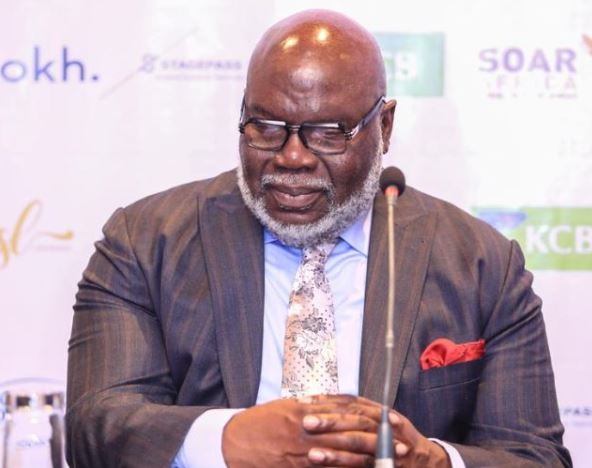 "I love Kenya, and its people," he says, his voice filling the spacious but filled room in Nairobi's Villa Rosa Kempinski. The televangelist was in the country earlier in the week for the 2019 Soar Africa Leadership and Entrepreneurial Summit.
The life of the larger-than-life figure who has got everyone's rapt attention now, seated at the high table with Kenya's business folk, was not quite always as inspiring. Thomas Dexter Jakes, also known as TD Jakes had to walk a rough road to get to where he is today. He was born into a household where faith was the cornerstone, and he embraced that faith himself, but life was not easy.
"I wasn't like a normal kid. I really never had a childhood," he told Success magazine about his early life. The reason was that when he was just 10, the youngest of three children, his father got kidney disease and it ravaged their household.
With limited finances due to his father's illness, Jakes had to take up a lot more responsibility than children usually have to. He had to take himself to school, cook, watch over the house and run his father's janitorial business. That, and his mother's job as a home economics' teacher was not enough to sustain them financially, so he also sold vegetables from their garden to earn extra money.
It was a rough life, and his father died when he was 16, but he believes that experience shaped him into the person he is today. "Had he not gotten sick, I might not be as responsible," he said. "I might be sitting under a bridge, smoking a joint…. Had my father lived, I might not have been me." Today, Jakes is a husband, a father of five and a globally acclaimed pastor of The Potter's House, in Dallas, Texas - a church with 30,000 members.
But achieving all of that came with its own set of struggles as well. T.D. Jakes met his wife Serita when he came to her church for a revival. Serita says that his ministry was what drew her to him. "My husband was one of the people that really influenced me as a young convert, because most of the time, in that generation, there weren't that many young people in church. I was drawn to his ministry, but I didn't realise that it was also a softening of the heart to want a relationship," she says in a previous interview.
Theirs was a long-distance relationship as they were over 100 kilometres apart, but they got married in 1981, one and a half years after meeting. T.D Jakes had been a part-time pastor while they dated, but decided to go into it full-time ministry thereafter. Unfortunately, he also lost his job at the same time.
Fired from a job
In a message he gave on Fathers' Day in 2013, he painted a grim picture of exactly how bad they had it. "I didn't know, when I signed up for the job of being a husband and a father, that I would end up being laid off from my job, lose my car, her ankle would be crushed. My wife wouldn't walk for 2 years. Our lights would be cut off. We would go down to nothing..."
It got so bad that their water and electricity were disconnected, his car was repossessed and so to sustain his young family, he turned to cutting grass and digging ditches.
"When they cut the lights off and we got down to where we were gathering apples to feed the kids and we got paper towels and duct tape to cover for no diapers, I jumped on a lawn mower and started cutting the grass to get money so we could go to the grocery store. My brother worked for the gas company and he used to install gas lines on the side, so I dug ditches…We would lay PVC pipe through gas lines, and I'd take that hundred dollars I got and buy groceries. When I said 'I do,' I didn't know I was going to have to do that. But I kept on going."
The risk that paid off
Later on, tired of being at the mercy of other people, he decided to take out all the money he was saving to build a house, about Sh1.5 million at the time and published a book, Woman Thou Art Loosed, which turned out to be the break the young family needed to get out of poverty.
"I got out in the street. I was selling copies like popcorn at a movie," he described his drive and determination. "I had to get that money back. I didn't want to go home and tell Serita that I had blown that money. I sold 5,000 books and got 5,000 more. I sold 10,000 — got a 10,000 order next time — sold 10,000 more. That book sold 5 million copies."
Today, the couple has five children, all adults now, and he says that being a father is the most important job a man can have. "Instilling in them the values of our faith is important at early ages. Listening to them through adolescence becomes more important than teaching because if you haven't instilled in them at early ages now it's time to listen and get your report card and let them find their way."
As adults, Jakes advises that parents should stand aside. "Just kind of guide them as they allow you to have input in their lives without trying to control them in the way that you did when they were toddlers, " he says.
Faith has been the greatest lesson for him. "It fills the vacuum and it fills the question that facts cannot answer. The uncertainties of life, the ambiguity of 'What will tomorrow bring?' The answer to that question is faith. That whatever it is, I'll be OK. Because I am not made whole by what happens to me. I am made whole by what happens in me. And to take that power back from all the people around you who are trying to mess with your head — that helped me as an individual."