Confusing world of emojis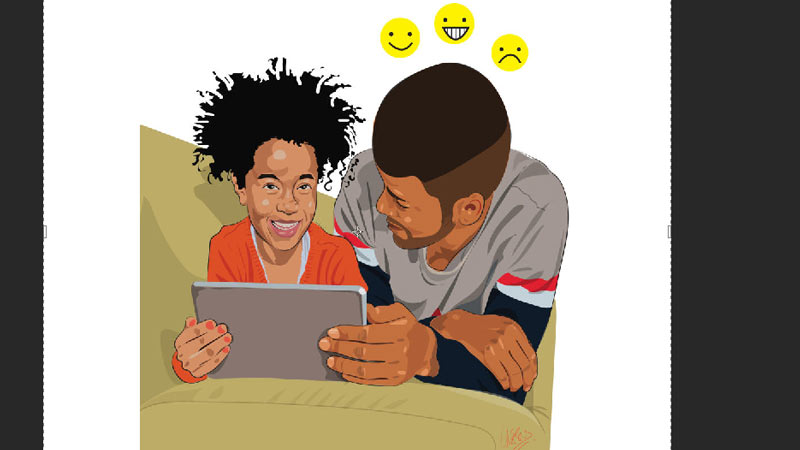 I am back in school and Pudd'ng is my teacher. She is schooling me on the art of communication using emojis. From the look the things, she is having the time of her life.
When Tenderoni and Pudd'ng travelled upcountry during the April holidays, Pudd'ng seized every chance she got to use Tenderoni's phone. And I knew baby girl was the one using my wife's phone because of one dead giveaway: emojis.
I am old-fashioned and fastidious as far as following the rules of grammar are concerned; even when I am writing text messages. I am of the opinion that, even when sending text messages, words should be written in full. Besides, as a writer, I have disciplined myself to always follow the rules of writing to the letter. I have been known to edit my text messages before sending them, even if they are just a couple of words.
Pudd'ng did not get my SMS writing brief. Which is why she brought on her emoji game when she sent me text messages using Tenderoni's phone, and I spent inordinate amounts of time deciphering what she was talking about.
Who's laughing now?
A couple of years ago, my wife bought my dad a smart phone. Although pops would brag about her daughter-in-law to every villager who cared to listen, truth is, he did not know how to use his gizmo, even if his life depended on it.
Whenever we called him, his phone would go unanswered. He finally confessed that he did not know how to use it even for the simplest tasks. Which forced Tenderoni to buy him a phone that he could use without too much hassle.
I used to laugh at my dad. But now I am in his shoes. I am now the butt of Pudd'ng's jokes.
When I took a long time to reply to the emoji-laden text messages that Pudd'ng sent me, she followed them with a couple of reminders, in quick succession, asking why I had not responded to her.
"I don't understand the messages that you sent," I replied.
The sweet little thing took the opportunity to rub it in by sending a couple more emoji texts in reply.
"I still don't understand," I replied.
"I'm laughing at you," she replied, in clear and concise English, after what seemed like an eternity.
Emoji composition
My fear is that the emojis and made-up words will find their way into Pudd'ng's English compositions.
"Dah-dee?" Pudd'ng has asked me this several times; "In a composition, must one say always the truth?"
"It is about your imagination, girl. You can let your imagination to take you anywhere."
I just hope that I did not give her a blank cheque to pepper her compositions with emojis.
Emojimail
Recently, when Pudd'ng heard me complaining that my phone was too slow, and that I was planning to buy a new one, she pleaded with me to hand down my old phone to her.
"You're still too young to have a phone," I told her. "What do you want a phone for?"
"Some of my friends have phones. But I also want it so that I will not keep disturbing you when you are busy with your phone."
If and when I am not using my phone, Pudd'ng loves hogging the doggone sluggish gizmo. But I have instructed her that, before she goes to her favourite channels – which I closely monitor - she must do several assignments on the phone. For instance, I ask her to go on YouTube and learn about people like Thomas Sankara and Patrice Lumumba.
"I promise that, if you give me the phone, I will not be sending you emojis," Pudd'ng played another card.
Heck, that's not blackmail. It's "emojimail".