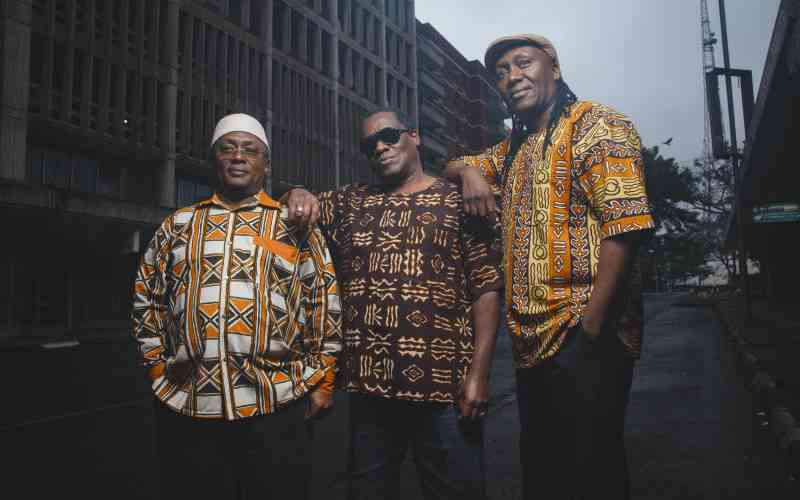 With all eyes on the August 9 General Election, politicians are wooing voters with promises at times embellished with door-to-door food donations.
But Kenya's oldest band, Them Mushrooms, has warned Kenyan voters to use their heads and stomachs in a Kiswahili song titled 'Badilisha'.
Released five years ago, 'Badilisha' failed to get prominence in the media at the time owing to numerous competing political songs.
It appeals to voters to make an informed decision on the kind of leaders who should into prosperity for the next five years.
Lead singer and composer Teddy Kalanda Harrison told voters to be careful in electing quality leaders or else they might suffer irreparably for the next five years.
"All these need to change if we are to have serious leaders from the lower to the top level in our administrative levels," he said.
In the song, Teddy teams up with his younger brother John Katana Harrison, who is the band leader.
But change is also happening within the band.
Formed 50 years ago as a family outfit, it is one of the oldest indigenous Kenyan bands that has survived even after the demise of some of its original founders and members.
Members of the group who have passed on are George Zerro Harrison, who was a lead guitarist, saxophonist and a keyboard player and Dennis Kalume Harrison, a singer and a drummer.
As a result, a new crop of generational singers is emerging in the band leadership.
Band leader John, said they are molding their children to take over from them in order to promote continuity from a generation to another.
"As one of the oldest indigenous bands, our desire is to see the group exist from one generation to the next," he said.
"Therefore, this can only be achieved when we start training our youngsters at a tender age in different departments."
After moving base to Nairobi from Mombasa five years ago, 48-year-old Henry Katana Harrison, the first son of Teddy, is scheduled to take the mantle.
Henry is a lead guitarist who can also play bass guitar, keyboard and drums.
Teddy's last son Louis Harrison has also been brought into the group.
Louis is a bass guitarist and a vocalist.
Also in the group is Kalume Katana Harrison, John's son, a saxophonist.
John's daughter, Kache Harrison is also a singer in the group.
Seven-year-old Amir Sarro, the grandson of Billy Sarro Harrison, a percussionist is slowly being groomed by the band leader.
"We are trying to bring on board even some of our cousins into the group.
"Our desire is to see the band serves many generations to come and give continuity from one generation to the other," said John.
Other members of the band are Billy Sarro Harrison and drummer Hassan Mandingo.
The most popular song of the band released in 1980 was 'Kenya Hakuna Matata'.
Asked how many copies they had sold, Katana was unable to quantify.
"This is a song that is still selling up-to-date and therefore it is tricky to quantify the sales we have since made from the time it was produced," he said.
In December this year, the band will be 50 years old, and with the new members coming up, they hope to be around for long.
In a previous interview with The Standard, John said: "We have come a long way. Music is in our blood. Over the decades, we have done fairly well in promoting this African sound. We are getting into a new phase in our musical journey as we celebrate our golden jubilee."
Them Mushrooms have ruled the music industry for five decades, since their trademark and distinct 1980 hit, 'Jambo Bwana', introduced them to the world.
Back in 1969, the Harrison brothers, Teddy, Billy Sarro and George Zirro, had formed Avenida before calling it Them Mushrooms in 1972 when the rest of the brothers — John and Dennis — came on board.
At one time, seeking an authentic Kenyan identity, they changed their name to Uyoga, but this did not work out well.
"The Uyoga name worked well for us in Europe, especially in Germany. But at home, we were hurting. We had to revert to Them Mushrooms almost immediately," John said in 2021.
To date, Them Mushrooms is one of Kenya's most successful bands. Over the years, they have helped launch and relaunch recording careers for many other local artistes.