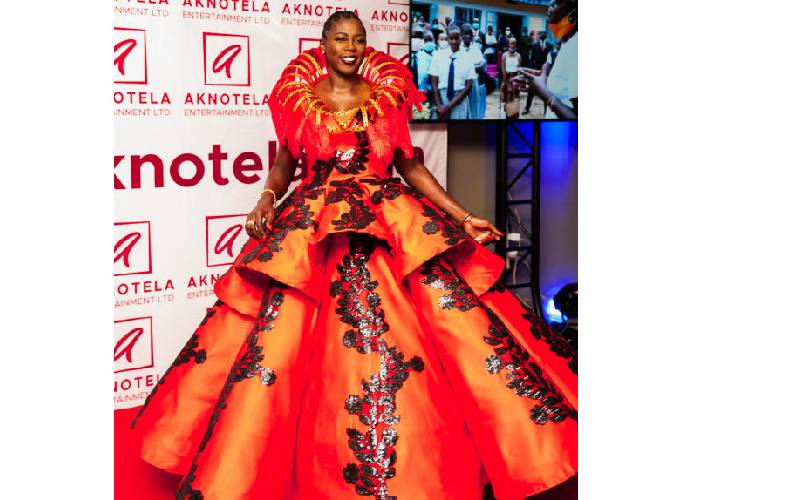 Esther Akoth Kokeyo, also known as Akothee, recently released her first book, Akothee Quotes, in a colourful book launch.
Some of the attendees included Prof PLO Lumumba, Ezekiel Mutua, Betty Kyallo, Sandra Dacha, among others, with Dr Ofwoneke as the MC.
She looked regal in a red, showstopping gown (she would have killed it at the infamous Fenty launch). Her mother, who also attended, gave a moving speech praising her.
Akothee, who commands a large following on social media with an impressive 3.2 million followers on Instagram told The Standard when she wrote the book she wanted something physical that would inspire her fans daily.
On why she decided to write her first book in quote format, she says, "I call myself the queen of captions. The quotes are based on the lessons I have learned from the University of Life; what we see on a daily basis, and the way I have been able to tackle life," she said.
Her favourite quote from it? "The energy you use in running after a partner who is not interested in the life of his or her children is much more than the one you would use to recollect yourself."
The singer and now an author has been candid about her love life, making it a hot topic on social media. "I am full of love and that is why I think I've been the most unlucky in relationships because I love too much. When I love someone, I love them. Unless you really hurt me to the core, it doesn't take many years for me to forgive you and get back. I was born a loving person," she says.
Ever the go-getter, she also launched a new album, Sibour Madhako, after a seven-year hiatus. Sibuor Madhako, in Luo, means lioness.
"Sibuor Madhako is who Akothee is. This is a courageous woman who will do what it takes. It doesn't matter how long it's going to take, but I'm going to do what I'm going to do whether the world is falling or thunder comes," she says.
It is also part of taking her brand to another level. "It is an album that will keep me in check because this is when I made a decision to take this title of role model," she said.
"I'm 41, so you don't expect me to be twerking in the pool. I cannot twerk while my children do the same. Let me step up and let Rue do that," she says.
The singer has also been having health challenges but says she is doing much better now and is grateful to those who are concerned about her wellbeing.
"I've recollected myself. I work too much because I have a lot of work off social media. I'm feeling much better right now. Amidst my world tour, I'll be seeing my doctor, but everything is in place," she says.
She is set to go on tour and will also be taking Meru artist Kamanu along with her for the Europe tour.
She is also working on another book about her life and says only a small part is pending. She is studying business management at Mount Kenya University.
"I have been struggling to finalise my degree, being a busy, active mother. I keep on deferring. I want to read and understand what I am studying," she says.
"But for now, we need to read and focus on Akothee Quotes first." The book costs Sh500. A number is listed on her Instagram page through which orders can be made.
"Akothee Quotes will uplift your spirit every morning when you wake up. The book is full of messages on courage, empowerment, and some jokes. The book is for everyone, especially those who fear death," she says.
"I want to let them know it is not death that a person should fear, but they should fear never stepping out to live. Death is not the biggest loss in life. The greatest loss is what dies inside us when we're still alive."