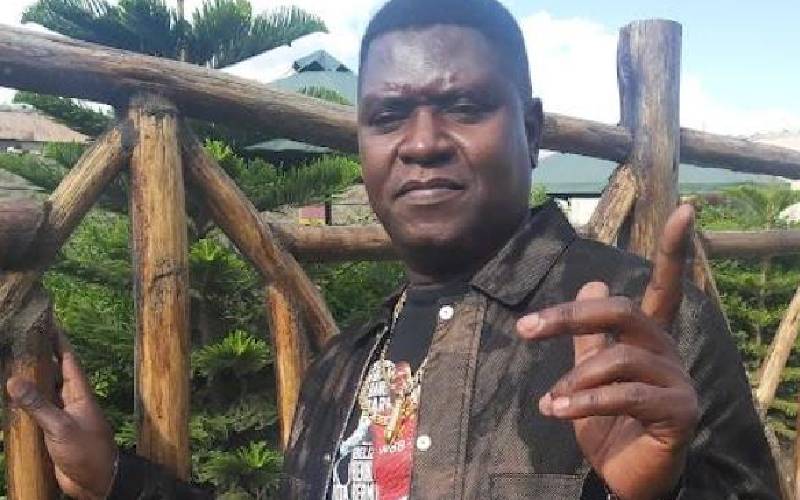 Popular Kamba musician, Papa Kyalo Senior alias Kathekani, of the celebrated Kathekani Boys Band has joined the list of artistes composing 'politically correct' songs.
No, he has not done another Lero ni Lero as has been the case with Emmanuel Musindi, neither has he pulled a Ben Githae Tano Tena move. Kathekani is praising President Uhuru Kenyatta. He has taken upon himself to document the Jubilee government's achievements, compressing all milestone gains it has made in 10 years into a four-and-a-half-minute song dubbed African Heroes.
This is not the first patriotic song Kathekani is releasing. In fact, he has been looking for an opportunity to meet the President or just, just, one of his men, to deliver a collection of songs he has been composing and recording since Uhuru came into power: Tujifunie Kenya Na Rais Uhuru Kenyatta and Uhuru Muigai Kenyatta.
Just like any other Kamba Benga musician, Kathekani is known for the high octave kwata kawaya songs, among them Minaa ya Senior, Party ya Kitindo Kinanie, Date Mbui Nzau and Muvinguo Muvuani, own dance compositions that get his fans on the floor to shake a leg like obsessed fanatics.
Now, he has a Rhumba touch. He has even hired the Democratic Republic of Congo men with the high waist trousers to back him up as he sends this Jubilee deliveries message home, one that probably, Uhuru needs to hear.
"I have always wanted to do a patriotic song and when I composed Tujifunie Kenya Na Rais Uhuru Kenyatta in 2015, I was simply singing of the pride I have for my country and of course of the leader, the President. It was a song aimed at unifying Kenyans, one that advocated for peace, love and unity," he tells Sunday Magazine.
"In 2017, I did Jubilee Tuko and in 2021 went ahead to record Pongezi President Uhuru Kenyatta. Now there is this new number where I not only praise him, but also his entire government as well as all the African leaders who have been our heroes," says Kathekani.
How the song will get to Uhuru, Kathekani has no idea. As his name suggests, he is a man who lives in the bush, one who needs some little aid to get to State House gates.