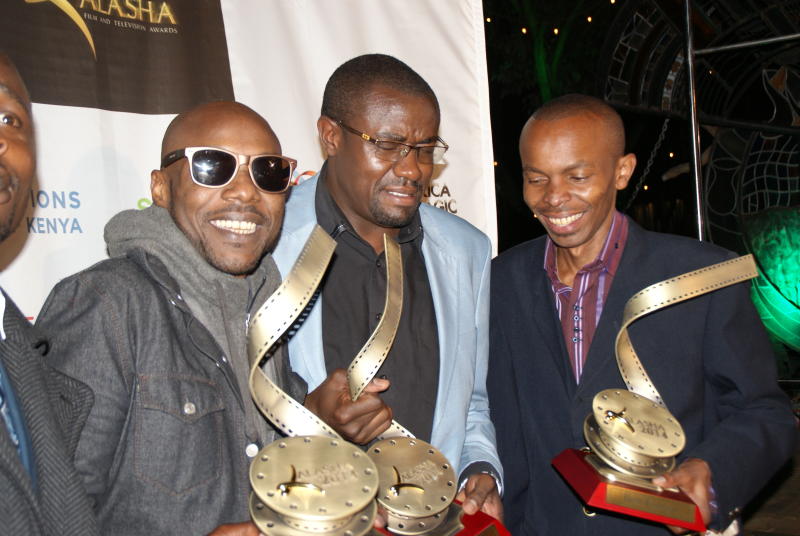 Popular Kenyan actor Telley Savalas Otieno is dead.
News of his demise broke after his long absence from the limelight.
Otieno had been hospitalised in a Malindi hospital where he died on Saturday morning. Sources from within his family told The Standard Otieno had been hospitalised for a week following a motorbike accident. He had also been battling depression.
And following his demise, the entertainment industry joined in mourning the thespian popularly known for his role in television series show, Pete. Among the first people to eulogise him was his cousin, a popular emcee and talent search creative, MC Sharon, who described him as a man who oozed confidence, strength and skill.
"Telley leaves an artistic legacy that not many actors and thespians can even begin to fathom; let alone emulate," MC Sharon who is also referred to as Mama Yao in local entertainment circles wrote.
Otieno was one of the actors playing the main roles in the Kenyan produced regionally accredited series, Pete. The Maisha Magic TV series is one of the biggest projects by celebrated movie maker, Daudi Anguka.
It's a story about power and greed, the lengths a brother will go to take what he believes is rightfully his. It revolves around love tussles and the culture of Funzi Island, sorrounded by supernatural elements and legends like mermaids. Otieno has appeared in a number of film projects: The Marshal of Finland, Fluorescent Sin and Operation Mannerheim.
The Marshal of Finland is a Finnish-Kenyan fictional film based on the life of Marshal Carl Gustaf Emil Mannerheim. The film is produced by Yleisradio in cooperation with Savane Productions and Filmistuudio Kalevipojad. It is directed by leading Kenyan filmmaker, Gilbert Lukalia. The film's world premiere was on the Helsinki International Love & Anarchy Film Festival in September 2012.
The plot of the film focuses on Mannerheim's private life from 1905–1918. It tells about a failed marriage with Anastasia Arapova, and love affair with Kitty Linder after the Finnish Civil War. According to Gilbert Lukalian, "It's a universal story about a man who has difficulty reconciling family life and career."
"This is real said news for the film industry in Kenya. Otieno was an accomplished actor. I first met him at the Phoenix Theatre, where he used to act. That was back in the days. He moved to Italy where played a number of roles in several films before coming back to Kenya," said Otoyo Kazungu, a popular actor and emcee.
A close friend and fellow filmmaker, Betty Gathungu said she had been overtaken by grief after receiving the news.
Leading content writer, concept developer and film director, Lucia Shikuku said Otieno had achieved what many thespians would wish for in their acting careers.
"My heart is still heavy with grief. I can't say much for now," the filmmaker who has been involved in some of the top TV series' such as Monica and Pamela said.
Otieno attended school in Mombasa before joining the University of Nairobi to pursue Literature. He later dropped out to join theatre.