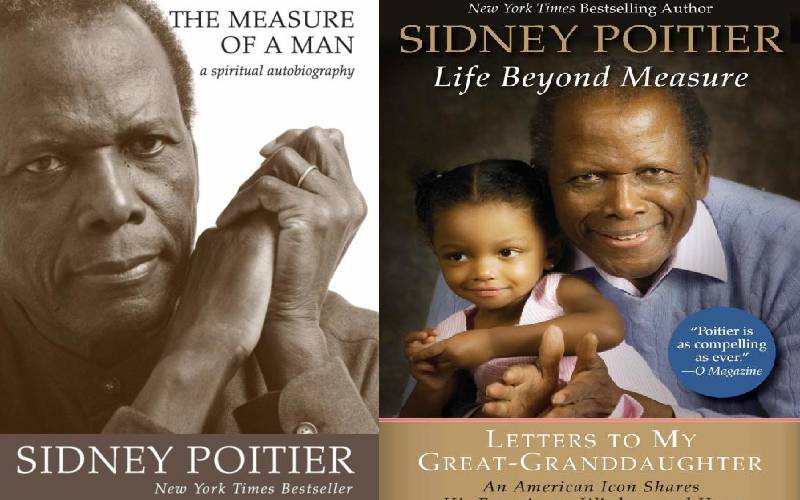 When film star Sidney Poitier died last week aged 94, there was an outpouring of praise and grief. Poitier was after all the first black man to win an Oscar. He won the Academy award for Best Actor for his role in Lillies of the Field (1963).
He has been credited with opening the doors in Hollywood for Black actors at a time racism was the order of the day.
Despite his monumental role in the history of film and civil rights, however, tributes to the legend have little in the way of what he himself has said or reflected about his experiences.
Luckily, however, Poitier penned three autobiographies in his lifetime. The first This Life (1980) has become a collector's item, selling for between US$600 (Sh68,000) and $750 (Sh85,000) on Amazon over the last week.
It has been described as a story of "bitter sweet humor at times and seriously moraled at others."
His second, The Measure of a Man: A Spiritual Autobiography (2000) introduces a philosophical man. One preoccupied with the meaning of life, and the life he has lived. In his own words, in the introduction he writes that he decided to write a book about life, "Just life itself".
He, however, points out; "I have no wish to play the pontificating fool, pretending that I've suddenly come up with the answers to all life's questions."
His third book was a letter, or letters, to his great grand-daughter, aptly titled Life Beyond Measure: Letters to My Great-Granddaughter (2008). These are 23 letters (each is a chapter) to his first granddaughter Ayele, he calls her "the first of the next generation". She was born on December 22, 2005.
At the time, he writes, he had been working on a book of essays he intended to title "Unanswered Questions, Unfinished Lives".
Ayele's birth changed this, and Poitier found himself writing to his granddaughter, passing along lessons on life, the family and even anecdotes about Ayele's own growth.
It is to the second book that we return. The Measure of a Man.
In this book, Poitier reflects on life, almost like a typical old man reminiscing, he was 72, when the book was published.
By his own account, he was grateful for the life he lived. Brought up on Cat Island in the Bahamas, where he lived until about the age of twelve when he moved to Nassau, the capital of Bahamas. His life on Cat Island was at once idyllic and filled with poverty.
Yet it was when he moved to Miami at 15, then New York, that he witnessed lack. He had never much been concerned about his skin colour, there was no reason to. While there was a a bit of it in Nassau, it was in New York that he came face to face with the depravity of the racial divide.
Having dropped out of school at 13, he was barely literate and after living rough, acting opportunities called, he found himself sorely lacking, and advised to try his hand at dishwashing. The work he had been doing to survive on the harsh streets of New York. He laboriously learnt how to read.
And even when he started finding roles, Poitier was adamant on staying true to who he was, who his parents were.
He gives an anecdote in the book where he was offered a role but he declined on the basis that the role did not work well with his beliefs. The role would have paid $750 a week, at a time he needed just $75 to bring his newborn daughter and wife home.
Asked about this by Oprah in a 2000 interview, Poitier explained what the role was about. "I was married with a young child, and I had one child on the way. I needed the bucks! The role was a janitor, to which I had no objection. This janitor worked for a gambling casino. Someone connected with his company was killed, and it was thought that the janitor had information about the death.
"The people who perpetrated the crime went to the janitor and said, 'It is imperative that you don't speak of whatever you may know." Then the bad people, in order to cement their control over the janitor, killed his daughter. They threw her body on his lawn, and he didn't do anything."
So why did he turn it down?
"I said to myself, 'That's not the kind of work I want.' And I told my agent that I couldn't play the role. He said, 'Why can't you play it? There's nothing derogatory about it in racial terms,' and I said, 'I can't do it'. He never understood."
In his book he says he rejected the role because the character simply did not measure up. "He didn't fight for what mattered to him most. He didn't behave with dignity."
This was a motif that was to keep recurring in his career as an actor, refusing roles that he either was not comfortable with or were against his own values and upbringing.
He told Oprah that what he had in mind was what was expected of him "not just what other blacks expected but what my mother and father expected. And what I expected of myself."
And to Oprah's question about what this expectation was, he said it was to "walk through life as my own man."
He went on to find fame and fortune, but he never really felt at home in Hollywood, always the outsider.
He wrote about how it was in his 60s that he fully absorbed his outsider status. "I live in Beverly Hills now, but I'm still an outsider there. And Hollywood let me know my place from the beginning."
The Kenyan connection
One of his better breaks he wrote was when he got the call to make the movie Something of Value in Kenya. It is after this, he wrote, that his career really took off.
The 1957 movie was based on a book by Robert Ruark about the Mau Mau war.
In the movie, Poitier plays the role of Kimani wa Karanja, a young man raised together with his settler boss' son in colonial Kenya where they forge an unlikely friendship. But when Kimani joins the Mau Mau, he often finds himself a man conflicted. Their story embodies both a personal and ideological struggle.
In 1975, he shot yet another movie in Kenya, The Wilby Conspiracy. In this picture he plays Shack Twala, a revolutionary in apartheid South Africa.
These two roles were themselves revolutionary, on his role sin Something of value, he wrote that he was living in an America where "a career like this had never ever been dreamed of for an outsider of colour; it had never happened before in the history of the movie business - a black leading man.
Yet despite all his achievements, Poitier kept his feet firmly on the ground, writing, "I rarely have the desire to stick it to people. it's enough for me to know that I've held myself in good standing with me, you see."
And even when he won an Oscar, he was conscious enough of the times he was living in to know that there was still a long way to go in achieving civil rights, and equal treatment for the black race.
He wrote: "Did I say to myself, 'this country is waking up and beginning to recognise that certain changes are inevitable?' No, I did not. I knew we hadn't 'overcome', because I was still the only one."
Denzel Washington became the second Black man to win Oscar for Best Actor in 2002 for his role in Training Day. Thirty-two years after Poitier. Significantly, it was at the same awards in 2002 that Poitier was given a lifetime achievement Oscar.
Incredibly, Washington had often been touted as the next Sidney Poitier.
The two stars raising their Oscars to each other in salute remains one of the most poignant moments in Oscar history.