Prof Hamo introduces Jemutai as wife at Kanu event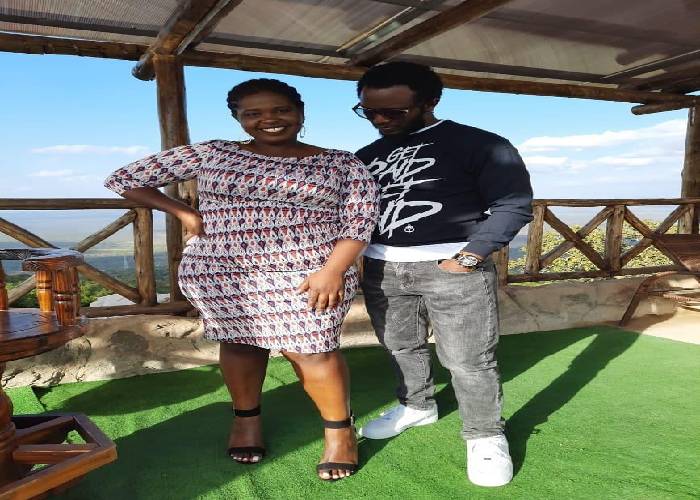 Comedian Herman Kago, popularly known by the stage name Prof Hamo, on Thursday introduced fellow comedian Stella Bunei, aka Jemutai, as "my wife", a few months after the duo reconciled following a nasty online spat.
The "comedy couple" entertained guests at Kanu's Delegates Conference held at the Bomas of Kenya in Nairobi.
After Prof Hamo had finished his performance, MC Jessy, who was the master of ceremony, struggled to find the right words to introduce Jemutai, who was next on stage.
As MC Jessy hesitated while introducing Jemutai, Hamo made his work easy by recognising the comedienne as his wife.
"We also have another comedian in the house. She is from the Rift Valley, and carries a guard of milk before..." MC Jessy said in his introduction as Hamo stood in front of him.
"Just say my wife, stop pretending," Prof Hamo told MC Jessy.
"Come over, babe," added Pro Hamo as he welcomed Jemutai on stage.
But Jemutai shrugged off the jokes, and instead proceeded to execute her lines which included an appeal for men to adequately finance their wives.
"As men, I know that sometimes you may decide to check in to a joint on your way home to take one for the road. In no time, 'Kibet' joins you and he decides to throw a round as you return the favour. Before you know it, it is 9am, only to realise that you still have last evening's uncooked food in your car.
"If you want to avoid the unnecessary nagging from your wife, just send her the money. Money is like a detergent. It washes the heart clean (sic)," said Jemutai, who had previously accused Hamo of being a deadbeat father.
Hamo and Jemutai have two children together.
Hamo is said to be having three other children from another relationship.
Early this year, Jemutai publicly accused Hamo of neglecting their two children.
"I had to go back to family and make good with them, otherwise all this would have been a facade. We are patching up things, not there yet but headed there by His grace," Hamo wrote on his Facebook page in his apology.
Hamo, who later bought Jemutai a television set after the apology, had asked for DNA tests to establish the children's paternity. The outcome indicated that there was a 99.99 per cent probability that he sired Jemutai's children.