Star, monster: The R Kelly we didn't know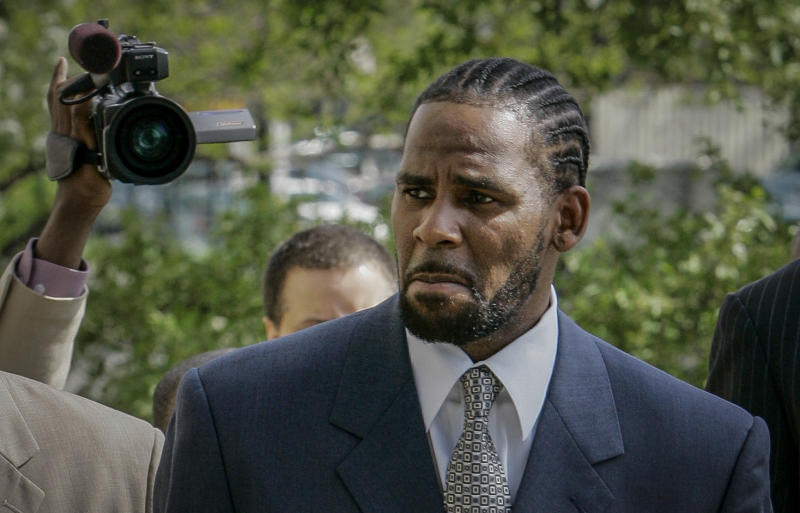 It didn't matter if or if not teen sensation Aaliyah Dana Haughton had copied the chart topping Age Ain't Nothing But a Number from Bobby Caldwell's What You Won't Do for Love.
To her fans, the 1994 release was an angelic obsession. This was a defining moment for the then 15-year-old who had started her music career at 11 before dying in 2001, at the age of 22.
Then came the news that has played a big role in the trial of R&B superstar R Kelly; Aaliyah was married at 15 to Robert Sylvester Kelly (his real name). R Kelly was 27 at the time.
Last month marked the 20th anniversary of Aaliyah's death since she died in a plane crash on August 25, 2001. A month later, a jury found R Kelly guilty of sex trafficking. His most high profile victim, Aaliyah, featured prominently in a trial followed keenly all around the world.
Now, Aaliyah's fans say justice has finally arrived.
"Many teenagers back then idolised Aaliyah, and viewed her as innocent. Boys had a crush on her while young girls wanted to be like her. It was rather confusing for all these young guys to learn that her mentor and producer was sort of taking advantage of her and more so that she died at such a young age before she could enjoy her free mind," says popular entertainer, deejay Crème de la Crème.
On Monday, Kelly was found guilty of exploiting his superstar status to run a scheme to sexually abuse women and children over two decades.
According to BBC, 11 accusers - nine women and two men - took the stand over the searing six-week trial to describe sexual humiliation and violence at his hands.
After two days of deliberation, the jury found Kelly guilty on all the charges. BBC writes that the jury found that R Kelly was the ring leader of a violent and coercive scheme that lured women and children for him to sexually abuse.
Along with eight counts of sex trafficking, the singer was found guilty of racketeering - a charge normally used against organised crime associations, wrote BBC. Testimony had it that R Kelly inflicted mental torment on his victims and denied them basic rights, among them eating and also visiting the bathroom without his permission.
The verdict of a case that has been in the corridors of justice for years is a stunning and historical fall, a shame of a man who influenced the entertainment scene worldwide, being one of the biggest R&B names the world ever saw.
Locally, R Kelly's music ruled radio stations and club deejays playlist as his cool urban lifestyle influenced pop culture complete with the way the youth dressed and presented themselves.
In 1993, when his Bump n' Grind hit off the 12 Play album hit, the airwaves becoming the biggest R&B song that year, youngsters across Kenya hit the streets in baggy T-shirts branded with R Kelly merchandise. The urban street version then was his sagging jeans, white and black R-Kelly T-shirts and the back flip snapbacks as well as his trademark 'bad-boy' bandanna.
"Everything club music seemed inspired by R Kelly back then. As much as we had other big stars as Sean Combs, Toni Braxton and Aaliyah herself in what defined that age of R&B, R Kelly's music seemed to have a special allure that made him the darling of music lovers especially those who wanted to be associated with that street cool image. It was the gangster look most school girls liked to see their boyfriends wearing," says veteran deejay DJ Space.
Another veteran deejay, Nijjo, recalls how the early 2000s club and pop lifestyle was highly influenced by R Kelly's music and lifestyle. His big hits, among them I Believe I Can Fly (2001), Same Girl - Double Up with Usher (2007), I Wish - To The Homies That We Lost - (2000), The World's Greatest (2001), Step in the Name of Love, U saved Me - Happy People (2004), and Bump n' Grind 1993, he says, made every deejay's playlist.
"R Kelly is a music genius. He is a good songwriter, music director and performer who will go down history books as having influenced R&B for over two decades. Locally, R Kelly has been a household name among thousands of fans who love his music. It is unfortunate that people are coming to see a part of him they never did back then, says DJ Nijo.
Matthew Makanga, who is now a pastor and Prison's choir band trainer, recalls the late 1990s when he was a Christian Union leader in Athi River AIC Secondary School. He says R Kelly's gospel music used to inspire the youth who would sing the songs during church service and weekend fellowships.
"Songs like Storm is Over (2000), I Believe I can Fly (1995) and I Wish have largely been believed to be contemporary gospel, just as Sauti Sol's Kuliko Jana and H_Art the Band's El Shaddai. Sometimes it's hard to draw the line between who is inspired by God or not. Clearly, if the court ruling is anything to go by, this guy was a smart manipulator, whose flip side, the evil end, is now being revealed," says the prolific instrumentalist and vocalist.
Oscar Kasyima, a diehard R Kelly lover, says: "It is rather unfortunate for such an icon to be found guilty of such offences. Of course, justice must prevail. But R Kelly will forever remain our hero."
The 46-year-old says his music shelf is still decorated with the music icon's music album cassettes, among them TP-2.com, Happy People, Double UP and Love Letters.