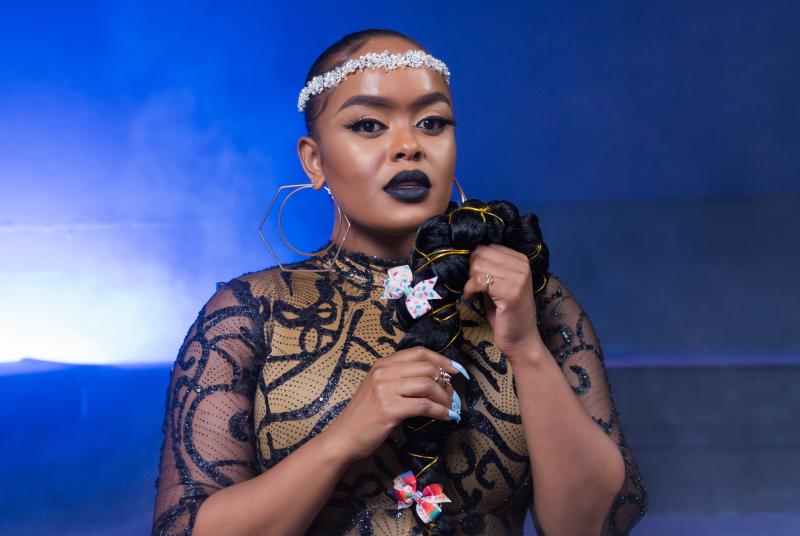 A love ballad, Promise, is the first video of Avril's new album, Spirit.
It is a redefinition of a musician who has come of age, capturing a love philosophy any mature person can relate to: Heartbreak.
Delusional as they come, Avril stars in the lead role of a bride sighting her heartthrob in her new-found belief that a promising future can take away the dark clouds of yesteryears.
After the storm, she is making strides home.
Two other songs, Don't Go and Spirit, rally the theme on. She ropes in her three-year-old son as a mark of milestones she has reached and wraps it up by adding a Kikuyu dialect track Gikeno.
Besides, who can remember for how long this astounding damsel has been around?
When Mary Maina alias Marya and Judith Nyambura alias Avril released their breakthrough hit single Chokoza, in 2008, Avril had just turned 22.
The song, thrust her into the limelight. It was only a year after Ogopa Deejays had signed her that she became the magic to Ogopa's much-needed facelift.
Despite the two singers releasing more hits like; Mama and Hey Baby, no other song overtook Chokoza's hype. Their contract with Ogopa Deejays expired in 2015.
Avril, who celebrated her 35th birthday yesterday, says she is still on the grind, 17 years later.
Despite releasing several tracks, her first studio album Spirit, drops today.
This milestone, she says, has come with sweat and tears especially at a time, when musicians are going through hard times because of Covid-19.
And with a good management team behind her, she is set to ruffle feathers and reclaim her spot as one of the most prolific and vocally-endowed singers of our generation.
"This has been an adventure and that is why the new album presents an emotional roller-coaster for me and my fans.
"It speaks of musical growth. When I released Chokoza, I was in that space, you know, hitting clubs, drinking and being hit on by men. That has changed. How I view things is different and I feel I now perceive life in a deeper way," she says.
"I have to tap into the reality and that is what Spirit presents. It's a journey of my life. I am now a grown woman, a mother and an entrepreneur. I have learnt to work with purpose and balance," Avril says.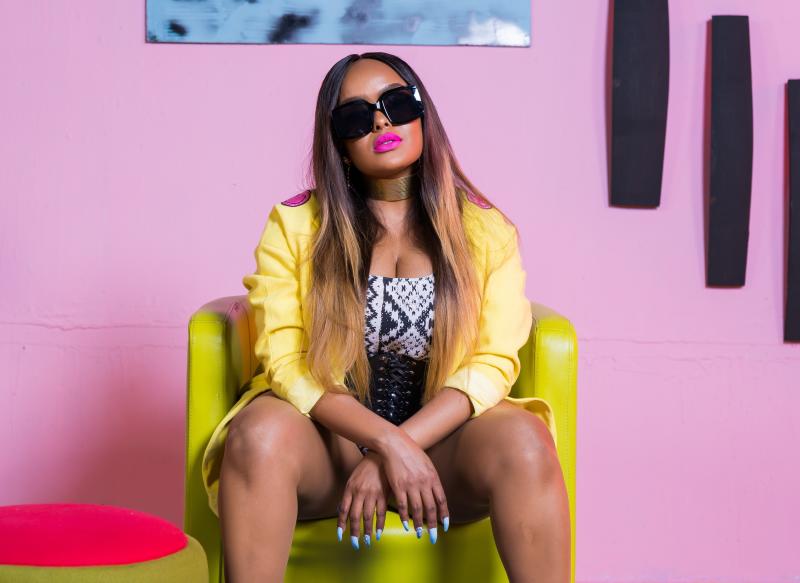 Time off the limelight
After exiting Ogopa Deejays, Avril took a sabbatical as she schemed on the way forward. She wanted to work with a team she could rely on, but did not want to sign up with another label.
Besides, the peculiar enchanting Ogopa Deejays Kapuka buzz was gone and she needed to work with a producer, who would understand her vision; one talented enough to boost her back to the top.
Contrary to rumours, she never signed with King Kaka Empire.
"I don't mean to say that it is wrong for an artiste to be signed. I believe, it is important to own your content and work out a good formula of how to make a workable plan with those involved in your projects. After my contract with Ogopa Deejays ended, I did not want to box myself anymore," she said.
"For long, I worked with Saint P because we jelled well and I was comfortable with him. However, my management team advised I try something different in this new project and that is how we settled on Producer SoFresh, who is also behind the album as well as Trevor, the Grammy award winning produce," she says.
Spirit is a 12-track album that features inspiring songs, sensual hits, dance and reggae numbers as well as spiritual melodies.
It is has collaborations with some of Kenya's finest voices among them Delphin Mudigi aka Savara, Mbithi, The Kamba Boy, Pryshon Kenya and Sylvia Saru aka Ssaru.
During her formative years, Avril was a simple and shy child, growing under her parents' care in Nakuru, where she still calls home.
And this is where she started her singing career.
She was active in drama and music festivals during her high school days and before she cleared her Kenya Certificate of Secondary School Education (KCSE), she had become popular among her peers.
Immediately after relocating to Nairobi for her undergraduate studies at the University of Nairobi where she pursued Product Design, the then Ogopa Deejays' artistes' manager, Emmanuel Banda discovered her talent and invited her to the studios.
By the time she was in second year, Avril was a signed artiste and released her debut song, Mama.
Her follow-up collabo with Marya for the song, Chokoza became an instant hit.
In 2009, she was featured on Colonel Mustapha's Mtaani Dot Com and worked on the Leo Remix with Tanzania's Ambwene Yessayah aka AY.
With all this success, Ogopa Deejays had already positioned her as their new female star.
"I recall how we used to work as a team and stage major concerts in collaboration with Pulse Magazine as well as Mash Auto. Those are days I still wish for.
"We would do road trips to Mombasa and stage shows all weekend and you'd know from the energy we received from the fans, everybody appreciated us," she says.
By 2010, Avril had fully stamped her music authority and the awards were flowing.
She scooped the Golden Mic Awards (Most Promising Artiste), Chaguo La Teeniez Awards (Best Female Artiste) and Nzumari Awards (Best Female Artiste) awards.
Some awards she received include Teen Choice Awards (Best Female Artiste - 2011), Kisima Music Awards (Best Boomba Artiste – 2012) and the Pulse Music Video Awards (Best Female Artiste of the Year – 2015).
A multitalented creative, Avril has featured in several film productions among them Shuga: Love, Sex and Money, a Kenyan television soap opera where she played the character Miss B'Have – a celebrity singer with a staunch belief in monogamous relationships.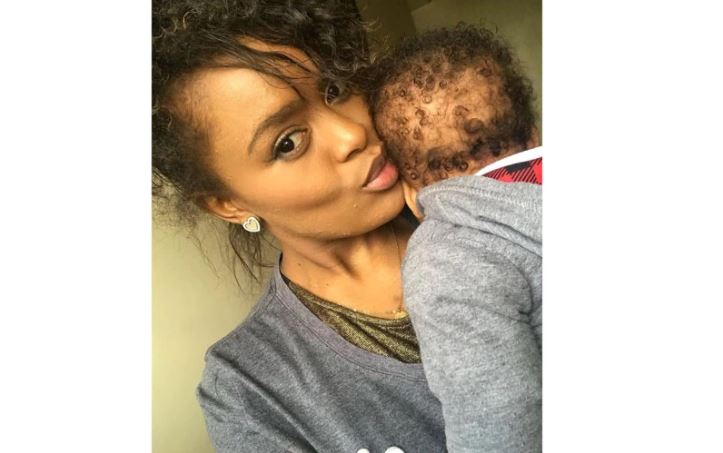 My first love
"I love acting, but music is my first love. After Shuga, I took a role in M-Net's Noose of Gold, where I played the role of Corrine, a drug trafficker. However, I discovered that acting was demanding.
"We would be on set for a whole day, for months. That is why I went slow on acting," says Avril, who has had roles in Mali, Skandals Kibao, Auntie Boss, Behind the Veil and The Checklist.
About her designer label Home 254, she says: "I feel I have been using my degree fully in creating the Home 254 designer brand. I have been working with a team of young people in pushing the brand and I can now say the brand has a life of its own," she says.
She, however, reveals it has not been all rosy.
A few months ago, she was involved in a verbal altercation with comedian Eric Omondi after he alluded that Kenyan comedians were doing better than musicians.
After the birth of her baby boy, it was rumoured that she wanted a 'complete family', but she says she would rather not talk about it.
"My son means everything to me and has been playing a big role in my life. He has taught me the true meaning of unconditional love. We talk, play and bond a lot. We vacation together. He grounds me," she adds.
"I have learnt to love myself and keep myself off unnecessary pressure. That is what you do when you know what your journey is all about. When I got pregnant for example, I decided to take a break from the limelight.
"My son has revealed to me a lot on what life is all about," she says, adding that things do not always turn out how one plans, but "God makes no mistakes."
She says new album is just the beginning of a more 'dynamic me'.
"I have been blessed to look at life in a way that I don't regret anything whatsoever."