Four generations in: Happy Valley and family intrigues
STANDARD ENTERTAINMENT
By XN Iraki | April 25th 2021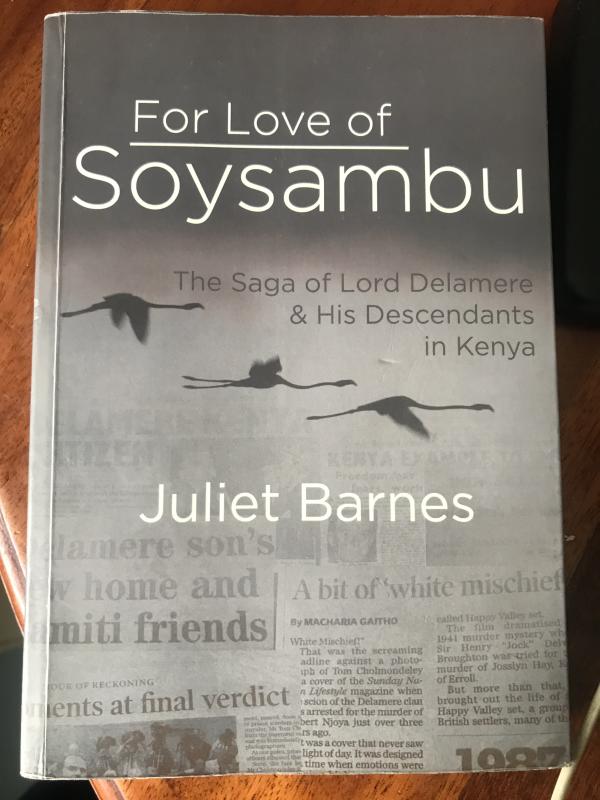 For Love of Soysambu is a thrilling in-depth story of one of Kenya's best-known white families, the Delameres. Every schoolboy or girl in Kenya has read about the pioneering farmer, Lord Delamere, who died in 1931.
His son and grandson never left Nakuru and its environs. They may not own as much land as they owned then, but their fame has not diminished. Juliet Barnes, who has lived in Soysambu conservancy for over 20 years, gives insights into this secluded family that was brought into limelight more recently by their son, who got on the wrong side of the law.
Juliet Barnes, writing as an insider, goes beyond Soysambu to Cheshire, England, where the Delameres owned about 7,000 acres. Their story starts from 1263. The book is a 800 year journey but concentrates more on the last 100 Years. That Delamere bought their barony at £5,000 instead of £1,500 in 1821 is amusing to say to the least.
The book starts with the future 3rd Baron Delamere, Hugh Cholmodeley, walking to Kenya through Somalia and Ethiopia to lake Turkana and getting to Nakuru through the "back door". It's not clear why he did that. It was probably more of his adventurous spirit and stubbornness that seem to characterise the Delameres.
The pioneer Delamere settled on 100,000 acres in Njoro, which he called Equator Farm, before shifting to Soysambu in 1911. The story flows, focusing not just on farming but relationships, from marriages to divorces. If there was an exam on who married or divorced who in the book, or which Delamere was which – all were called Hugh or Tom - I would fail it.
The Delamere relationship with the Maasai, consummated with traditional ceremonies, is explained. They even speak maa. The visit by British royals as early as 1928 and later governors like Patrick Renison and Evelyn Baring confirms the title held some weight, despite the origin. Even Winston Churchill visited Delamere in 1907. He also hosted former US president Theodore Roosevelt in 1911.
The 5th Baron still lives in Soysambu after marrying the daughter of the penultimate governor, Sir Patrick Renison. I had the privilege of meeting Lord Delamere and his wife Ann for a cup of tea at Soysambu after game counting a few years ago. Juliet discloses in the book that Delamere once owned Ol Pejeta conservancy in Laikipia. He also owned 400 acres of the present day Loresho in Nairobi. His house had a fig tree at its centre. And became a hotel.
The 3rd Baron Delamere was not just influential in farming, he was active in the legislative council (Legco) where he was nominated, but had to be expelled twice for intransigence. He was active in WWI, heading the intelligence service, and tried to recruit Maasai, not very successfully. He was opposed to Indian immigration to Kenya. Remember the white highlands? Yet today Indians hold big positions in UK including Cabinet posts and members of Parliament. He seems to have feared they would overrun the country.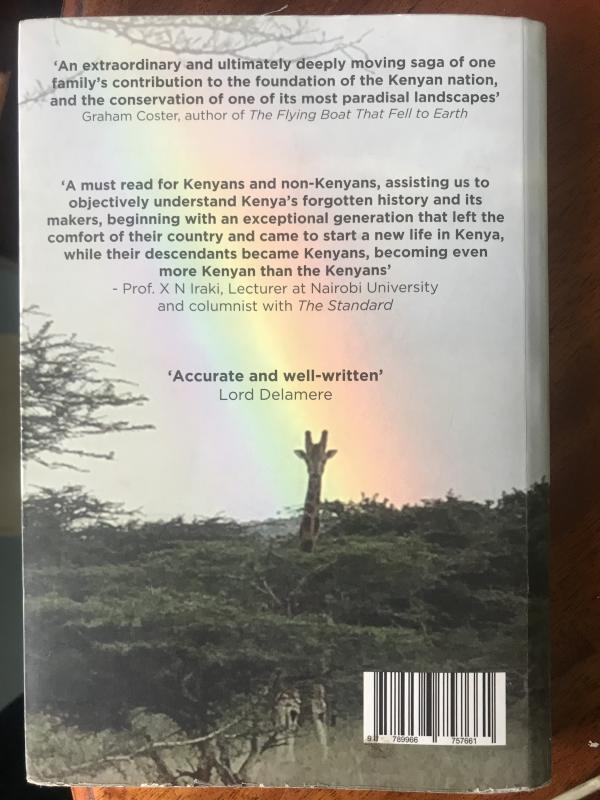 It's better to read For Love of Soysambu after reading White Man's Country, another book on Delamere written by Elspeth Huxley, no relation to Aldous Huxley, the writer of Brave New World. The later is a great read against the backdrop of covid -19. It predicted the miracles of molecular biology in 1931.
Juliet mentions Happy Valley several times and it's key players seems to have interacted with the Delameres particularly in Nairobi's Loresho. One 'Happy Valleyite', Diana, finally married the 4th Baron Delamere. She was formerly married to Motion, Broughton and Colvile. She was buried between her two latter husbands!
With great expectations, the reader looks toward to getting a definite answer on who killed Lord Erroll, the doyen of happy valley and confessed lover to Lady Diana. Like in Barnes's book The Ghosts of Happy Valley, we are left asking who?
The book mentions Mau Mau and how oathing affected labour in the farms. The visit by Princess Elizabeth and her ascendancy to throne while visiting Kenya in 1952 is covered too. The Delamere family had other connections to British high society and all attended Eton where the 3rd, 4th and 5th Baron graduated from. Eton has educated 20 of 50 UK prime ministers, including the current one. The 6th Baron-to-be was there, but never graduated.
The aftermath of Uhuru and the departure of the white man is analysed. The book captures the dilemma of 'mzungus'; to leave, or stay like the Delameres. Juliet adds life to the book by interviewing some mzungus who lived in Kenya during the colonial period - living both in Kenya and abroad.
The evolution of Soysambu from colonial period to present day comes out clearly. The trial of Tom Chomodeley captures our attention as the book nears the end. His acquittal seems to have unsettled the good relationship between Delameres and local communities since the 3rd Baron's arrival in 1897. The use of a 'mganga' to cleanse Soysambu after court cases leaves one wondering how religious the Delameres are, or was it the attachment to Kenya and her traditions?
In 310 pages, Juliet Barnes, who still lives in Soysambu, narrates the story of the Delameres as an insider but with the objectivity of a writer. It is a story of four generations that made Kenya their home but must live within new realities, like a burgeoning population and the hangover from the colonial period.
To those who stop at Delamere at Naivasha or Soysambu Conservancy closer to Nakuru, read the book and know what happened or happens behind the fences.
The books ends with the untimely death of Tom Cholmondeley at 48 without taking the title 6th Baron. He had not settled on farming like his parents or grandparents, but his two sons are an assurance that his name will live on, just like Soysambu with its beautiful and unique flora and fauna against the pristine Lake Elmentaita.
Whether reading for fun, curiosity or research, For Love of Soysambu is a great read.