Tusker keeps benga alive despite a raging Ohangla storm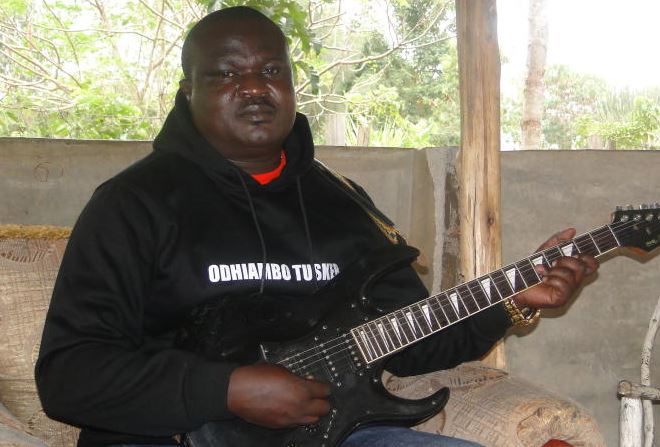 When he strikes the first note, the atmosphere around becomes lively. When he drops a line from Jathum Chamo Suya, you can't help but hum along.
Benard Odhiambo Okome, known to his fans as Odhiambo Tusker, is proving to be another talented benga musicians with a commanding stage performance.
"In order to come up with a danceable, properly arranged, educative and entertaining song, any musician should always take their time," says Tusker as we settle down in a gazebo at his home in Malela village, Rarieda, Siaya County.
Tusker's hits such as Cynthia, Florry Nyar Bondo and Jopuonj Jomabeyo have become popular and are requested by fans during live performances, in discos or by callers to radio stations.
"I conduct a lot of research before hitting the studio to produce any song because the beats might fade, but the message linger on," says Tusker, a student Osito Kale, another talented benga musician.
He says Florry Nyar Bondo and Cynthia are personal experiences. "Florence was my girlfriend and we had even planned to get married but we broke up. I met her years later and she asked why I had not composed a song for her. I did but by the time it hit the airwaves, Florry had died," he says.
Tusker was born in a polygamous family but says he played a father figure to his siblings his father, Nicholas Okome, died. "My father spent all his resources on his children's education but when he died, I ensure all my siblings continued with their education even though I had dropped out in Form Two due to lack of school fees," he says.
Tusker, who quit Kale's Nabi Kings Band to form Malela Super Kings Band, remains popular over the years, sometimes disappearing from the airwaves, but always making a comeback. A few years ago, there was even a rumour that he had quit music as a result of dwindling fortunes.
He says people expect a lot and this is what has led to the fall of many artistes. "I am not retiring from music anytime soon," says Tusker.
Even though his stage name was derived from his love for Tusker beer, the artiste no longer imbibes.
Ohangla musicians are giving him a run for his money, but Tusker says the competition is healthy.
But why do artistes who rise to fame fall back to poverty so fast? While admitting that some musicians live beyond their means, Tusker advises them to treat music as an investment. "Most of the upcoming artistes are after fame, quick money and living large," he says, adding that there is a need to invest in other sectors.
The artiste, who is now planning to nurture young musicians, says the industry has been hit by Covid-19 that led to the closure of clubs.
"We have now resorted to staging live performances on social media but it is not paying as much as performances in clubs or concerts," he says.
Ruto's UDA headache
Signs indicate the new political outfit may run into headwinds as it tries to consolidate the DP's support base in Mt Kenya region.