Cerebral palsy will not stop me from thrilling you, DJ Wiwa promises fans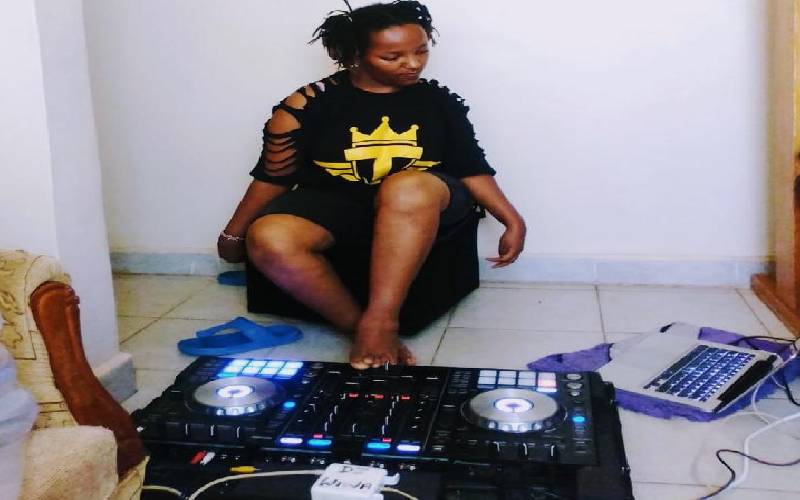 She bubbled with excitement as she awaited approval from the group administrator of the online entertainment group 254 Diaspora Deejays.
Her siblings and friends, monitoring the progress of the fans tuning in, cheered her on as the numbers on the Instagram live show steadily swelled.
As she got her cue to start, and just as anxious as her fans, she said 'twende sasa,' (let's get started).
Her hands were up in the air and her feet on the equipment.
A little jerk… then she controls her balance on her seat towering over the deejaying equipment placed on the ground.
One foot was on her laptop. The other on the decks. With her toe, she pressed play and the internet went on overdrive.
This is not your ordinary deejay. And this was not an ordinary show either.
Diagnosed with cerebral palsy at a tender age, Winfred Wanjiku aka DJ Wiwa, became an online sensation when her deejaying skills impressed thousands.
"To date, people are still looking down on me because of my condition.
"Cerebral palsy has been a major hindrance to my growth as a deejay. I do not get gigs yet everyone agrees that I am talented and competent.
"They often ask how I can be a deejay yet my upper body is unstable," she says.
Born and raised in Kirinyaga County, the 26-year-old DJ Wiwa only took to the decks two years ago after making up her mind to try what has been her passion since childhood.
Her mother promised to see to it that she achieved her goals. And her friends did their bit by encouraging her as they had seen that she could make it.
"My mum was my number one fan but she died last year on Christmas Day. That was heartbreaking. I don't think I have got over it. Now, my biggest fans are my siblings and my closest friends," she says.
She starts her live set with deejays' sound effects of 'mo fire' before skillfully turning up the volume as Sol Generations "Extravaganza" starts playing.
Her friends, recording her live session on camera, cheer her on.
She grooves to the jam with a smile of satisfaction. Kenyans are finding a new star in her.
"So many people tried to discourage me saying I can't operate the turntables.
"Others said deejays are immoral people but there's nothing that gives me so much joy than proving them wrong and playing an entertaining set," she says.
Wiwa holds a Diploma in Tourism and Business Studies but says every door that she knocked on after college was shut in her face.
"Many would question how I will work and talk to customers with such a slurred speech. I eventually started hawking jewellery with my mother in Kirinyaga.
"After some time, she said she felt we had raised enough money for a deejaying course. I was shocked at her proposal, but I took it up since really I love music," she says.
Within minutes into her set, thousands had logged in with numerous others sharing on the web and pledging to support her.
"The Diaspora account is a very interactive platform. I have since gained hundreds of fans, from across the globe, who are reaching out to help while others have requested for another session, which will be soon.
"Hopefully, when the pandemic ends, I could be flying out for gigs. It's been a blessing in disguise," she says.
Does the deejaying fraternity in Kenya know about her and how have they supported her?
"Kenyan deejays are my fans and I also look up to them. As a matter of fact, the deejaying community gifted me my decks. It will be an honour to play alongside them," she says.
By the end of her live set, she set a record number of views that most deejays could only wish for. Over 2,000 comments wishing her the best in her deejaying career was a great motivation to her.
"I've never felt so much love. I plan to work harder in getting corporate shows and broaden my fan base. I'd also love to play on a TV or radio station should I be given a chance. My ultimate goal is to be an international deejay. All things are possible," she says and adds: "Many people discouraged me but I never let it hinder my dream. I encourage everyone to pursue their dreams no matter what and I believe in doing what I love even with what people see as a limitation."