Diamond Platnumz upsets fans after declining to perform Mwanza song
STANDARD ENTERTAINMENT
By Joackim Bwana | Dec 29th 2018 | 2 min read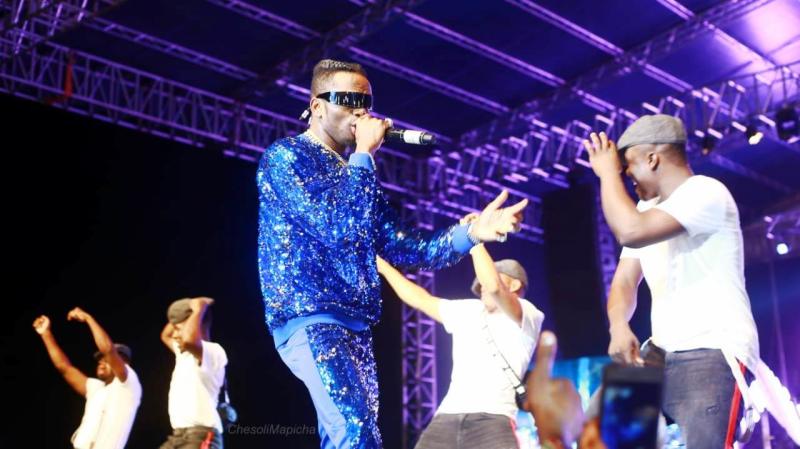 Kenyan fans of Bongo super star Diamond Platnumz were upset after he declined to perform his new hit single Mwanza despite pleas from the crowd.
While performing in Mombasa on Boxing Day during the Wasafi Festival, Diamond declined to perform the song and simply said it was not allowed.
"At home we are not allowed to play this song, are you allowed to play it here?" Diamond posed the question to fans who continued to shout "Nyegeze".
The show dubbed Wasafi Festival saw Kenyan and Tanzanian artists share a stage in the one-of-a-kind event that saw thousands of fans throng the stage in an event sponsored by NRG Radio.
Among the artists who graced the event include Kenyan HipHop best rap artist in the Annual African Muzik Magazine Awards 2018 (Afrimma) Kaligraph Jones, Timmy T-Dat, Nai Boi, Arrow Bwoy, and Tanzanian own Diamond Platnumz Harmonize, Rayvanny, Lava Lava, Queen Darleen and Mbosso.
Wasafi Record' artists Diamond and Rayvany had been banned from performing in and out of the country by Tanzanian National Arts Council on grounds that the song Mwanza was explicit and that they had disrespected the board.
According to Diamond, the song is about a place named Nyegeze in Mwanza but it is not yet clear what inspired him to write it. Following the ban, Diamond took the courtesy of apologising for performing the song and promised not to be a bad influence to society in a short YouTube Video.
However, the fans still had a blast as he took to stage and performed other love songs and even poured out his love to his new Kenyan girlfriend, Tanasha Oketch.
In his song he urged the fans to let Tanasha know how he loves her and make a promise to never break his heart like his previous lovers.
Diamond also thanked Mombasa fans for showing up in numbers and said that they had outshone all the other concerts he had performed in Kenya.