Jepchirchir: God help me break New York City Marathon jinx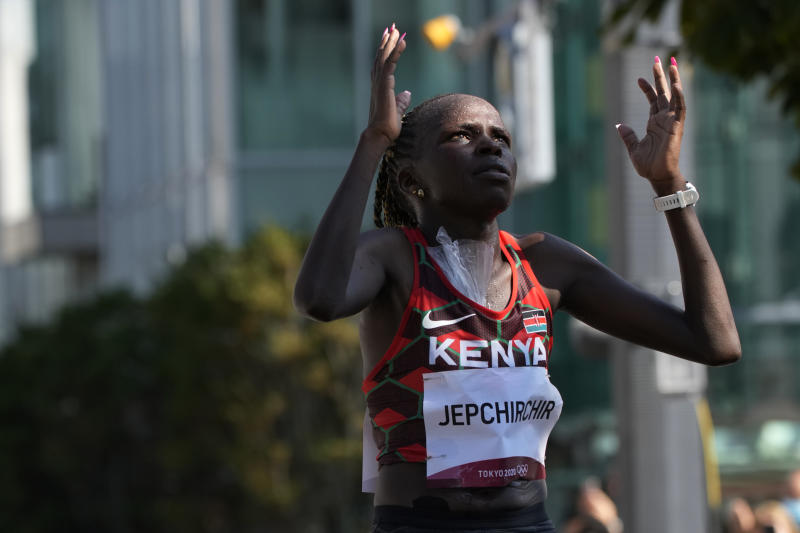 Olympic Marathon champion Peres Jepchirchir will attempt to make history at the 50th New York City Marathon tomorrow.
The 28-year-old athlete longs to become the first Olympic champion to win the 42km at the five boroughs –a feat no Olympic champion has achieved.
New York Marathon has shown no respect for Olympic champions. They include Frank Shorter, Stefano Baldini, Stephen Kiprotich and Joan Benoit Samuelson. Two-time Olympic champion Eliud Kipchoge has not competed in the Big Apple race.
American Frank Shorter, who won the gold medal in Munich in 1972 and the silver medal in 1976, finished second in New York in 1976, did not finish in 1977, was 12th in 1978, and seventh in 1979. Italian Stefano Baldini won the Olympic Marathon in Athens in 2004, then placed sixth in New York in 2006 and fourth in 2007.
Stephen Kiprotich of Uganda, the 2012 Olympic champion, finished 12th in New York in 2013 and fifth in 2014. Joan Benoit Samuelson, winner of the inaugural Olympic Marathon for women in Los Angeles in 1984, finished third in 1988 and sixth in 1991. In the 1988 race Samuelson was tripped by a boy handing out cups of water which sent her tumbling to the pavement near the 21-mile mark.
Jepchirchir, who is the only sibling in a family of 24 to take up athletics, said: "The course is not easy, but I will try my best. I know we have strong women. I am going to go and try my best to see how I am going to go to run. I know it's not easy."
Jepchirchir, twice the world half-marathon champion and the world 21km record holder for women's-only race, produced a brilliant showing at the Olympic Games in Sapporo in August.
She became just the second Kenyan woman to win the Olympic Marathon title since the event was added to The Games in 1984 in Los Angeles.
"It was so hot, it was not easy," Jepchirchir said that day. "I'm just thankful I managed [to cope] with that weather."
Jepchirchir will strive to lower Margaret Okayo's course record set in 2003 and should she make it, she would earn $50,000 bonus and $100,000 prize money.
Other Kenyan women are Violah Cheptoo Lagat, Grace Kahura, and Nancy Kiprop. Interestingly, Lagat will make her debut while her elder brother and former world 1500m champion Bernard Lagat of USA will do the race commentary.
World 21km record holder Kibiwott Kandie and Ethiopia's Kenenisa Bekele are both set to make their debut at the New york Marathon.