Kenya's Jepchirchir wins women's marathon gold, Brigid Kosgei finishes second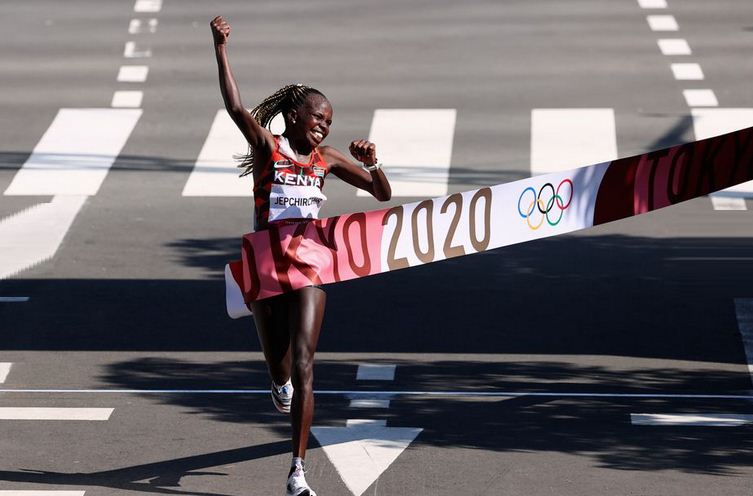 While most Kenyans were asleep two-time world half marathon champion Peres Jepchirchir added another medal to her impressive career.
The world half marathon record holder added to Kenya's medal collection at the 2020 Tokyo Olympics when she won the women marathon gold medal on Saturday morning in Sapporo.
World marathon record holder Brigid Kosgei made it a 1-2 finish for Kenya as she held on for a second-place to win the silver ahead of Molly Seidel of the USA.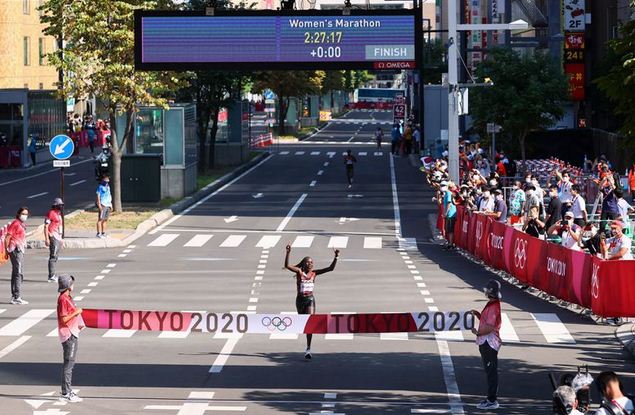 Jepchirchir clocked 2:27:20 with Brigid finishing in 2:27:36 while Seidel clocked 2:27:46 for the bronze.
The third Kenyan in the race Ruth Chepngetich who was among those in the leading pack dropped off the lead pack after 31km and eventually pulled out of the race.
Chepngetich was elated after the race and she could not believe she had won gold.
"This is unbelievable. I knew I had prepared well for this but under such conditions, nothing is guaranteed. I am happy to have delivered the gold medal for all Kenyans.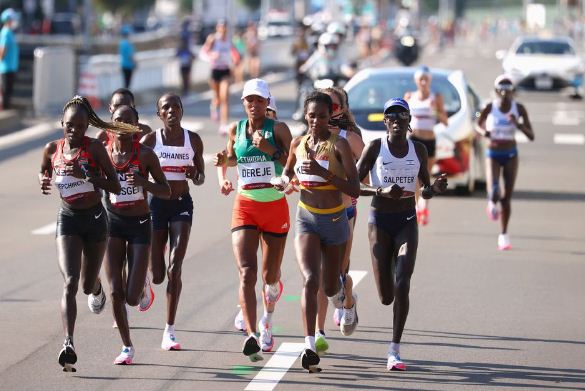 "We worked as a team, but after 25km Ruth told me that she was tired and I had to push. I really prayed before the Olympics and before this race and I am happy my prayer was answered," Jepchirchir said.
On her part Brigid said the conditions were tough.
"This was a tough marathon. I struggled under harsh conditions, but I am really happy to win a silver medal. I tried to rid myself of the pressure of being a record holder and ran my race. I am very happy for Peres for winning gold. Once we saw Ruth struggle we knew it was up to us to push medals. We wish Ruth a quick recovery," Brigid said.
The race was expected to be brutal and indeed it was, as most athletes were forced to drop out of the race which was run in very difficult conditions.
It was also a very unpredictable race with over eight runners in the leading pack at the 30.7km mark, something which is unusual for marathons.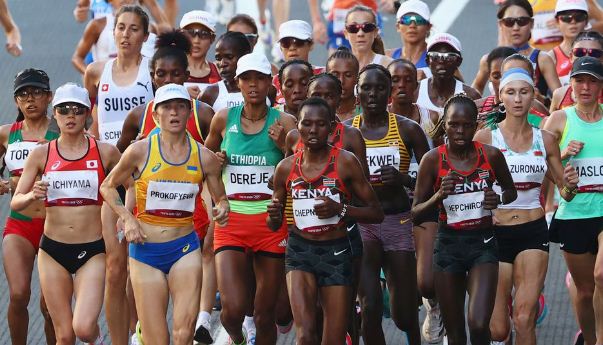 An Olympics though is a championship race and anything is expected and indeed the race in Sapporo, which is 832km from Tokyo, did not disappoint as it served all those watching live on the roads and on television some drama.
World champion Chepngetich started by pushing the early pace with her compatriots Jepchirchir and Brigid also in the leading pack.
In the lead pack were the usual suspects with the Kenyans keeping a close eye on their main rivals the Ethiopians but there was also the added spice of former Kenyans who have shifted allegiance to other countries.
Israel's Lonah Chemtai Salpeter and Bahrain's Eunice Chumba were always going to be a threat and they showed that as they were in the pack of the leading eight athletes after 30km.
After Chepngetich had dropped out after 29km, it was down to Jepchirchir and Brigid to forge some teamwork as it seemed the other rivals were not willing to drop out easily.
The two Kenyans kept talking during the race, but they must have found it tough to discuss their tactics without Salpeter and Chumba understanding what they were saying.
Even after 35km where most marathons are won there were still four athletes in contention for the gold medal as Jepchirchir and Brigid still had the company of Salpeter, Chumba and Seidel.
Chumba was the next to drop though and after that, the two Kenyans pulled away at the 37km with Salpeter and Seidel trying to respond with little success.
Salpeter could not even keep up and was forced to pull out when she was in contention for the medals as Jepchirchir and Brigid were left to fight for the top two medals and Jepchirchir had the last laugh after pulling away from Brigid with a kilometre to go.