Tae Kwon Do: Ogallo aims to change Kenyan sporting terrain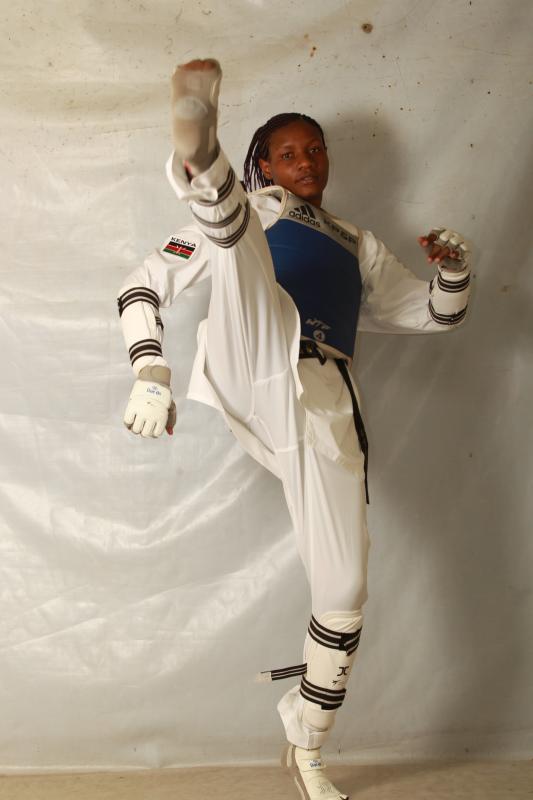 Faith Ogallo loves nature just as she loves sports. Her long and winding journey has taken her through two major disciplines before she finally found acceptance in Tae Kwon Do, a Korean martial art that fosters the right mind through mental armament.
The 27-year-old is set to get into the annals of history as only the second woman to fly the Kenyan flag at the Olympics in this discipline.
Her story is that of faith and resilience; a true Kenyan spirit of never giving up. She tried her hands in basketball but failed, moved to football but failed yet again.
She was on the verge of joining rugby when she received a call-up to the Kenya Tae Kwon Do team, an opportunity that she grabbed with both hands.
In between, she developed an interest in the environment, her other love.
"It's discipline and commitment that pushes me to carry out my training and focus on my studies. When I am not training, I do my studies," said Ogallo.
"I study a lot about the environment and I believe if we come together as a country, then we can achieve the vision 2030," said the University of Kibabii student.
Ogallo, whose love for the environment was positively influenced by the Nobel Peace Prize laureate, the late Prof. Wangari Mathai, is pursuing an undergraduate Degree in Social Works.
Twelve years have passed since the last time Kenya sent a female Tae Kwon Do player to the Olympics.
But Ogallo is set to follow in the footsteps of pioneer Milka Akinyi who opened the Olympic sojourn in Beijing in 2008 Beijing.
"The journey hasn't been easy. Thankfully, I have reached this far and ready to compete in the Olympics."
Ogallo will begin her campaign on July 27, where she will face-off with 16 opponents.
Despite the eminent challenge that lies ahead, she remains upbeat that Kenya will pick her maiden medal at the Summer Games.
"I am ready to meet any opponent after slotting in different weight categories."