Africa National Volleyball Championships: Malkia Strikers rally to spike DRC after Cameroon blip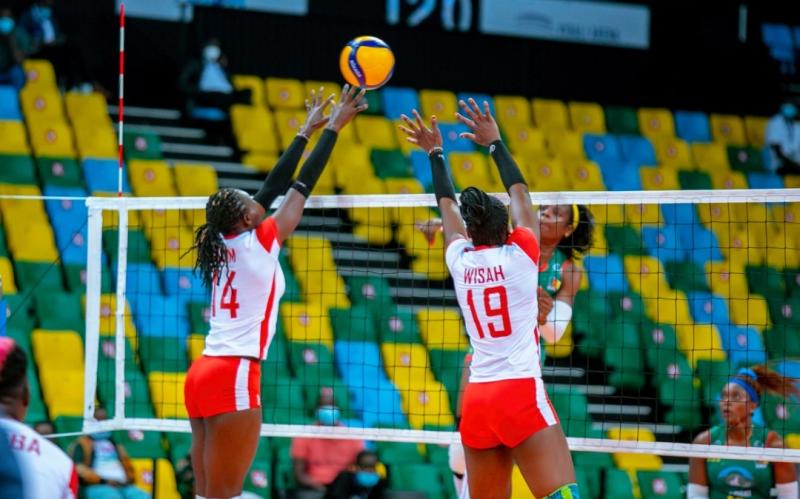 Kenya must beat Tunisia on Wednesday, if Malkia Strikers is to grab themselves an early ticket to the 2021 Africa National Volleyball Championships quarter-final in Kigali, Rwanda.
Paul Bitok girls ended a 19-month winless streak with a victory against the Democratic Republic of Congo o Monday. The three points against lowly ranked DRC revived the team's hopes of winning this title for the first time in six years.
Kenya, who picked a straight-set victory (3-0 (25-11, 25-12, 25-19) against DRC, last lifted the bi-annual event in 2015.
This is the kind of turnaround that Paul Bitok needed, having lost the opener to reigning Africa champions-Cameroon on Sunday.
Incidentally, it is the same Cameroon, whom Malkia Strikers beat in the All African Games final in 2019. But the Central African Republic turned the table against Kenya, still fresh from taking part in the Olympics. Kenya who are the championship's record winners, last won a competitive match in January 2020- at the continental Olympic qualifiers in Yaoundé.
Bitok made four changes from the Olympic squad and it seems the new faces are taking time to pick up the team rhythm. Malkia Strikers lost all her five matches at the last Olympics.
Kenya has lost to Cameroon before. But a straight-set defeat in the hands of the back-to-back African champion was a big statement to the volleyball world that is slowly embracing the shift in power in the continent.
Despite captain Mercy Moim starting from the bench for the second consecutive match, Malkia Strikers led in all technical timeouts for a comfortable 25-11 score at the end of the set.
It was a similar scenario again in the second set as Kenya powered their way once more through powerful serves and crucial blocks to take the set subsequent 25-12.
The final set witnessed an improved performance from the Congolese women who despite putting in more work, still dropped the set 25-19 as Kenya bagged her first victory at the Kigali Arena.
Malkia Strikers will wind up the Group D campaign against Burundi on Thursday, from 5.00 pm.
Cameroon beat Tunisia, three-time African champions by straight-set 3-0 (25-15, 25-18, 25-17) to take a firm grip in group B, with six points. They will just need a point against Burundi, tomorrow, to cement their place in the next round.
Tunisia, DRC and Kenya are joint second all with three points.
The top two teams (finalists) will qualify for the 2022 FIVB World Championships to be hosted in Poland and Netherlands.