It has not always been rosy for Malkia Strikers star Wanja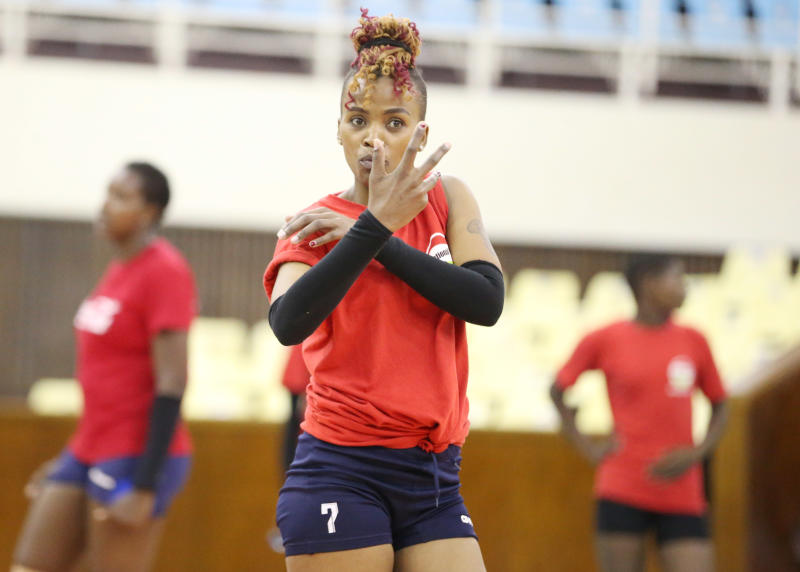 For many years Janet Wanja has been the face of Kenyan volleyball.
Her striking beauty crowned with a signature hairstyle has seen volleyball enthusiasts more so men throng Kasarani Indoor Arena as early as 1pm for a 6pm match in a quest to find a strategic sitting place for a clear view of every move she makes.
And who would resist a beauty like Wanja doing what she knows how to do best?
With talent, beauty and brains, Wanja has been a trend setter and an envy of her female peers who have always yearned to have a fraction of her admirers.
While most women have shorter playing careers, she has defied age and like fine wine that gets better with age, Wanja has stood the test of time and boasts of close to 17 years in the sport.
Off the pitch, she has stunned whether walking on the red carpet for sports gala awards, dressing up an evening out or having fun on the sandy beaches her flawless skin and beauty have stood out over the years.
She has won on and off the volleyball court making her one of the most successful sports stars in the country.
However, away from the glitz and glamour, Wanja admits that her journey to stardom has not been easy.
"It has not been all rosy as I have had my low moments, cried countless times but I had to gather courage, be strong and remain focused," Wanja said.
Wanja who attributes her success to discipline, hardwork and prayers was a shy girl born to a father who was a soldier and a very religious mother.
"Growing up in a barracks discipline was paramount so I started valuing it at a very young age. I also pray a lot having learned it from my mother and I believe that I have made it this far because of discipline and prayers for without the two one can't achieve much no matter how good they are."
She says that she was a sickly child and was not interested in sports until youth coach Juma Walukhu encouraged her to try.
"I started playing when I was 12 years old and my mother was against it because I was sickly with allergies and numerous health problems. Sneaking to go and play angered my mother and she would give me a beating when I returned home but my father was very supportive because he was in sports and was a very good hockey player and also played football. My mother's heart softened and she later started supporting me," she added.
There was no looking back for the drop dead gorgeous star whose heart has always been in sports since then despite people urging her to try modeling.
Volleyball would come to her rescue after she failed to join secondary school due to lack of school fees after Class Eight.
"I had stayed at home for one year after Class Eight because I could not join secondary school because we didn't have money. During that time I played in tournaments with Kahawa Youth where we played against big teams like my current club Kenya Pipeline. I was spotted by Mukumu Girls coach and the school offered me a full scholarship and catered for everything I needed."
Like any other child she struggled to accept change living away from her family, but she adjusted and it was the beginning of good tidings for her.
"When I went to Mukumu I was not sure if it was the right thing to do because I was not used to living away from my parents and family I wanted to return home but then again my mother was very happy when the school visited us and coming from a humble background I had to grab the opportunity and make the best out of it because I had a chance to study after a year at home."
At Mukumu, Wanja seemed to have been cut out for success as she won three national school titles.
In 2001 she had her first national team call for the Junior World championships qualifiers but failed to make the final squad. That, however, did not dampen her spirit and decided to work hard and become a better player.
"I did not start out as a setter I was an attacker and when I went for the national team trials the coach decided to change my position and since it was new to me I fell short and didn't make the team for the qualifiers," she added.
She returned to school and her school coach allowed her to choose if she wanted to be an attacker or setter of which she chose the latter. She worked very hard to improve in a new position and her efforts paid off.
"I had been dropped because I was not a good setter and so I took it as a challenge when I returned to school, worked very hard and improved in a span of a year. To crown it all I made it to the 2002 Junior World championships in Croatia and all that as the team's first setter."
She finished school the same year and was immediately called into the senior national team where she reveals that there were very many challenges.
"Coming straight from high school into the senior team posed more challenges for me because of the experienced players. They saw me as a threat, there was a lot of negativity and criticism but I decided to remain positive, took everything they told me positively even when they tried to pull me down I listened and respected them."
Self belief and focus kept her going as she refused to give up hence developing a strong and positive mindset.
"I refused to give up on myself. I motivated myself and with time I developed a very strong and positive mindset that has kept me in the game for over a decade. I learned to control my emotions even when it seemed like all odds were against me," Wanja revealed in a National Olympic Committee Webinar session where she was a panelist alongside World Marathon record holder and Olympic champion Eliud Kipchoge.
She added that unlike individual sports, team sports are very competitive because like volleyball one battles to be among the best 12 in the entire country so us to have a place in the national team.
"There is a lot of competition in team sports because of their limited slots and you find that great players are battling the same position and so jealousy may creep in at times which may even destroy team spirit and affect performance but healthy competition leads to great results."
Wanja made yet another milestone in her career when she made the final squad for the 2004 Olympic Games held in Athens, Greece. Then 20 years old, Wanja was one of the youngest players at the world's biggest stage.
"It was a memorable moment for me, but I must say that discipline was what helped me achieve this feat."
Having been to several FIVB World Cups and World championships and won continental titles at national team and club level and also the Grand Prix Wanja says that hardwork means that one has to go out their way to improve.
"I never waited for the coach to tell me what to do I could start training before the scheduled time. To better myself I watched videos of international setters in the world especially European and even Japanese players just to learn because our standards are very low so I go an extra mile because growth is personal."
She adds that one needs to avoid letting success get the better of them but instead continue learning.
"I believe that there are two types of mindsets one is the fixed and the other growth. A fixed mindset is contented with whatever they have achieved but a growth mindset believes that there is always room for improvement. For instance, playing at the Olympics, winning the Africa title I'm not done yet because I believe that there is still much I can do and so I work hard every day to better myself."
Wanja who also played for Kenya Commercial Bank (KCB) and had stints in Dubai, United Arab Emirates (UAE) and Rwanda revealed that turning 30 and being taunted to be too old to don national team colours was her lowest moment.
"I was treated harshly and told I was old and should give a chance to younger players, they wanted me out of the team and I was dropped but I refused to be defeated and allow people to tell me to give up on what I had been working hard for, I returned stronger and more determined to prove my worth.
"I worked very hard reclaimed my place in the team and proved that age is just a number and what matters is how much effort you put in what you do."
She is currently working on her transition to coaching and her goal now is to train young people.
"I want to venture into coaching and this year I was planning to go for a coaching course. My target now is young players because I want to go back to where I started. Hopefully I will work with senior players in future but right now I'm focused on nurturing the young ones," she added.
To upcoming players, Wanja emphasises that they should be patient, disciplined and avoid shortcuts.
"Young players more so girls are easily lured on the wrong path by people who promise them instant success. They should forget about quick money, be patient and remain focused for there is no easy money in sports."
Wanja concludes that one should exercise humility and remain humble despite being very successful and also choose their associates wisely for they have the power to make or break an individual.
"It is said that show me your friends and I will tell you the kind of person you are so be around people who make a positive impact on you because negative people will not add any value to your life."