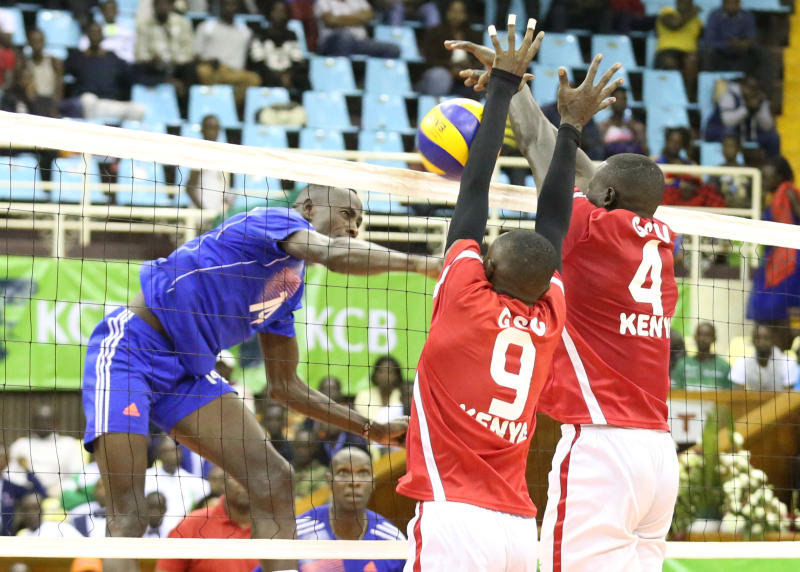 General Service Unit (GSU) head coach Gideon Tarus has challenged his players to rewrite their history by winning a third consecutive National Volleyball League title at this weekend's (November 22-24) play-offs at Kasarani Gymnasium.
The paramilitary side have been a force to reckon with in the domestic volleyball scene claiming a record thirteen national league titles with a back-to-back triumph last season.
GSU faces stiff opposition from rivals Kenya Prisons, Kenya Ports Authority and the unpredictable Kenya Defence Forces.
But having lifted seven national league titles in succession (2001-2007) as a player with the club alongside Danson Tale (Assistant coach) and David Kirwa (captain), Tarus wants his charges to help him write a new chapter in his history.
"I won this title seven times in a row as a player way back in 2001 alongside David Kirwa and Danson Tale, who are now part of the management. But now I would like to write my own history by lifting it in three consecutive seasons as a coach," Tarus told Standard Sports at yesterday's training at Nyayo Gymnasium.
"Honestly speaking, by then the competition was not that way stiff. For now all the top six teams in the league are unpredictable and you can't tell if you will qualify for play-offs or not. And for those who have qualified, you don't know which strategy they will use in the play-offs. "That's why it will be a great achievement for me and the players if we win this year's title. I want to achieve this feat with my new group of players."
Although GSU finished top of the table after dominating the regular season, the former national team captain is still worried of the threat posed by KDF.
"We have had problems playing with KDF each time we meet. They are very unpredictable and difficult to plan for because they keep changing their style of play as well as their playing unit. It is a team to watch," said Tarus.
"We may have had issues with the training facility, but I'm personally satisfied with our preparation. It is now upto the boys to defend the title and write their own history."
However, GSU will have to do without the services of middle-blocker Shadrack Misiko, who has resumed training after recovering from a knee injury.
"Apart from Misiko, the rest of the players are in good shape. He's recovered and even started training, but I will not rush him back to action," Tarus said.