Teams prepare for volleyball world championship qualifies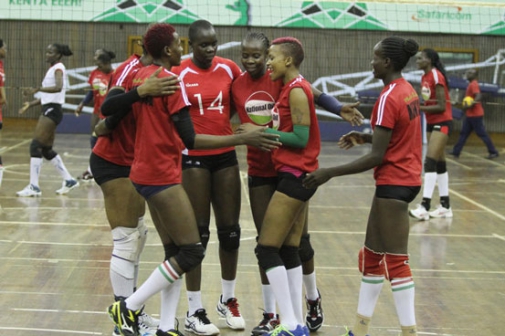 Kenya national men and women's volleyball teams have intensified their training in preparation for next month's African Nation Cup-cum-World Championship qualifier in Cairo (Egypt) and Yaoundé (Cameroon), respectively.
With Kasarani Gymnasium being the only standardised facility in the country, the two teams have been forced to train in shifts-Women's team train in the morning hours, while the men team start their training sessions in the afternoon.
The women's tournament slated for October 7-14 has attracted 12 teams including Kenya's perennial rivals Egypt, Algeria and hosts Cameroon.
The Cairo (October 22-29) event will have 16 teams led by hosts Egypt, Morocco, Cape Verde, Ghana, Niger, Congo RD, Congo Brazzaville, Kenya, Zambia, Chad, Libya, Rwanda and Botswana.
Other participating top-ranked teams include Tunisia, Cameroon and Algeria.
Having already trimmed his squad to 16 players, Malkia Strikers head coach Japheth Munala is just waiting for the arrival of Seychelles-based stylish setter Jane Wacu before naming the final squad.
Kenya Under 23 captain Shyrine Jepkemboi and setter Veronica Tanui are likely to make the cut ahead of the October 5 departure.
"We started off on a low note, but I am happy the girls are picking up very quickly. At the moment, we are just working on our reception as well as services. We are waiting for Wacu to arrive on Saturday before naming our final squad," Munala told The Standard Sports after yesterday's training session at Kasarani.
With only top two teams in the finals qualifying for the 2018 World Championship in Japan, Munala knows he has his time cut out to win Kenya's tenth continental title and secure a global show piece ticket.
"We know it will not be easy. We have been inactive since missing the Grand Prix, but I am motivated by the fact that we have a very talented and strong team. We are training as per the books and out of the books. I am confident we will be in Japan next year," he said.
Save for Nicholas Matui's shoulder injury concern, men's team coach Moses Epoloto is impressed by his team's training ahead of the Cairo trip.
"The boys have been very positive and everybody is working hard to make the final squad. The only concern we have at the moment is Matui's injury, but he is being attended to," said Epoloto.