Former Leopards captain Martin Imbalambala to undergo six-month rehabilitation at Kenya Society for the Blind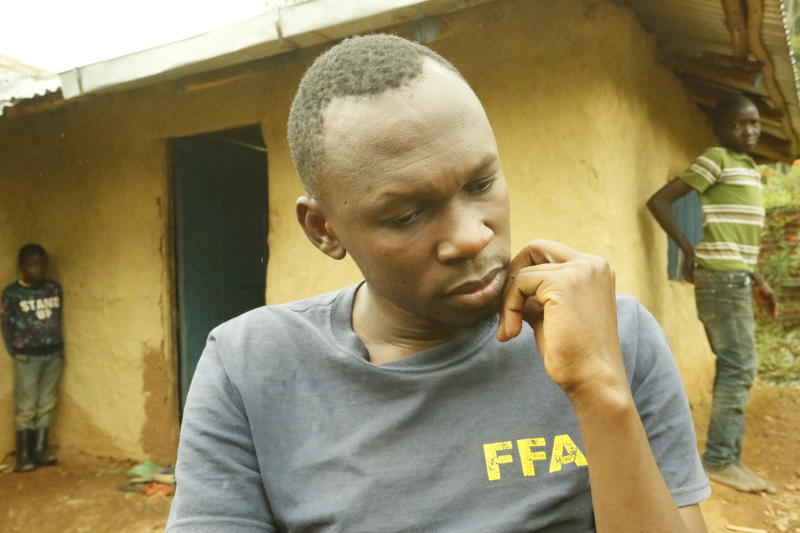 Former AFC Leopards SC captain Martin Imbalambala was on Thursday inducted into the Kenya Society for the Blind (KSB).
This is after losing his sight and going blind in 2018.
The midfielder will undergo a six-month rigorous training to help him become self-reliant in life.
During the period, KSB will help him to accept his condition through counselling and socio-therapy.
"He will be trained how to walk with a white-cane to help him navigate his environment freely," KSB Chief Executive Officer Samson Waweru said.
After he has settled, the player will be introduced to computer classes using screen reading software called Job Access With Speech (JAWS) to help him with typing, browsing, presentations and sending mails.
The former Harambee Stars player will also be taught Braille work to learn how to read, write and communicate using devices like the Dot Watches.
"He will be taught how he can be guided by a sighted person. He will be trained how to use a specialised smartphone for the blind. We will teach him how to do his daily chores independently without involving his wife. Finally, we will introduced him to adapted sports for the visually impaired people," said Waweru.
While being grateful for the kind gestures extended to him by KSB and the corporates involved, Imbalambala who was accompanied by his wife Jackline at the Society's offices in Nairobi, pledged to honour the rehabilitation process to the letter.
"I'm grateful for this support.I promise to do all that is required of me in this journey," he said.
The 33-year old father of three who also had stints with other Kenyan Premier League clubs including Bidco FC,Nakumatt FC and Vihiga United FC challenged the Sports Ministry to support athletes both in their high and low moments in life.
"I want to thank friends who have walked with me through this journey, more so to my wife Jackline who has been the breadwinner through her salon business," he said.
Imbalambala explained he started feeling problems with his eye-sight one night in 2018.
He seeked treatment and the doctor told him he would be okay after two days.
The problem persisted and so he proceeded for treatment at Sabatia Hospital where MRI and CT scans were done which confirmed his optic nerves were damaged.
He seeked further treatment at the Lions Eye Hospital in Nairobi who equally confirmed the same.
Several corporates have come to the player's aid in the rehabilitation journey.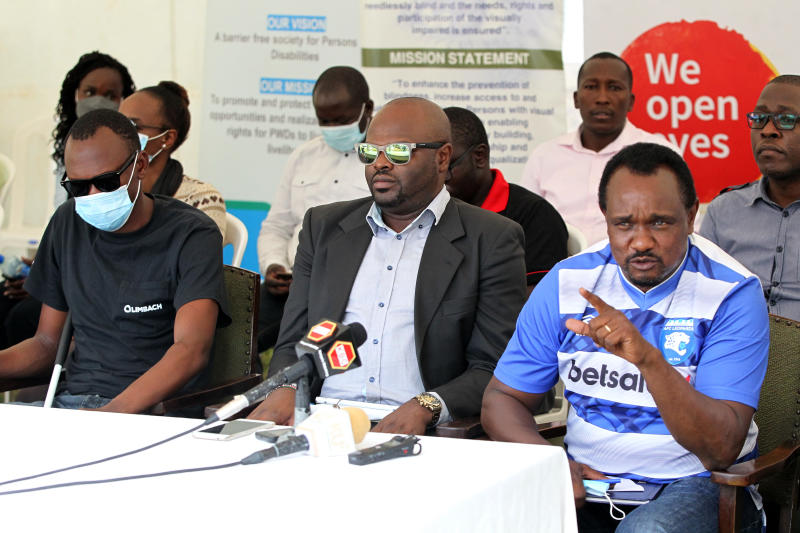 National Council for Persons with Disability (NCPD) pledged to buy him a specialised laptop equiped with softwares for the blind.
" We are also going to boost his wife's business with Ksh 50,000," NCPD Rehabilitation Officer, Alex Munyere said.
Tabie Kioko, Senior Manager, Diversity and Inclusion,
Safaricom PLC donated a white-cane, a specialised smartphone and a Dot Braille Watch to the player.
Optic company Essillor will equip Imbambala and his wife with comfortable spectacles and other eye-wears.
Wamboi Njogu of Fanaka Foundation donated KSh150,000 to cater for his accommodation and upkeep at KSB.
The Christian Blind Mission ( CBM) paid his entire tuition fees for six months totalling KSh 108,900.
Leopards chairman, Dan Shikanda, said they will keep tab of the player to monitor his progess at KSB.
" I will challenge the AFC fraternity to come on board to support Imbalambala.
"AFC is going to put up sustainable structures to support former players which should be up and running by February," said Shikanda.
NN Running Team, Abbot extend deal
The NN Running Team, which has world marathon record holder Eliud Kipchoge, has extended its partnership with Abbot, a global health care company.