Kenyan swimmer Rosafio improves his personal best time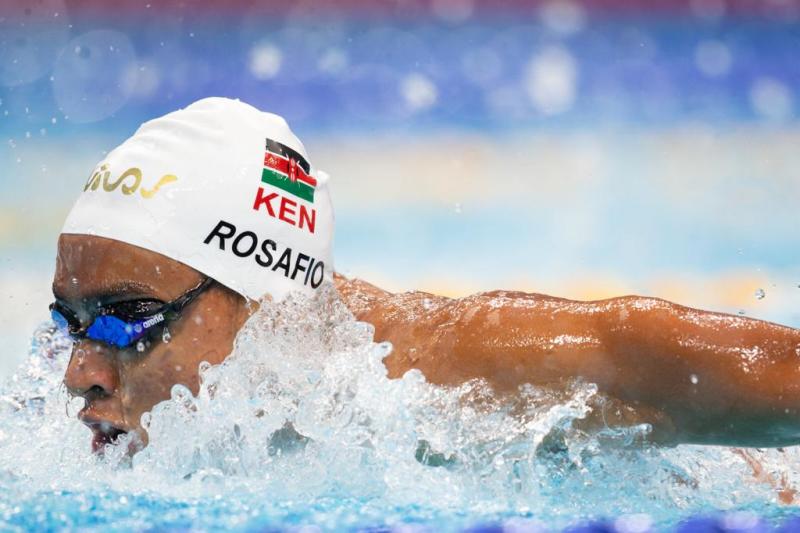 Olympic bound Danilo Rosafio's training was boosted after he improved his personal best times during the Porto swimming gala in Portugal as he engages the final gear in readiness for next month's Tokyo 2020 Olympic Games.
Swimming against some of the world's best swimmers from Portugal, Rosafio who has switched in training base from Mombasa to Loughborough University in United Kingdom won bronze at the Porto 2021 International Meeting, beating some of the Portugal's best swimmers.
Rosafio who will be making his debut at the Summer Games set for July 23 to August 8, 2021 clocked a time of23.52 seconds in the 50 meter freestyle to improve his previous personal best of 23.71 in the race won by Portugal's Diogo Matos with a time of 22.93 seconds.
Fernando Souza clocked 23.50 seconds for the silver.
In 100m free, Rosafio also settled for the bronze after clocking 52.22 in the race won by Diogo with a time of 50.31 while Souza settled for the second position with a time of 51.15 seconds.
National swimmer coach Fakry Mansoor said Rosafio's good show proved the swimmer is ready for the task ahead in Tokyo.
"Rosafio has kept the faith high and we hope he will better his timing further before the Olympic Games. He is in good shape, positive mood and spirit," said Mansoor who has been monitoring Rosafio's training since he left Bandari swimming club for UK.
The swimmer is currently under the watch of Loughborough University swimming coach Gareth McNarry who has been impressed by the swimmer's current top form.
At the same time, Mansoor said Kenya's sole female swimmer at the Olympic Games list Emily Muteti will be travelling to France this weekend to participate in the France International swimming gala.
Emily has pitched her training at the Grand Canyon University in the United States under Coach Stevwe Schaffer in preparation for the games.
A fortnight ago, Emily's preparations for the Summer Games took a bold step after she won two races at the YWSF 2021 Long course summer opener championships in US.
Emily used the weekend meet as part of her preparations for the Tokyo games.
Emily qualified for the Tokyo games following her exemplary performance at the 2019 African Games in Casablanca, Morocco, where she achieved the top 698 FINA points in 50 meter freestyle.
The Mombasa-born swimmer, who has previously set several national and African records, led the way to win both the girls 13 years and over 100m freestyle and butterfly events.
In 100m free style, Emily who had not participated in long course events for a long time clocked 57.75 for the title.
The swimmer who will also be making her debut at the summer games went ahead to with the girls 13 years and over 100m fly with a time of 1.01.40 to continue with her build up program.
National swimming team manager Abdul Malik who has been monitoring her training program said he was delighted to see Emily keep on improving her performance.
In December last year Emily was named swimmer of the week by her Grand Canyon University (GCU) during the intercollegiate championships in Tucson, US.
She is on a swimming scholarship at the university, which helps students find their purpose with next generation education including exposing their talents in sports.