Tundo wins in a flash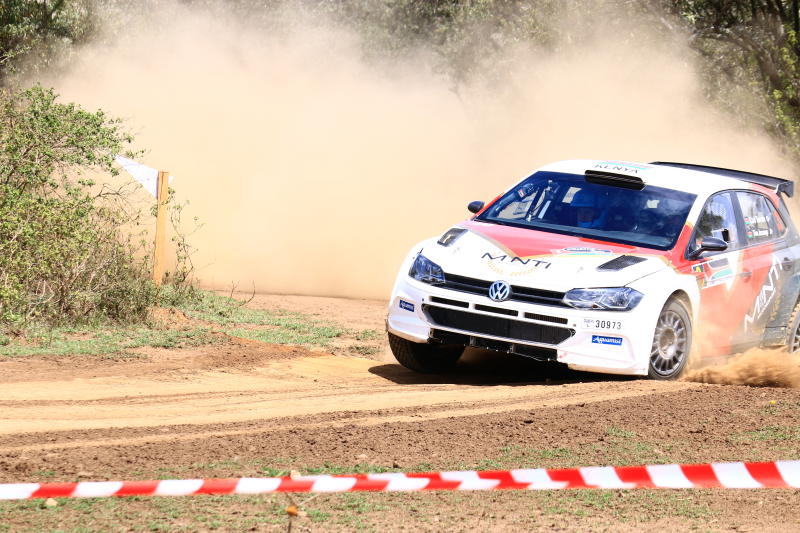 Multiple Safari rally champion Carl 'Flash' Tundo is the winner of the 2021 ARC Equator Rally that concluded yesterday in Naivasha.
The dare devil speedster clocked 2:34:08.8 to lift the championship that acted as a curtain raiser to the forthcoming WRC Safari in June.
The Minti Motorsport racing team member triumphed in nine of the 11 stages to lift the trophy with a whooping 12 minute margin.
Tejveer Rai of Kabras Sugar Racing settled for second place in 2:46:17.4.
"I kept on pushing. I'm happy to win with a big margin," he told Standard Sports.
The stages that Tundo won were Elementeita 1, 2, Soysambu 1,2 and Sleeping Warrior 1,2 on day one, on Saturday.
He then returned yesterday with vigour to triumph in Malewa 1, Loldia 1 and 2. Tundo posted 8:52.5 in the 9.71km Malewa 1 stage as Onkar Rai, who had a penalty, came second in 8:54.1.
Tundo won Loldia 1, which was a gruelling 11:33km stretch, in 10:04.2. Onkar rose to win the 32.68km Kedong section in 19:43.4 to deny Tundo a hat-trick in the morning contests.
Tundo and Onkar returned in the afternoon to share spoils. Onkar posted 7:58.1 in Malewa 2 as Tundo won Loldia 2 in 7:42.9 to seal his overall victory.
"Kedong was a really nice section for me. It had gravel and volcanic ashes which added grip to my tyres," said Tundo.
Malewa was not Tundo's cup of tea as it gave him various challenges that slowed his victory.
"The route had mud and rocks, almost similar to the Sleeping Warriors."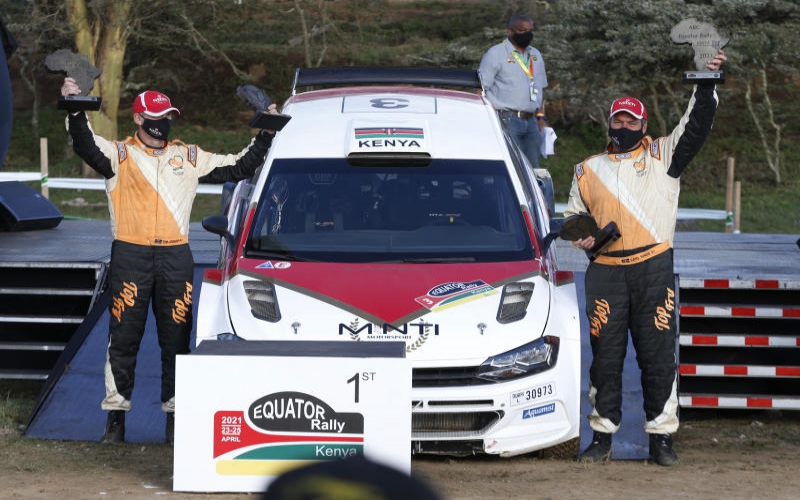 While being a champion is sweet, leading the gruelling nine stages made Tundo nervous throughout.
"I was afraid anything could happen. The car could break down or something...something could go wrong when in the lead," he said.
Tundo said the rough and tough zones in the course prepared him for the forthcoming WRC Safari that will also cross cross the area.
"I will drive the same car (VW Polo R5 in the WRC, so it was good to know the roads ahead," he said.
Ian Duncan, who is also part of the Minti Motorsport team as Tundo was, however, dejected after his car developed some mechanical problems in day one, which saw him relegated to the lower tier super rally category.
"I feel pretty much disappointed in the competition. I hope to bounce back soon," Duncan said.
Also edged to the super rally zone was Baldev 'Boldy' Chager who turned his focus to scoring national championship points.
"Kedong stage was running well for us then boom, we had another puncture. This complicated everything for us," he said.
Version 6 Racing Team member Malik Hussein and Ronald Ssebuguzi were forced to retire after their vehicles malfunctioned.
About 12 drivers suffered various penalties in the championship.