Forces reap big at IDPA tourney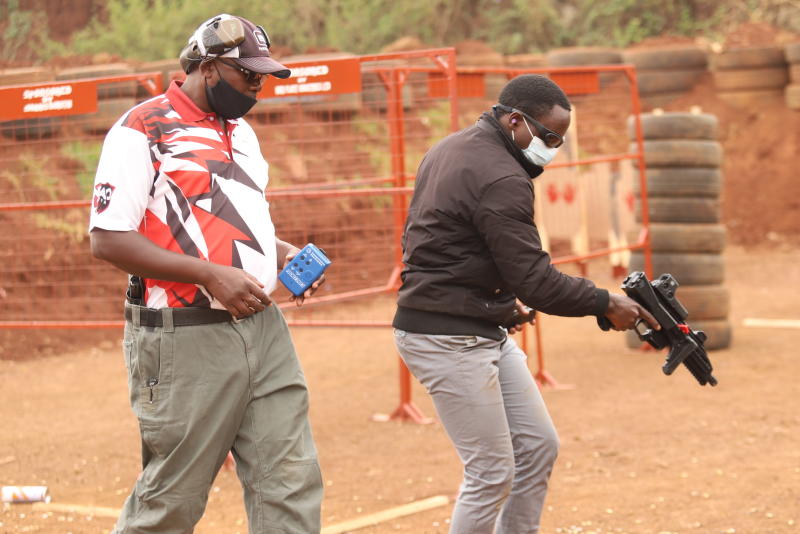 Members of the disciplined forces are some of the biggest beneficiaries of the tier 4 International Defensive Pistol Association (IDPA) Championship that is making its debut in Kenya.
The Kenya Defence Forces (KDF), Kenya Police and the Kenya Prisons are represented at the event that has attracted over 200 participants.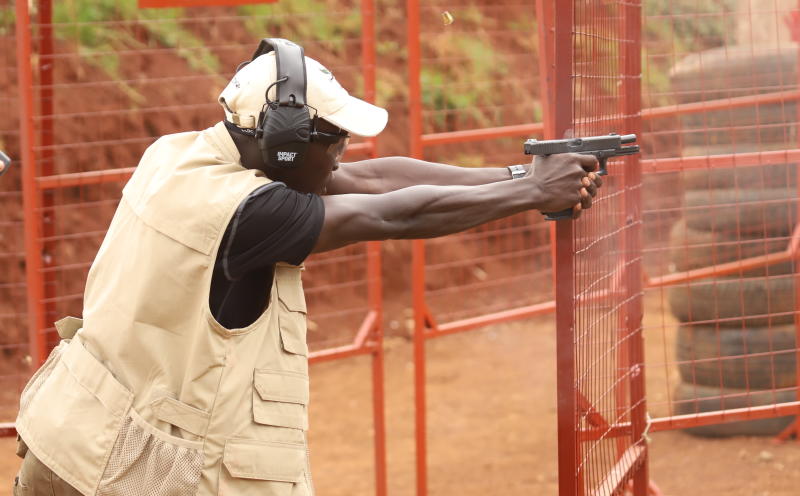 The four-day championship will conclude today at the Kirigiti Shooting Range in Kiambu County.
Daniel Kyalo, a Kenya Prisons Service officer, took up shooting, as a sport, in 1995, but he admits that the lessons he has picked at his second international tournament is what sets him apart.
"I have served in the forces for a while, but I can tell you , that some of the best shooters are these civilians. The competition is just at another level. I think it is even more beneficial to some of us who are in the service," said Kyalo, an experienced Service Stock Pistol (SSP) Expert.
"Though I am in the disciplined forces, the levels (of discipline) here is something else. You don't just point a gun at someone unless you really intended to shoot.
"You should know when to draw your weapon and when to stay calm under stressful situations," added Kyalo, an inspector and Safety Officer who participated in the international event in 2016 in Pretoria, South Africa as a Marksman.
On his part, Hillary Ng'eno might have a long way to joining the rank of Distinguished Master, but the General Service Unit (GSU) officer who serves in the elite Recce Squad is now challenging his colleagues to join the sport to further their skills.
"The kind of tests that we go through here is very much applicable to the real-life situations. I've learned a lot.
"IDPA is very important, especially for disciplined forces.
"I wish every police officer would enroll for this sport," added Ngeno, a Novice-Glock 17, SSP.
Interestingly, Kyalo is one of the longest-serving local Experts (2017-date). Over the period that he served in one class, so many students have passed through his hands, including Master Sammy Onyango and Robert Nyamongo.
"It is always good to move up the ranks, but the only challenge for me is the fact that I am also an instructor. But I'm also proud because I've trained some of them and they are now my seniors and I'm learning from them."
Talking about her experience in the contest, top marksman and reigning champion of the International Practical Shooting Confederation (IPSC) Ladies Only shooting competition in Africa, Irene Ndunda said she was not ready to relinquish her crown.
Ndunda however said she was wary of GSU's Belinda Akoth's prowess in the sport.
Akoth is a sharpshooter and she has had a very good season.
"I am only scared of Belinda Akoth. I got malfunctions in two stages, and that really affected my score," Ndunda said.