weightlifting: Winny Langat ready to lift Kenya to greater heights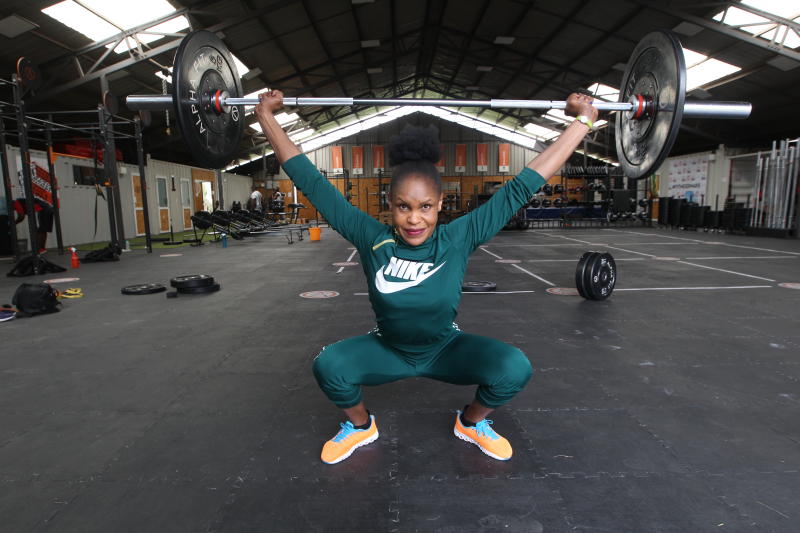 Triple Africa silver medallist Winny Chepng'eno Langat will lead other nine Kenyans at the 2020 Tokyo Olympics qualifiers that start in Nairobi today.
The 33-year-old mother of one believes the moment has come for her to break the glass ceiling and win a gold medal in women's 59kg category.
In past events, this vital has slipped through her fingers.
"I'm aiming to improve on my personal best. I'm aiming at winning a gold medal and represent Kenya at the Olympics," Langat told The Standard Sports.
Langat has been upping her training sessions at the Steel City Gym in Pangani and at the First Power Gym, at the Galleria Mall. She has been keen on building stamina for her Clean and Jerk and Snatch techniques. "I have done my homework well in the last two months ahead of the event. I'm ready to conquer this championship," she said.
The national pole vault champion, who switched trade to weightlifting, has a tight training schedule that involves workout at the gym every week on Monday, Tuesday, Friday and Saturday.
She reserves Thursdays for sprints and speed work in the field.
"I keep on exercising to get into shape. This is the only way to stay at the top and achieve your dreams," she said.
"What gives me confidence is winning three silver medals in Congo at my first ever attempt at the continental championship back in 2015. I believe its also possible with this Tokyo qualifier," the Police officer added. Wilkista Nadzuwah Nyiro will lead Kenya's attack in women's 76kg, hoping to replicate her gold medal stint at the 2019 Africa Zone 2 Championship. "My dream is to make it to Tokyo. My other aim is to take my Clean and Jerk personal best, currently standing at 82kg, to the next level," said Nyiro.
The 29-year-old believes she is well placed in her category owing to the fact that she has been stepping up her training under guidance of five weightlifting coaches and three others for strength and conditioning.
Triple African junior gold medallist Rachel Achieng (64kg) will be another Kenyan to watch at the event.
Caroline Wairimu (55kg) and Janet Oduor (45kg) are some of the new entrants in the competition.
Four Kenyan men who will be chasing glory at the event are Africa Zone 2 champion Anthony Libasia (73kg), former Africa Junior silver medallist Geoffrey Otieno (89kg), Africa silver medallist Moris Aromo (85kg) and Frank Atete (73Kg).
"This will be my second time to take part in an Olympic qualifier," said Libasia.
The Africa Championship will start today at the Ruaraka Sports Club in Nairobi.
Apart from Kenya, it has attracted top players from other 12 countries namely Uganda, South Africa, Lesotho,Botswana,Nigeria, Ghana,Cameroon, Algeria, Morocco, Tunisia and Libya.
"Madagascar and Mauritius have been forced to withdraw from the competition because they are currently on total lockdown due to the Covid -19 pandemic," Kenya Amateur Weightlifting Association (Kawa) President Pius Ochieng said.
Ochieng, who represented the country in the 1984 and 1988 Olympics in Los Angeles and Seoul, said Kenya will strive to bag at least two slots at the Nairobi event.
"I have faith that two of the nine athletes we have entered for the competition will qualify."
Ochieng explained the competition is a Gold event meaning athletes will be awarded up to ten points in their category.
All the teams were subjected to a second Covid-19 test on Monday in line with the Ministry of Health and Ministry of Sports protocol.
The event will be preceded by a congress and continental elections where Ochieng will be seeking to defend his Africa Weightlifting Federation (AWF) seat as a board member.
Ochieng is grateful that the Government has come on board to fully support Kawa toward hosting the event despite the short notice given by the AWF.