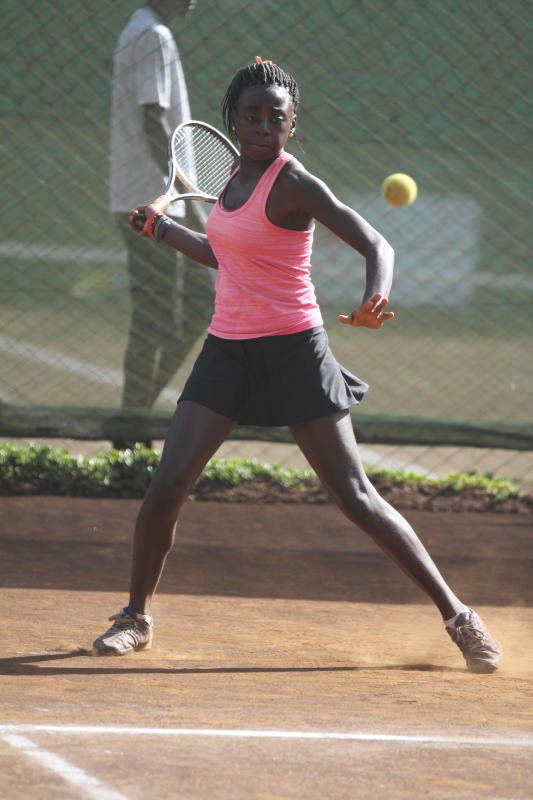 Over the last couple of years, we have seen new generation of stars in women's tennis succeed on the big stage.
The likes of Sloane Stephens, Naomi Osaka and Bianca Andreescu have won Grand Slam titles.
Back home, Angela Okutoyi has risen to be a star at a young age, conquering both Kenya and Africa in International Tennis Federation (ITF) tournaments.
In 2018, she became the youngest player to win the Kenya Open then aged 14 after upsetting experienced three-time former champion Shufaa Changawa 6-1, 7-6 at Nairobi Club.
In the same year, she won the Africa Junior Championship on Clay Court (AJCCC) Under 14 singles held in Algeria before following up with singles and doubles triumph at the ITF East African Under 18 Junior Circuit, ITF Nairobi Junior Open and Eastern Africa Zonal Championships Under 16 last year.
Raised in a family of four, Okutoyi started playing tennis aged four and immediately showed signs of promise, most notably when working with coaches Joe Karanja and Allan Atola at Loreto Convent Valley Road.
"She came to me at four-years-old and the first lesson I gave her was ability to focus," said Atola.
"Even though the racket was almost as big as her, I had her take the ball right off the bounce and she did it so easily, it was innate timing. You can teach people timing, but it can be hard to take in," Atola said.
Okutoyi, who joined the ITF East Africa Regional Training Centre in Burundi aged 10 in 2014 in a tennis sponsored scholarship, made her international debut the same year at the East Africa Zonal Championships, which she finished second.
Her stay would be cut short after she was forced to return to Kenya due to civil strife in Burundi in 2016.
She joined ITF training centre at Nairobi Club where she would continue training under the tutelage of Thierry Ntwali, Francis Rogoi, Albert Arthur and Allan Atola.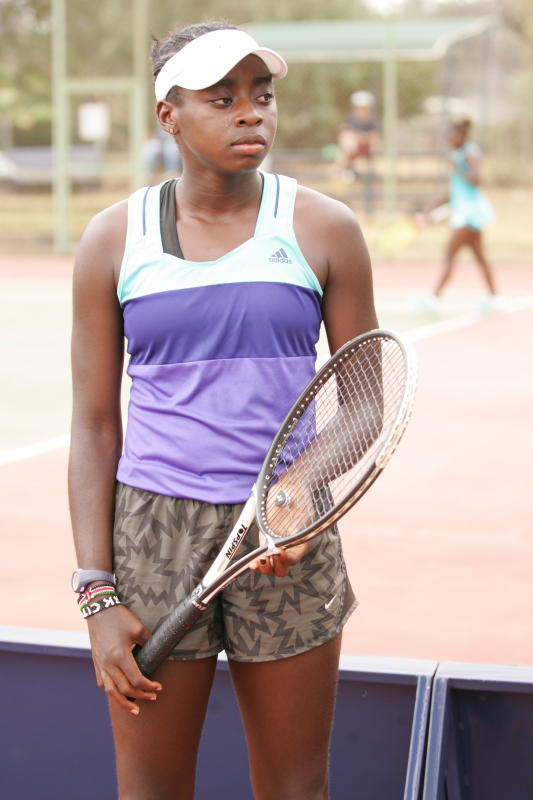 With a big serve and solid groundstrokes, impressive for a girl her age, Okutoyi introduced herself to the tennis world in 2018 winning six major titles in the year she considers the highlight of her career so far.
She won both singles and doubles at the East Africa Zonals Under 14. In addition, she became the singles winner at ITF Kigali Junior International Open, singles AJCCC Under-14 in Algeria, doubles winner of ITF Kigali Junior International Open.
Okutoyi won the ITF Under-18 tournament in Burundi in June, which saw her join the ITF World Tour team that saw her tour France, Germany, Belgium and Czech Republic for five weeks between July and August.
Others included singles runner up at the seventh Nairobi International Junior Championships, singles 3rd place at Singles African Junior Championship in South Africa and singles runner up at the African Nations Cup in Botswana.
Of all, she made history after winning the 2018 Kenya Open singles senior event aged 14, a fete she says was not easy to accomplish.
"It was magical. I cannot explain the feeling since I had achieved something that not many athletes have done at that young age. All in all, it was belief and hardwork that propelled me to victory," she said.
Last year, she won eight titles including singles and doubles in ITF Nairobi Junior Open, J4 Hammamet, Eastern Africa Zonals Championships Under 16 and ITF East African Under 18 Junior Circuit. She plays doubles with Burundi's Aisha Niyonkuru.
This year, Okutoyi has already banked both singles and doubles in Zonals Under 16 and has reached J1 doubles finals yet to be played after disruption by Covid-19 pandemic.
Now a grade 10 student at Penn Foster Academy (Form 2), Okutoyi who is ranked 240 in the world is dreaming of attaining a top 100 ITF ranking.
The 16-year-old is keen on following on the footsteps of her role model and former world number one Serena Williams.
Though she might not match Serena's record, she is eager to take Kenyan tennis to another level, possibly dreaming of playing in a Grand Slam.
"Serena Williams's story is inspiring. What she has achieved throughout her career is unbelievable. Her determination and hard work year in year out is what keeps me going."
"To play at the Australia Open, US Open or Wimbledon will be a milestone for me and I am working really hard to achieve this. Furthermore, I would love to be among the top 100 ranked players in the ITF," she said.