Mascor makes a formidable start in the Murray Mixed Cup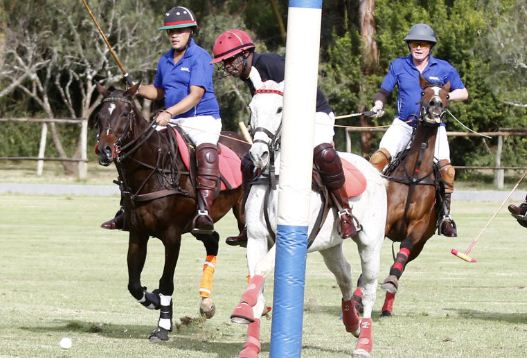 Mascor registered a 3-2.5 win over Hussar as the six-goal Murray Mixed Polo Championships started at Timau Sports Club, Meru yesterday.
Hussar team who were led by handicap 0 Hiromi Nzomo, Izzy Stichbury(0), Robert Koitaba (-0.5) and Jamie Excell (-0.5) could not match the speed of their opponents after starting the match at the advantage of half a fraction of a goal from their low handicap.
Callum Shaw with the support of his teammates Oscar Du Toit, Silke Hampson and Magda Jurkowiecka scored a hatrick in the four chukka match.
Hiromi and Koitaba replied to the losers.
Mascor and Tiara face each other in the finals this afternoon.
Earlier, Thunder overcame Tiara 2-1.5, thanks to the two goals by Miranda Simpson and Georgina Millar with the assistance of enterprising Fred Kambo.
International Cheza Millar scored the lone goal for Tiara after they had started the match at the advantage of half a fraction of a goal.
In their second match, Tiara secured a 5.5 win over Roundup Turbo team of international Aisha Gross, Nicola Jensen, Morten Jensen and Lochy Murray.
Lochie Stichbury (two), Cheza Millar (two) and Mike Mwirigi (one) scored the winning goals for Tiara.
Interestingly, Roundup Turbo avenged their opening defeat to secure a 3-1 victory over Thunder, thanks to a double by Murray(Lochie) and one by Gross (Aisha).
The consolation goal for the losers came through Millar (Georgina).
In the Autumn Polo Cup, Prossaro team of international Jammie Murray (4.5), Henry Limb (2.5), Izzy Parsons (2.5) and William Millar walloped Thunder 9-4.
Murray (Jammie) scored four goals, Parsons a hatrick and Millar one for their side in the round robin tournament.
International Craig Millar (3.5) and Megan Griffiths replied for the losers with Craig managing a hatrick and Megan one with much assistance coming from George Mc Corkell (3.5) and Raph Nzomo (2.5).
The two teams are set for their second match this morning.