Kenyans bag 104 medals at martial arts tournament as government reaffirms support for Tong IL-Moo Do sport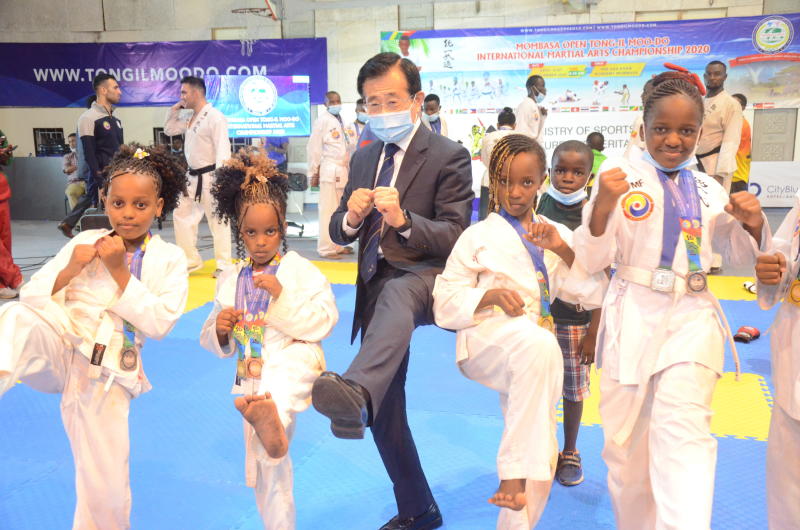 The Kenyan government has promised to continue supporting and promoting the growth of Tong IL-Moo Do.
Speaking at the closing ceremony of this year's Mombasa Open IL-Moo Do Federation at Aga Khan Academy, Mombasa, Chief Administrative Secretary (CAS) in the ministry of Sports, Culture and Heritage, Noor Hassan said they are committed to ensure talents are tapped from the grassroots.
"I note with satisfaction that Mombasa Open international Tong IL Moo Do has immensely contributed to the growth of sports tourism especially in Mombasa," said Hassan. "The Government is committed to ensure this championships will remain an annual event through government's support. Besides Kenya shinning in the sport, the Tong IL-Moo Do Federation has used the event to foster unity among the participating nations," added the CAS.
Hassan lauded the World Tong IL-Moo Do Federation through its president Takamitsu Hoshiko, who was present at the championships, for allowing Kenya to host the event despite Covid-19 pandemic challenges.
"The tournament gave Kenyan players an opportunity to gain international exposure," added Hassan as he urged corporate and other private sectors to come on board and support sports programs.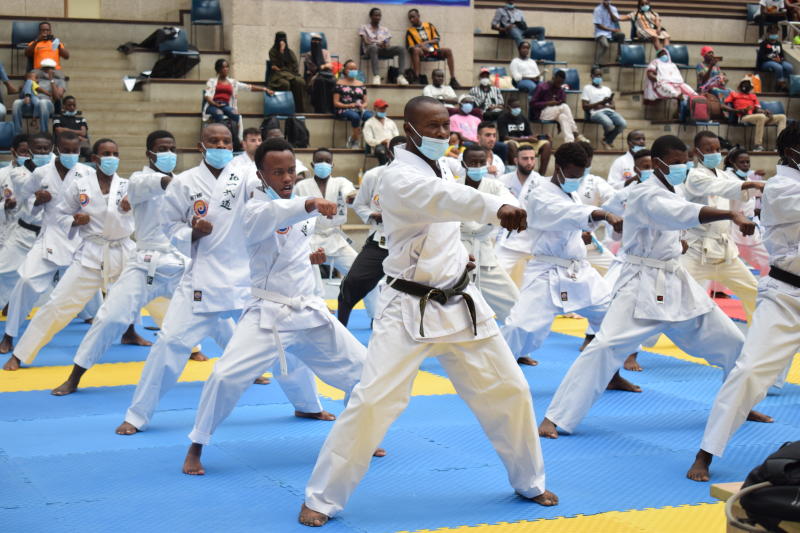 Hoshiko said Kenya continues to be a powerhouse in sports due to the Government's overwhelming support.
"I challenge other African countries to borrow a leaf from Kenya Tong IL-Moo Do Federation and work closely with their respective governments to popularise the sport in the countries," said Hoshiko.
Kenya Tong –IL Moo Do Federation president Clarence Mwakio said they will continue working closely with the Government.
Senate Majority Leader Samuel Poghisio has challenged Members of Parliament to learn basics of Unified Martial Arts (Tong-iL Moo-Do).
Speaking during the closing ceremony through a video link, Poghisio said the Senate was impressed with the growth of the sport in Kenya and urged the federation to consider training Members of Parliament on the basic skills and philosophy of the sport.
During the two-day tournament, Kenya successfully retained the overall title for the eighth year running after bagging 104 medals.
The medal haul included 32 gold, 31 silver and 41 bronze. Philippines were second with 27 medals while Iran had four gold and one silver for the third position.
The tournament attracted 10 countries including hosts Kenya, Philippines, Ivory Coast, Turkey, Iran, Thailand, Congo Brazzaville, South Korea, Japan and Brazil.