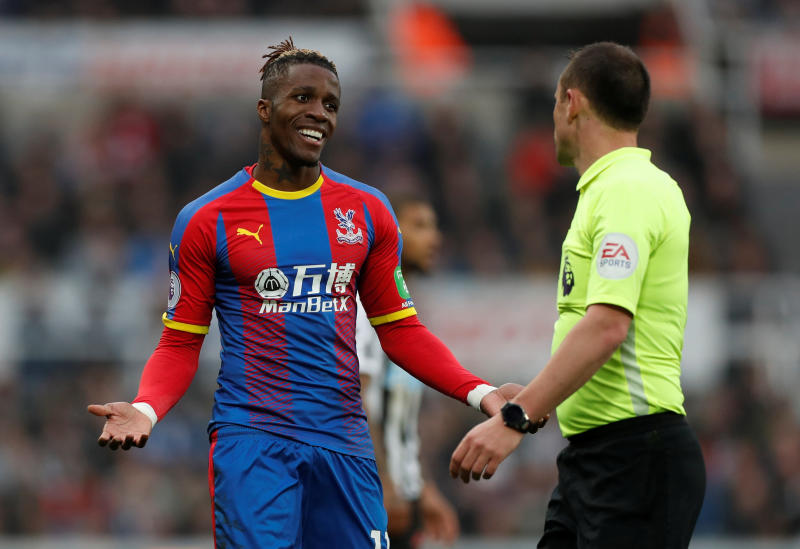 Club football is back. Football fans around the world were treated to an international break, one which is not set to return until March next year.
They were also treated to a return of arguably the world's most competitive league. The Premier League, which, as more often than not, lived up to the billing.
From home, fans have the chance of managing their own customised teams through the Fantasy Premier League. The team is awarded points based on individual performances following every Gameweek.
Gameweek 9 in the Fantasy Premier League saw over 12 million transfers made, with Manchester United midfielder Bruno Fernandes the most transferred IN player. The Portuguese playmaker was also the most captained. However, Everton target-man Dominic Calvert-Lewin dethroned the Man United man as 'King of Gameweek 9' with 13 points.
Other most transferred players include Calvert-Lewin, Liverpool's Diogo Jota, Leicester City striker Jamie Vardy, and Chelsea left-back Ben Chilwell. A total of 259,461 Wildcards were played.
The Standard Sports Team (STANDARD SPORT FC) is also on Fantasy Premier League and is currently ranked 568th with 352 points in its league, STANDARD SPORT LEAGUE. The league has 602 members. On Gameweek 9, we scored 74 points.
11th placed Crystal Palace welcome Newcastle to Selhurst Park in Gameweek 10's opening fixture on Friday, November 27.
To join the STANDARD SPORT LEAGUE, use the code 4xl49e or use the following link: https://fantasy.premierleague.com/leagues/auto-join/4xl49e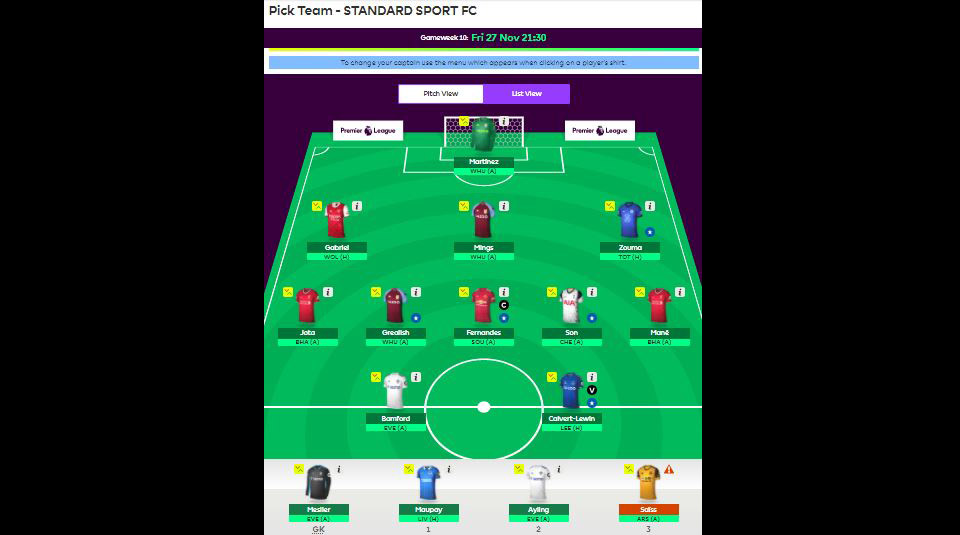 HOW TO PLAY FANTASY PREMIER LEAGUE:
Building a squad: A user will have a budget of 100 million euros to spend on an initial squad comprising 15 players. The squad will have two goalkeepers, five defenders, five midfielders, and three strikers. A maximum of THREE players can be selected from a single Premier League club.
Selecting your team: Before each Gameweek deadline, the user (now the manager) must select a starting eleven from the 15-man squad. The deadline is always ONE HOUR before the kick-off time of the first matchweek. Any formation can be chosen, as long as the lineups include a goalkeeper, three defenders, two midfielders and at least one striker. At the least.
Scoring points: Goals, assists, saves and clean sheets determine the manner in which points are awarded. Points for the Gameweek will be awarded based on the 11 starting players.
However, if a starting player fails to feature for their club, the points scored by the first player on the bench. So it is advisable to rank substitutes in order of preference.
One must also choose a captain and vice-captain for the Gameweek. Scores for the captain are doubled. If the captain doesn't play in that Gamweek, then points for the vice-captain are doubled instead.
League: Users/Managers can create or join leagues and compete against anyone (in the league) from across the globe. Private leagues are designed for when one wants to compete against a selected group of friends. There is no limit to the number of teams in one league. One can also join a public league through a code or link.
Transfers: Users have ONE FREE TRANSFER each gameweek. This enables one to sign one player in exchange of a member of the 15-man squad. Should one make more than one transfer, accumulated 4 points will be deducted. However, one can carry over a free transfer into the next gameweek if they fail to use it. One two free transfers can be achieved.
Player prices: Player prices change gradually as the season progresses based on their performance and popularity.
Chips: These are added elements to the game which boost a team's total points in a single gameweek. They include Wildcard, Triple Captain, Bench Boots and Free Hit. Wildcard allows you to perfume a complete overhaul in your team without losing points. It is offered twice a season. Triple Captain allows a manager to get three times the points total of the team's captain. Bench boost allows one to earn points from substitutes while Free Hit helps you reset your team for one week before it reverts to the old one. Note: only ONE CHIP can be used in a gameweek.
Now you can play: Join the STANDARD SPORTS LEAGUE using the code 4xl49e or use the following link: https://fantasy.premierleague.com/leagues/auto-join/4xl49e