LA Galaxy release player following wife's controversial Instagram posts – reception online, not so good…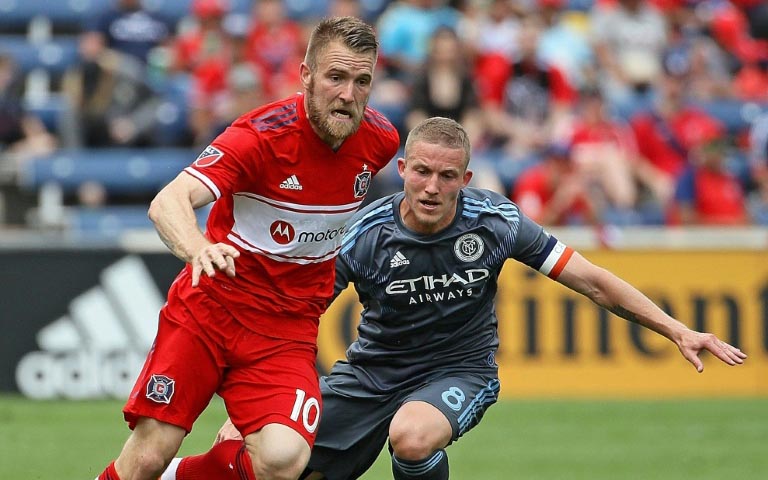 Major League Soccer side Los Angeles Galaxy mutually agreed to part ways with Serbian winger Aleksander Katai following a series of controversial posts by his wife, Tea Katai, on her Instagram on Tuesday, June 2.
Tea, posted on her Instagram twice, first, calling for police to kill protesters with second showing a supposed looter holding a shoebox captioning it, "Black Nikes Matter."
LA Galaxy said on Friday, June 5 made its stance on racism known with a statement condemning the posts.
"We [LA Galaxy] were made aware of a series of racist and violent social media posts. The L.A. Galaxy strongly condemned the social posts and requested their immediate removal," the club said.
Later, the made an announcement on Katai's release.
The 29-year-old, who was in his first season with LA Galaxy after two with Chicago Fire played for Serbia in the 2018 World Cup, making four appearances.
"These views are not ones that I share and are not tolerated in my family. This is a mistake from my family and I take full responsibility. I will ensure that my family and I take the necessary actions to learn, understand, listen and support the black community," Katai said.
Even though the winger, who boasts of a playing career spanning Greece, Serbia and Spain was apologetic, his wife's actions, however, were not received calmly on social media.
Game Yetu samples some posts following Alexander Katai's dismissal.
Congratulations to Tea Katai. You have ruined your husbands career. Hope you are proud of yourself. — Avneet.Kalha (@AvneetKalha) June 5, 2020
Tea Katai really ruined her husbands career — Vanessa Özil (@vtozil) June 5, 2020
Tea Katai's remarks were disgusting. They have no place in today's society, and especially not anywhere near the American Soccer Community. She brings shame to Chicago and the MLS. History will leave her behind, forgotten. — Targeted Allocation Banter (@TAB_DraftMLS) June 5, 2020
Tea Katai's IG was full of shallow posts and name-brand worship.

The fact that she picked this moment to express an opinion or show something other than material wealth is pretty telling of her character. Makes me question Katai's ethics massively. I want more from @LAGalaxy — Alex Rodgers (@Alexdrod) June 4, 2020
Following the death of George Floyd an unarmed black man in handcuffs, who died in police custody after a white policeman knelt on his neck for nearly nine minutes, the world has been treated to a spectacle of protests, loud and silent, all in support of the #BlackLivesMatter movement.
Teams in Germany's top division, the Bundesliga, were not been left behind. As teams squared off behind closed doors, several did their best to send a message.
Dortmund players warmed up with T-Shirts branded "no peace, no justice" and "united together" as they prepared to take on Hertha Berlin at the Signal Iduna Park on Saturday. Before the match started, all players took a knee together around the centre circle. Dortmund won the match 1-0.
League leaders Bayern Munich had it's players don white T-shirts branded "red against racism", with armbands that read "Black Lives Matter" as they visited Bayer Leverkusen.
Mainz beat shaky Eintracht Frankfurt 2-0 at the Commerzbank Arena, with Cameroonian striker Pierre Kunde taking a knee after his goal.