From tomorrow, everything will be different: Top football is back!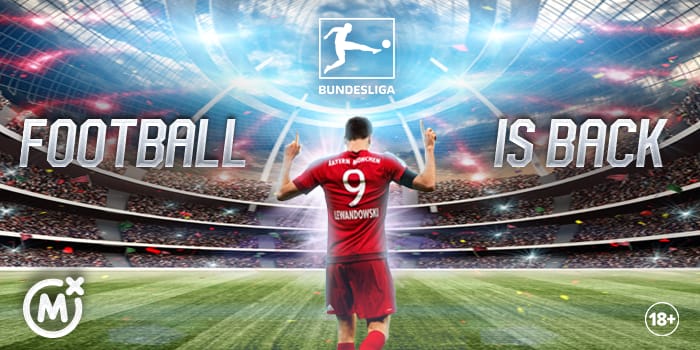 The Bundesliga kicks off on Saturday, May 16 kicking off and over a BILLION people around the planet will watch it.
We have suffered for a long time, we have waited too long… But that's the end of it! Top football is back, and the first of the strongest European leagues to start is the German Bundesliga!
The championship, which is known for great matches, a huge number of goals, and reversals, will first continue after the break due to the Covid-19 pandemic. It seems fate wanted us to get the Bundesliga out of the dry period, the queen of all European leagues in terms of attractiveness.
When the players of 12 German first leagues run on the fields (in special conditions and without an audience at the stadiums) in Dortmund, Dusseldorf, Leipzig, Frankfurt tomorrow from 4:30 PM, the eyes of the whole world will be fixed on them through screens. Given that there are no other top sports facilities on offer, it is quite logical.
"As our league will be the only sports competition broadcast on TV this weekend, we estimate that a total of over a billion people will watch Bundesliga matches," predicts Karl-Heinz Rummenigge, Bayern Munich's General Manager.
The Bavarian giant is leading the round in Germany with 55 points after 25 rounds played, followed by Dortmund with 51 and RB Leipzig with 50 points. These three teams will lead the fight for the title, almost everyone agrees, although, for example, Monchengladbach has 49 and Leverkusen 47 points…
The long and unexpected break will bring an additional dose of uncertainty to the Bundesliga, because the big question is who coped, whether the players respected the recommendations for training at home, which of the players will be fit and ready to go out on the field, etc.
What does that tell us? Well, it is highly likely that "correctly predicting" BIGGER ODDS will be an easier job than ever because surprises are possible. And you will find the best offer for betting on the Bundesliga, as always, at MozzartBet.Co.Ke
See the dates of all matches of the 26th round of the Bundesliga, and by clicking on each of them, find out what the odds are and find your favorite:
Saturday
16:30 Augsburg - Wolfsburg
16:30 Dortmund - Schalke
16:30 Fortuna - Paderborn
16:30 Hoffenheim - Hertha
16:30 RB Leipzig - Freiburg
19:30 Eintracht - Monchengladbach
Sunday
Monday
21:30 Werder Bremen - Leverkusen
From tomorrow, everything will be different - top football is back, and soon the Germans will be joined by what everyone is waiting for the most, The Premier League.