Vincent Dock recounts the side kick that gave him global fame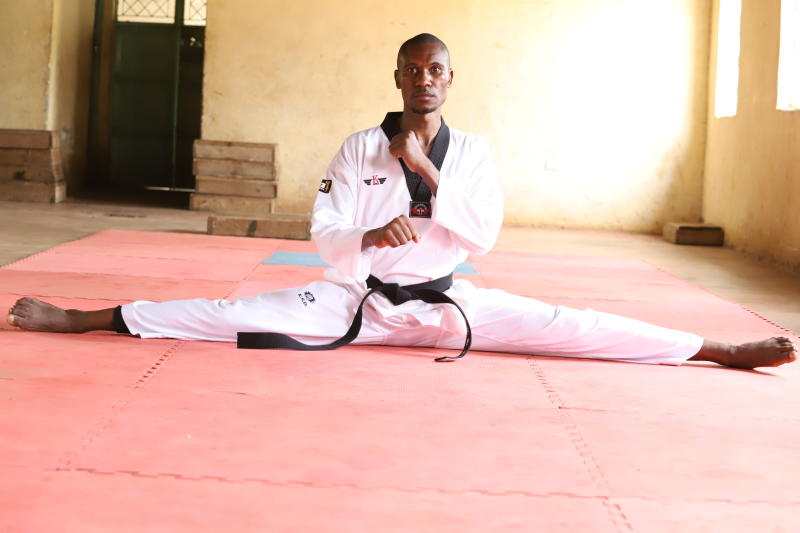 Determination and courage are the adjectives that describe how Vincent Dock fell in love with taekwondo.
Born and bred in a place where football is the lifeblood of sports enthusiasts, Dock opted to withstand the pain of his newfound sport to fulfil his childhood ambition, which he nursed while a teenager.
When he was 15 years old, his peers could kick him once they differed and he never took it lying down.
Whether by design or default, he decided to join taekwondo classes Aga Khan to learn self-defence and, unknown to him, it shot him to international limelight.
"I was in primary school where boys could give me a beating. I hated being knocked down and roughed up by bullies in our estate. All I wanted was to learn how to fight back," Dock said.
"Luckily, my then coach Oyuko welcomed me and showed me a way to revenge. Training hard and representing Kenya in taekwondo as a sport and not in fighting. Today, it turns out to be favourite sport."
At the moment, Dock is a third Dan Black Belt holder with four gold medals and two international titles in the lightweight category. He won gold medal during his international debut in 2009 at Uganda Open and then represented Kenya at the All African Games in Maputo in 2011.
He then won silver at Uganda Open in 2012, bronze medal at Gorilla Open in Rwanda and gold at Ambassadors Cup in Rwanda in 2014. In 2015, he finished eighth in All African Games in Congo followed it up with a silver medal in Rwanda.
Dock considers 2016 the highlight of his career after emerging the Best Player in East Africa by winning the 2016 Rwanda Korean Ambassadors Cup International.
"Emerging top in East Africa made me realise I am destined for greatness. It made me work harder for I knew I can get better," he said.
He returned to Rwanda in 2017 and won a silver from the Korean Cup then won a bronze in 2018 at the Gorilla Cup in Rwanda.
He has also won six gold medals and two silvers in Kenya Open in addition to winning Best of the Best (five aside) for the fourth time in a row since the tournament was started in 2014.
"What I have achieved in the past decade is unimaginable. I could not picture myself representing Kenya around the world. I am really humbled to fly our flag high and I thank God for getting me this far," he said.
Interestingly, Dock has been training alone for the last 10 years. "Training without a coach for the past 10 years has been difficult. It's really hard to measure my strengths. This has forced me to embrace YouTube as my coach and training partner," he said.
He hopes to represent Kenya at the 2020 Taekwondo World Cup in China in October. "Giving up is not an option. I believe in myself that if I continue training hard, I can make it," he said.
He denies the popular opinion that the sport is for people who lack discipline. "People tend to regard taekwondo athletes as aggressive and disrespectful; people who love fights and crime. That is not the case."
He says it is more beneficial to the young.
"One of the tenets of the taekwondo is: 'Sound body, sound mind'. This means that the overall physical training develops the young student's body to optimum levels of fitness, health and strength that, in turn, develops a high degree of mental health."
"With a strong mind and good health, children can apply are more alert in their studies and all round in social development," says Dock, who was born and bred in Nyamasaria in Kisumu County.