Darts queen on fame, equality and trailblazing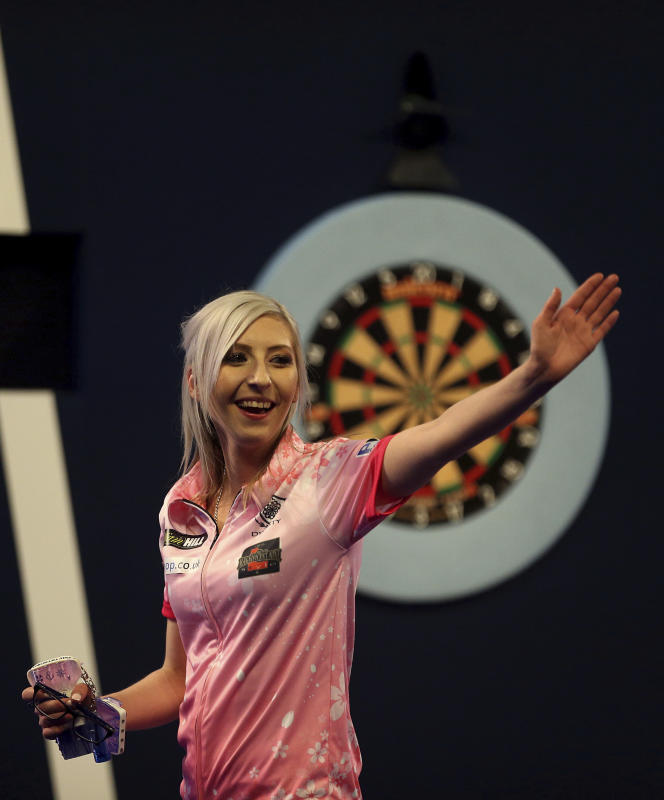 Fallon Sherrock is casting her mind back four months, to a time when the world was a very different place, when sporting venues were full, and when she was briefly the talk of Britain.
She had become the first woman to beat a man at darts' flagship world championship — in fact, she would do so twice — and her phone was flashing non-stop with messages of congratulations and support from around the world.
Among them was an Instagram post from Sarah Jessica Parker, the "Sex and the City" actress with 6.2 million followers on social media, who wrote: "Making history and our hearts stop as we watched in astonishment and awe. A household of fans and admirers send their congratulations."
That was "absolutely mental," Sherrock recalled, but the biggest "wow" moment was when she was messaged by tennis great Billie Jean King.
"I mean, she is one of the biggest people there is for women in sport. To get someone like that tweeting me, that was incredible," Sherrock said.
The way her career is trending, that shouldn't be an issue.
Easily recognisable with her now-trademark pink top, her long and blonde hair and for regularly sipping water between throws to regulate an ongoing kidney problem, Sherrock is standing out in the darts world.
It is helping to shatter the widely held image of darts being a beer-fueled pub game typically played by out-of-shape men.
Online haters lurk — a woman has no place competing with men, the misogynists claim — but Sherrock is now firmly ensconced in the men's game, even a leading name on promotional literature, following her exploits at London's Alexandra Palace late last year.
Invitations have poured in for the "Queen of the Palace" for men's tournaments and exhibitions around the world.
Sherrock partnered Luca Toni, the former Italy football striker, in an event in Bonn, Germany, in January.
She says money is not a problem.