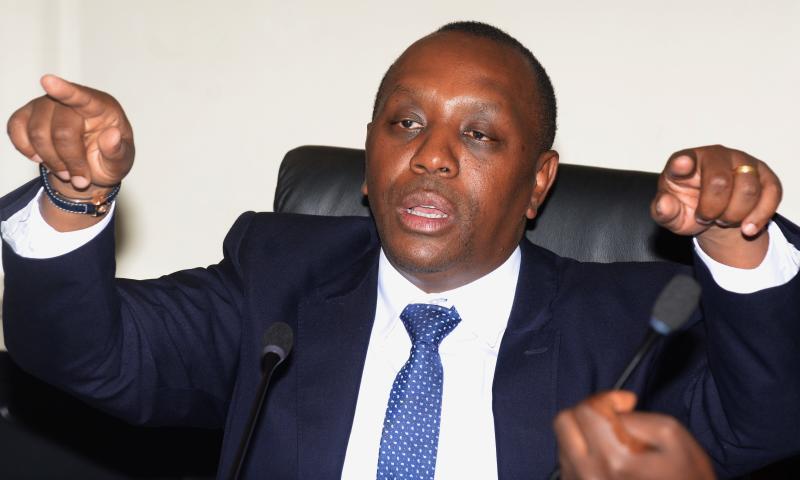 Sports Principal Secretary Kirimi Kaberia has accused sports federations of waging an unfair war against him over the administration of sports funds.
He accused sports bodies of running away when held accountable for funds disbursed to them. Kaberia defended himself against a series of accusations leveled against him by the federations, claiming they attempt to engage in fraud by inflating budgets of their teams in order to defraud Sports, Arts and Social Development Fund.
The PS protested against serious accusations leveled against him, saying the claims from federation chiefs were untrue and have tainted his character.
"It is becoming difficult to manage some of the statements they made against me, some that have had impact on my family. I wish there was a way that this committee can vet some of those claims," claimed the PS, who came under severe attacks from federations over the manner in which he handles their requests for funding.
Kaberia hit out at Football Kenya Federation (FKF) officials, who he accused of attempting to defraud the ministry.
There was a debacle in Egypt as Harambee Stars players were almost kicked out of the hotel where they were putting up after the Government allegedly delayed paying the hotel.
Yesterday, he appeared before the National Assembly Sports Committee where he showed MPs a fraudulent invoice the Ministry had received from FKF as the demand from the hotel.
Displaying the documents, the PS said: "This purported invoice from FKF showed that the hotel was demanding 250 dollars per player per day but the real invoice from the facility showed the charges for all the services, including the pitch they would use for training as 104 dollars per player. I am ready to table these documents," said Kaberia.
He said it was such incidents of attempted fraud that he has always tried to protect, which has unfortunately not gone well with the federation's officials.
"At the end of the day when the Auditor comes and finds discrepancies on how the monies were spent, I will be the person to carry the cross," he said.
The PS accused some federation officials of frustrating some changes that are being introduced in sports department, saying there have been huge strides in the management of sports, especially on payments of cash awards, allowances and subsistence's.
The PS also denied claims that the Ministry had failed to support the women football team, Harambee Starlets, while they were camping at Kasarani. He denied claims by the players that they were commuting while in camp, maintaining that the Ministry had paid for their residential camp.
The PS also protested at complaints raised by Athletics Kenya, saying the Sh3.4 billion that has been dispensed from the Fund, it is their activities that have taken the lion's share.
Kaberia however admitted accusations of failing to respond to correspondences sent to him by the federations seeking for funds.
"This has been one of the serious complaints they raised against you. In one case, FKF have showed us two letters they sent to you, one as a reminder of the request they had made but there is no evidence of you ever responding to any," posed committee chairman Victor Munyaka (Machakos Town).
Kaberia responded: "We may not have responded to some of those letters, but I will take cue and be responding to them. It was not a requirement for us to always respond but starting now we will be doing so."
Kaberia said some of the federations have missed funding due to lack of understanding on government procedures, with some making their applications late and out of the government's budget timelines.
"Others are not aware of the stringent requirements relating to documents to support expenditure funded from government funds for accounting purposes," he said.