Shock as mother of Champions League final pitch invader's boyfriend tries to emulate son's girlfriend at Cricket World Cup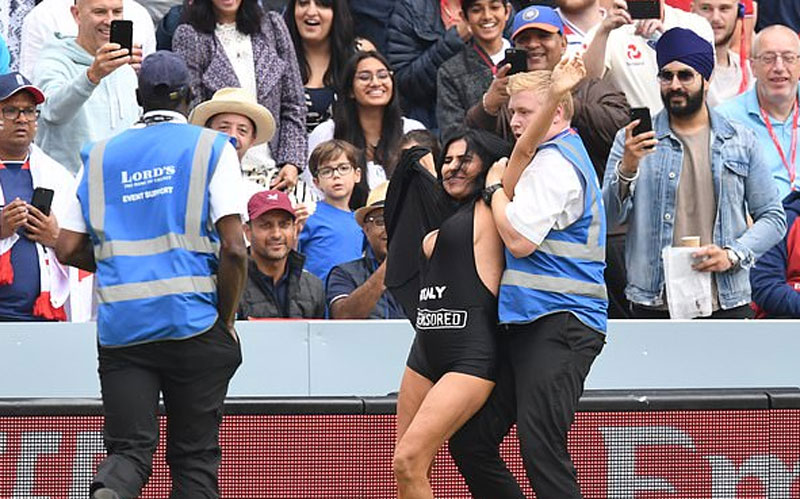 A woman identified as the mother of X-rated site 'Vitality' owner was stopped by a quick-thinking steward as she tried to invade the pitch at the Cricket World Cup final.
According to the Mail, Elena Vulitsky, 47, was dragged over the advertising boards and back into the stands by sharp stewards during Cricket World Cup final clash between England and New Zealand.
It has been reported that the pitch invader in the Champions League final, who wore a black swimsuit was Kinsey Wolanski, the girlfriend of Elena Vulitsky's son Vitaly, who is said to own the x-rated website.
Wolanski stormed the pitch in May when English giants Tottenham Hotspur and Liverpool were playing in the Champions League final, disrupting play before she was escorted off the pitch by stewards.
She also tried the same stunt at the Copa America final but was not successful and got herself arrested in the process after which she wrote on Instagram about her little adventure in Rio.
"I'll admit Copa America you definitely won but we had one hell of an adventure trying," she wrote.
She gained over a million followers on Instagram following her dramatic actions in Madrid.
The recent action by the 47-year-old mother now paints the picture of a desperate family trying to make an online fortune by preying on big sporting events.