Skydiving expeditions in Diani suspended after paratrooper's death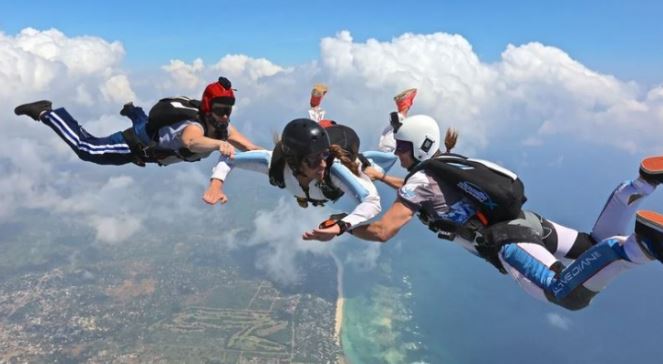 The Diani skydiving expeditions in Ukunda town Kwale County have been suspended following an accident in which a Zambian paratrooper was killed in an accident last month.
The Coast regional security committee which announced the suspension on Tuesday claims that skydiving operations in the area are being conducted illegally amid reports that the British proprietor, a former officer in Britain's military might be deported over these activities.
Now Kenyan officials claim that apart from the Zambians entering Kenya illegally, the British were operating a skydiving business without a valid licence.
Coast Regional commissioner John Elungata said, "All skydiving expedition has been suspended over security challenges as we await further directions from the national government."
According to security sources, the accident occurred when two paratroopers' tangled at 12,000 feet above sea level over Diani.
"They were two officers in a skydiving expedition. Their parachutes entangled shortly after they had jumped from the airplane. They tried their best to separate from each other. They succeeded but Pumulo's parachute failed to open and he plummeted to the ground at high speed," a source aware of the probe told the standard.
He was pronounced dead on arrival at Diani hospital. His skull was crushed and he was bleeding from all his orifices. The corpse was, secretly, taken to a hospital mortuary in Mombasa.?
Take a quick survey and help us improve our website
Take a survey