Gor Mahia's Boniface Oluoch will bounce back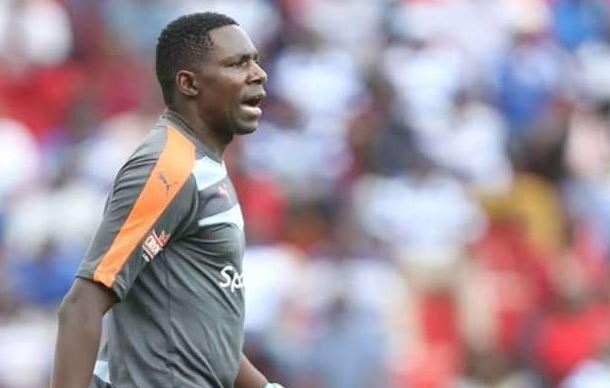 'Being a good person is like being a goalkeeper, no matter how many goals you save, some people will only remember the ones you missed', once Spain's number one shot stopper and Real Madrid captain Iker Casillas said.
The life of a footballer or any other sports star is appreciated during his or her hit times. The fans will only see the good while at your peak, but at your worst, only a few might understand you.
Harambee Stars custodian Boniface 'Bonnie' Oluoch has found himself between a rock and a hard place. His recent performances while guarding the posts for Gor Mahia FC during the African Confederations Cup between Egyptian side Zamalek FC and Angola's Petro Atletico has led to heavy criticism.
Bonnie, as he is commonly known had just a bad day in office. He is stranded alone at the Pacific Ocean and caught up between the devil and the deep blue sea. The worst part of it is that we are watching him struggle without doing anything apart from running our mouths?
During the game versus Zamalek in Nairobi, an ordinary football fan might argue that the first two goals were a mere let in from Bonnie. Well, if you know him since his early childhood days in Nairobi's Makongeni estate, Bonnie loves to play with his feet as he does it perfectly well with his hands too. A Pep Guardiola's kind of approach of football where instead of always playing safe at the defence by kicking the ball out, the game has to flow and is actually built from the back.
It was unlucky for him to have lost concentration that resulted into a corner then a goal, but where was his defence when Ibrahim Hassan scored his first goal from 19 yards away and his second during the 44th minute? Let it be remembered that during the second half he rose tall and saved at least five shots from the tactical Egyptians who could have easily put three more past him. It was a very open game that depended on clinical finishes and a well-structured defence line.
Kenyans have to understand that football is a team sport. Every person involved in the team and with the team is not only a fan but a supporter. Supporters will cry with you and laugh with you, for that is the way to build a player's confidence for the next assignment and the team at large.
Bonnie's recent performances in Angola's capital Luanda have also been criticised. The home side Petro Atletico won the game 2-1 and the man hailing from Makongeni was again caught amidst the storm of critics simply because Manguxi's 13th minute curler and Toni's 37th minute header went straight passed him.
Looking again at the goals, the ordinary football watchers or simply call them 'fans' will blame Bonnie, but a football analyst will see the failures of Gor Mahia to defend as a team. These failures left the goalie with little choice, but to try as hard as possible to save the shots despite having a five-man defence line.
His midfield during that night in Luanda was anchored by former Nzoia Sugar FC man Lawrence Juma who despite having a good balance of play offensively, his transition is often dismal if not poor when defending. The Angolans quickly noticed this and used it to their advantage, winning most of the loose balls in midfield and hitting straight through passes, leaving Gor Mahia's shot-stopper exposed.
Ugandan Shafiq Batambuze, who started at left back played well. He can tackle and win balls, but he is a defender who fouls regularly and not keen on his passes while in possession. Shafiq simply losses the ball cheaply, and this does not only deprive the forwards of his much-needed crosses during attack but a tactical team that presses as a unit like Petro Atletico, will punish you at the slightest mistake. That is exactly what happened when the home side scored their first goal.
Joash Onyango too had an awkward day at the office. If you know the former Western Stima man, games where opponents have fast and skillful forwards, are not his best. The Angolans toyed around with him from the flanks and made him a laughing stock, something that also exposed Bonnie a lot between the posts. So before you criticise Gor Mahia's goalie with his performance on that night in Luanda, why not take a step by step analysis of his backline?
The veteran custodian who last year penned down a contract that will keep him at K'Ogalo until 2021 is going through tough times. His place in the national team during the forthcoming African Cup of Nations is now not guaranteed.
The selectors of the national side should remember the excellent job Bonnie has done for both club and country.
Bonnie had a terrible season in 2014 under the now Mathare United head coach Francis Kimanzi at Tusker FC. He played only one the entire season. But he fought hard the next season, signing for Gor Mahia and beat the then captain Jerim Onyango to the number one spot. Under Frank Nuttal, Bonnie played all 30 Kenya Premier League matches, keeping 19 clean sheets and conceding only 12 goals. He won the KPL goalkeeper of the season twice - back to back. Surely, this is not something new to him, he will bounce back again strongly.
His story reminds of former Arsenal FC Togolese forward Emanuel Adebayor, who once was quoted during an interview after his fallout with family members. "I organised a meeting in 2005 to solve our family issues. When I asked them about their opinion, they said I should build each family member a house and give each of them a monthly wage... I just want other African families to learn from this," Adebayor said.
Kenyans in general and not only Gor Mahia fans should be optimistic and think of the future as being bright instead of backbiting. The calls for Bonnie not to be selected for national team assignments during the African Cup of Nations because of his age should also be brushed aside.
We should borrow a leaf from established soccer power-houses like Brazil who had Claudio Tafarel playing his last and third World Cup in his late thirties in 1998. Egyptians recently had captain Essam Kamal Tawfiq El-Hadary between the posts in Russia as he clocked his early forties and Italian World Cup talisman Gianluigi Buffon is having the best time of his life at French side PSG in his forties.
Just to mention but a few, its normal in life to have a bad day in office, but let it not be an excuse to deny an individual a much-deserved opportunity. Even them too have their worst during their careers, let it be remembered that Bonnie might now be approaching his mid-thirties.
For Gor Mahia fans, I urge you to be supporters. Support your own during hardships just like you celebrate him during his hey days.
For Kenyans, let us not forget that when Arnold Origi was absent, Bonnie did the job for Harambee Stars. It is important even for the upcoming goalkeepers to still have a veteran around so that they can learn from him.