Kenya rules East Africa Games in busy season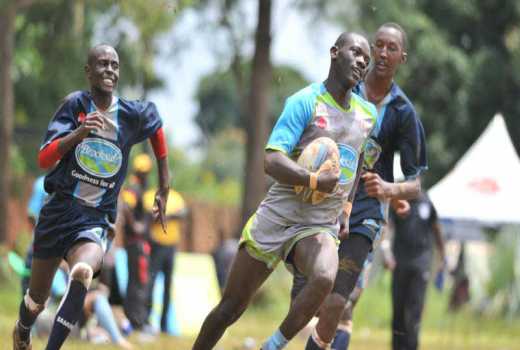 Kenya was crowned this year's school games calendar after it won overall victory at the East Africa Secondary School Games in Gulu, Uganda.
This was despite 2017 being a year that saw numerous interruptions in schools' calendar due to the General Election.
The Kenyan boys and girls battled hosts Uganda, first-rising Rwanda, Burundi, Tanzania, and South Sudan to be crowned champions in a tight contest that brought the northern Uganda venue to life.
Nonetheless, Kenya's dominance was threatened as the country lost five regional titles - in volleyball (boys), basketball (girls), handball (boys and girl), and football (boys).
It dominated in both rugby 15s and Sevens. Laiser Hill Academy, who were returning to the East Africa games after a one-year absence, had a good run as they recaptured the rugby 15s gong they won in 2015.
Last year's winners, Kakamega, finished second while Upper Hill completed the podium as Kenya grabbed the three medals.
In the shorter version of the game, rookies Muhuri Muchiri were the surprise package of the championships as they won the title on their debut. Written off by their critics after finishing third at the national games, Muhuri Muchiri proved their mettle and not even national Sevens champions Menengai High could stand between them and the crown.
Menengai finished third behind Jinja Secondary School while Chavakali were fifth.
Take a quick survey and help us improve our website
Take a survey
Regional hockey queens Sinyolo oozed class as they outdid their opponents to win their fifth consecutive title. The Nyanza region side did it in style as they defended their title without conceding a goal.
Sinyolo forward Alice Owiti bagged the most valuable player (MVP) award after staging a spectacular show scoring 18 goals, the highest since the games' inception.
Sinyolo led Kenya to a podium sweep as national champions Misikhu finished second while debutants St Joseph's Kitale settled for bronze.
However, the Kenyan boys did not have it easy as their Ugandan counterparts gave them a tough time.
Uganda's St Charles Lwanga Kasasa were once again a bother to the Kenyan boys and came close to snatching the regional crown.
It was Kisumu Day who came through for Kenya after favourites and national champions St Anthony's Boys Kitale fumbled. Kisumu Day won their maiden gong with 14 points, two more than Kasasa, who took silver while St Anthony's took bronze.
In football, Wiyeta reclaimed the East Africa girls' title to end Kenya's wait since Tartar last won it in 2013. Wiyeta, who returned to the East Africa games in 2015, finishing second and dropping one place to bronze last year, had their goalkeeper Diana Tembesi to thank for their successful outing.
Having battled to a 1-1 draw with home girls Kawempe Muslim in regular and extra time, Tembesi delivered when it mattered most as she saved three penalties to secure a 3-1 win for Wiyeta in post-match penalties.
The Kenyan boys were not as lucky as they lost the regional gong won by Barding last year. National champions Upper Hill were a no show and so were St Anthony's as only Kakamega High School's Green Commandos reached the last four, finishing third. Uganda's St Mary's Kitende recaptured the trophy.
In girls' volleyball, Kwanthanze returned to the East Africa games with a bang, beating Rwanda's St Aloys in the final. Kwanthanze, who missed out on the 2016 national and East Africa games after losing to Soweto Academy in the now defunct Metropolitan region final, lost the title to Rwanda's GS Indagaburezi in 2015.
The Kenyan boys once again failed to shine and there was no Kenyan team in the semis. Last year's winners, Malava Boys, and national champions Sengera SDA, never made it past the group stages, while Cheptil, the only Kenyan team in the last four, were disqualified for irregularities.
Kenya dominated swimming and tennis as they won boys, girls, and overall titles in all categories. Petty Andanda was crowned boys' tennis singles champion before he teamed up with Albert Njogu to deliver the doubles title and with that, came Kenya's first overall boys' tennis gold medal.
Faith Nyabera (tennis) as well as swimmers Emmanuel Ndonga and Hadassah Gichovi all excelled for Kenya in their various contests. Kenya also performed well in athletics, taking gold and silver medals in both boys and girls categories.
Kenya, however, performed dismally in basketball, handball, and netball. Last year's girls basketball champions Kaya Tiwi finished third as Uganda's Buddo Secondary School and St Mary's Kitende took charge, winning gold and silver respectively.
The boys were the worst hit as Upper Hill and national champions Laiser Hill finished seventh and eighth in the 11-team contest.
At the national level, it was business unusual as 2016 winners relinquished their crowns. Only Kaya Tiwi successfully defended their girls' basketball crown.
Boys' hockey giants Kamusinga, who won both the national and East Africa titles in 2016, lost to Musingu in the Western Region final.
Bungoma High (rugby 15s), Laiser Hill (boys' football and rugby 7s), St Luke's Kimilili, and Moi Girls Kamusinga (handball) failed to defend their national titles.
The other losers were Sinyolo (hockey), Cheptil, AIC Kosirai (volleyball), and St John's Kaloleni (girls' football).