Ndakaini half marathon prizes doubled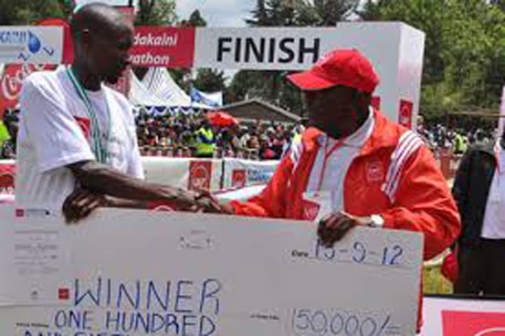 The annual Ndakaini half marathon financial prizes have been increased by 50%, a move that seeks to attract more elite runners in the race.
Announcing the move on Tuesday morning at the Athletics Kenya headquarters Nairobi, UAP old mutual, head of communications Mrs. Catherine Ogwino said that the organizers are already set and will meet IAAF international standards for the event.
"Last year we had 3500 runners who participated and only about 200 elite runners, we are now targeting about 300 elites and more than 4000 participants this year so that we can make this year's event great," she said.
The 14th edition of the Ndakaini half marathon will be held on 20th September 2017 in Murang'a County with the sole aim of conserving the Ndakaini dam. Mrs Ogwino also reiterated that there is great need to nurture and develop upcoming local talent as there are plans to build athletics training camps for youngsters in Murang'a.
"Our runners need to challenge themselves more locally before setting foot abroad. I know most athletes are attracted to higher remuneration in foreign countries but as a country we should also focus on the idea of gradual development. Local races are a good precedent for athletes, in fact, most of our gold medalists over the years have sharpened out locally," Athletics Kenya president retired general Jackson Tuwei who was present added.
Tuwei also cautioned the organizers that all marathons must meet the required international standards. "You need to have the radio frequency microchips in place, compulsory doping tests and all elite runners must meet all the requirements before being allowed to participate."
Registration for the Ndakaini half marathon will be done online, although elite runners will have special registration forms with more details.
The winner will take home Ksh. 300,000 while the first runners up will bag Ksh 100,000 with Ksh. 50,000 going to the third placed winner in both women and men categories.
"Apart from the elites, we are going to also have the children and corporate categories," said Mrs Ogwino who concluded by calling upon Kenyans attend the event in Murang'a County on 20th September and run to conserve the Ndakaini dam.