Top Kenyan rally and buggy drivers set for Aberdare Hill Climb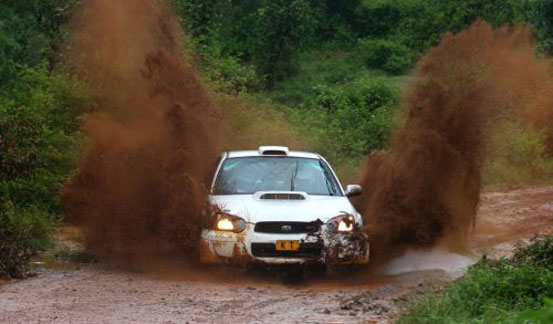 Kenya's top rally and buggy drivers are revving up ready for the inaugural Hill Climb competition at the Aberdare Hills Golf Resort starting Saturday through to Sunday.
The unique motor sport action is the first of its kind in Africa is organised by the Fat Rhinos Team under the umbrella of the Rift Valley Motor Sports Club.
The event, to be supported by Shell Kenya with the help of some of the leading Banks in Kenya - KCB and Stanbic and Coca Cola is expected to attract competitors from all other categories of the motor sports disciplines in the country.
The competition is open to machines varying from 4wd and 2wd rally cars, souped-up motorcycles and buggies normally seen in their respective competitions during the other times of the season.
The special sport is to test the speeds and knowledge of the cars and its drivers.
The event to be known as the Aberdare Hill Climb, is commonly known as Hill climbing sport, is one of the oldest form of motorsport that originated in France over 100 years ago.
Cars are run one at a time, so the sport is relatively safe.
The rules
The fastest driver to reach at the top the 3-kilometer stretch is declared the winner in each of the several categories of the competition.
The main competition will start on Saturday start at 12-6pm with three heats. Sunday will see the final races of further four heats to determine the best sprint driver of the day.
The Aberdare Hill Climb, is set on 1650 acres of land sitting at the heart of the scenic Great Rift Valley overlooking the iconic Lake Naivasha.
Camping facilities for spectators, competitors and officials available at the Aberdare Hill Resort.
The entry list: Baldev Chaggar (Mitsubishi), Carl Flash Tundo (Ford Fiesta), Karan Patel (Mitsubishi Lancer), Ian Duncan (Ford Capri), Onkar Rai (Mitsubsishi), Raaji Bharij (2WD car), Rajay Sehmi (2WD car), Ramesh Vishram (Ford Escort), Nikhil Vishram (Ford Escort), Adin Haq, Ajitesh Kapoor (4WD car), Alfir Khan (4WD car), Andrew Pleasance (Buggy), Anish Chouhan (4WD car), Anthony Nielsen (Buggy), Asad Anwar (4WD car, Ben Spinks (Bike), Hamza Anwar (Buggy), Ben Woodhams (2WD car), Geoff Mayes (4WD car), Gerald Taylor (Bike), Gillian Bailey (Buggy), Imran Hakada (Buggy), Jim Heather-Hayes (2WD car), Jon Bovard (4WD car), Karan Sehmi (Buggy), Kunal Patel (Buggy), Lovejyot Singh (Buggy), Mike Diesbec (Bike), Nisha Pandya (Buggy), Nishit Lakhani (2WD car), Rajesh Maini (Buggy), Ryan Bailey (Buggy), Savanna Jessop (Magic), Shailen Mughal (Buggy), Shazco (Buggy), Tej Sehmi (Bik), Tim Jessop (Bike), Yuv Matharu (Magic ), Zameer Virjee (Buggy), Shivam Vinayak (Bike), Francesco Checchini (Bike), Anthony Nielsen (Bike) and Umar Slatch (Buggy).
Dembele to sign for Barca to plug Neymar gap
French starlet Ousmane Dembele brought an end to protracted transfer talks by agreeing a five-year deal with Barcelona worth 105 million euros ($125 million) plus add-ons, the Spanish giants announced Friday.