Gicharu seeks gold as Yego gets down to action tonight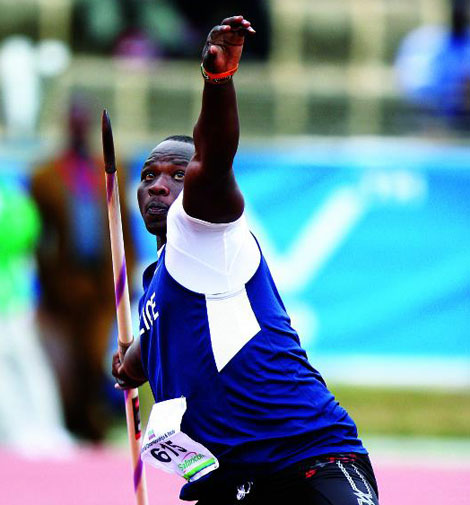 Julius Yego representing kenya Police competes in men javelin final during the Athletics Kenya National Championship at Nyayo Stadium on 7-06-2014.DENNIS OKEYO
Boxer Benson Gicharu will be in the ring in the semi-final men's bantam weight 56kg at the Exhibition Centre at 6pm this evening.
Gicharu, who sailed into the quarter final in bantamweight and middleweight after knocking down Ebanks Tafari of Cayman, will take on England's Ashfaq Qai's in the top podium place chase even though he is certain of a medal in the games. He outsmarted Ebanks Tafari in 29-30, 29-28 and 28-29.
Gicharu, who won flyweight silver medal in New Delhi, had earlier pulled a fast one against Nigeria's Sikiro Ojo in 30-27, 30-27 and 30-27.
Abaka knocked down by Mark Lucas 29-28, 29-28 and 29-28 of Australia and went ahead to thrash Antony Fowler of Britain in the quarter-finals on Wednesday, where he lost Fowler in 30-27, 30-26 and 30-27.
Charles Okoth Odhiambo suffered a 27-30, 27-30 and 27-30 loss at the hands of Light David of New Zealand on Wednesday night.
At the same time, Olympic javelin thrower Julius Yego and Alexander Kiprotich will line up in round one in javelin qualifying round B standard at 11:45pm tonight.
Meanwhile cyclists, who did their time trials yesterday, will compete on Sunday. Time trials are not medal competitions.
Kenya will present two categories: the mountain or off-road and the road race.
This is the first time Kenya was entering the Mountain Bike category at the Games.
Fourteen riders; seven men and seven women will fly Kenya's flag here.
Joyce Nyaruri, who finished fourth at the All Africa in Maputo, Mozambique in 2011, expects a good show here. But the three Kenyans –Nyaruri, Mary Mburu and Mary Muchina –did not finish in the women's cross-country cycling race on Tuesday here.
Premier League adopts vanishing spray
The Premier League announced on Wednesday that referees in the English top flight will use vanishing spray to police free-kicks from the start of the 2014-15 season.